Death Anniversary Quotes: Dealing with a close person's death is challenging for every person. Here are a few death anniversary quotes to help express your genuine emotions for your deceased loved ones.
The death of a near and dear one is the most painful thing to experience in a person's life. Death anniversaries are the days that make you remember you are sad day again. But one should spend these death anniversary days of their close ones by placing the beautiful past days spent with the dead person and praying for the departed soul with immense respect.
Remembrance Death Anniversary Quotes:
1. Death is not the opposite of life. Instead, it is an inevitable part of our life. People feel proud of their achievements, but death silently snatches it all without strife.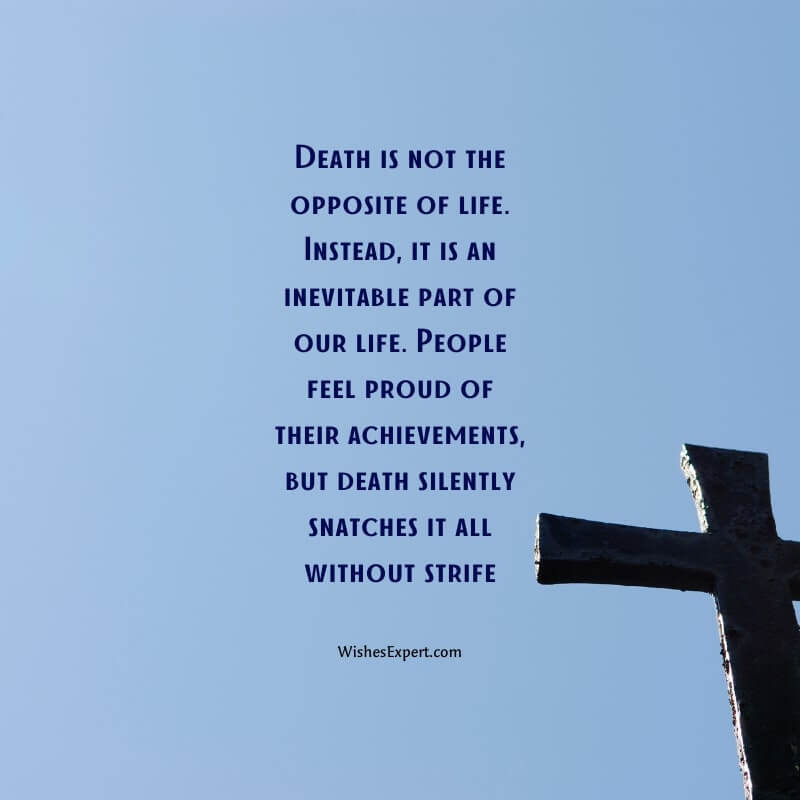 2. Your lifespan was not very long. But you taught us the most melodious song. I consider myself lucky because I was a part of your journey. I remember you today and every day for all your best deeds and glory.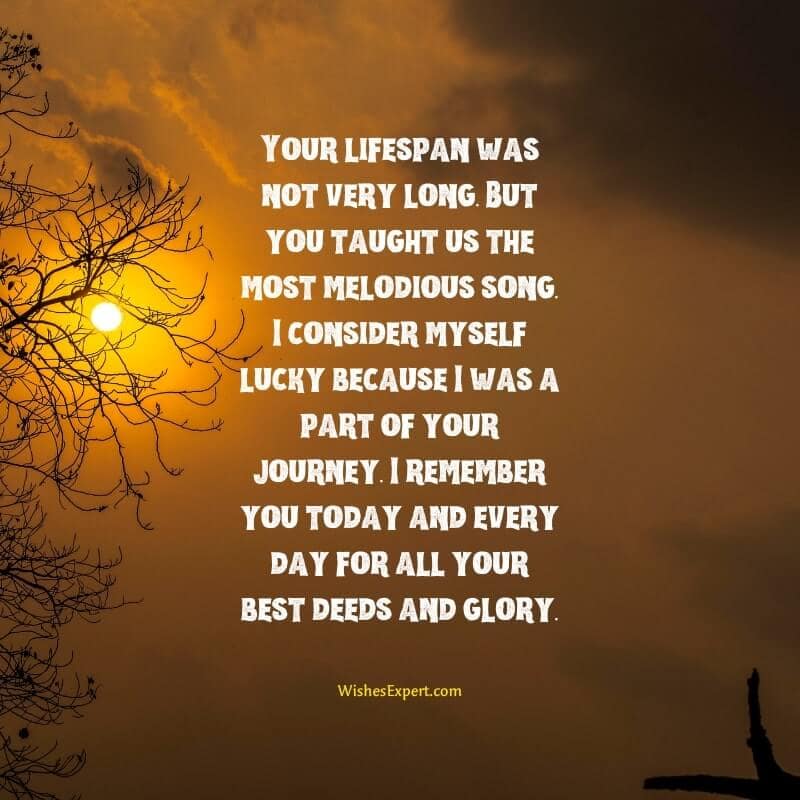 3. People may die, but the memories remain for a lifetime. It breaks our hearts into pieces every time. On days like these, the one thing that becomes a constant is memories!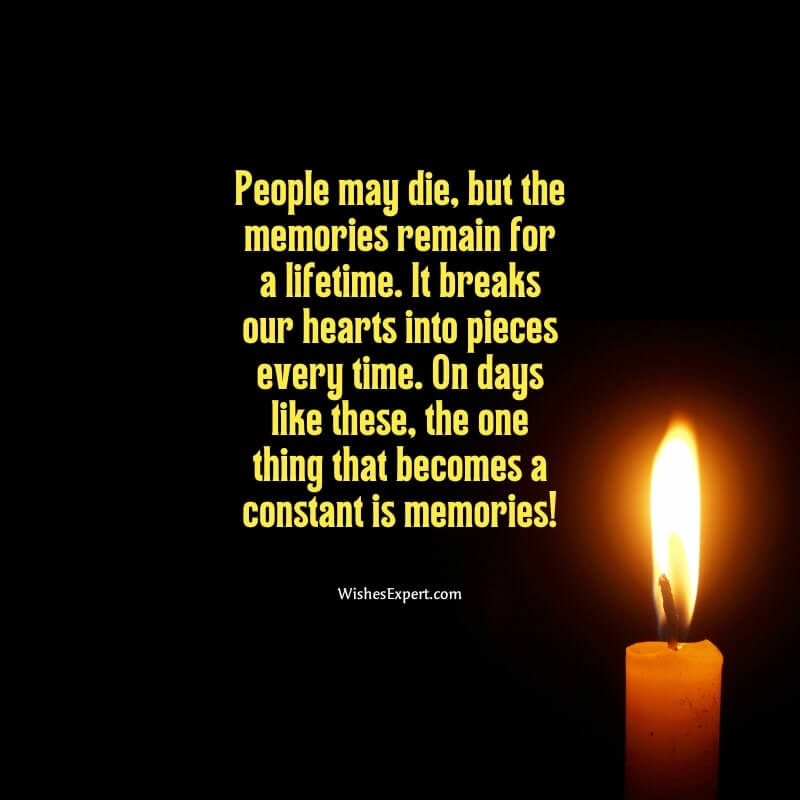 4. The pain of losing someone dear is similar to death pain. The person who has felt this immense pain will not break down from any other pain again.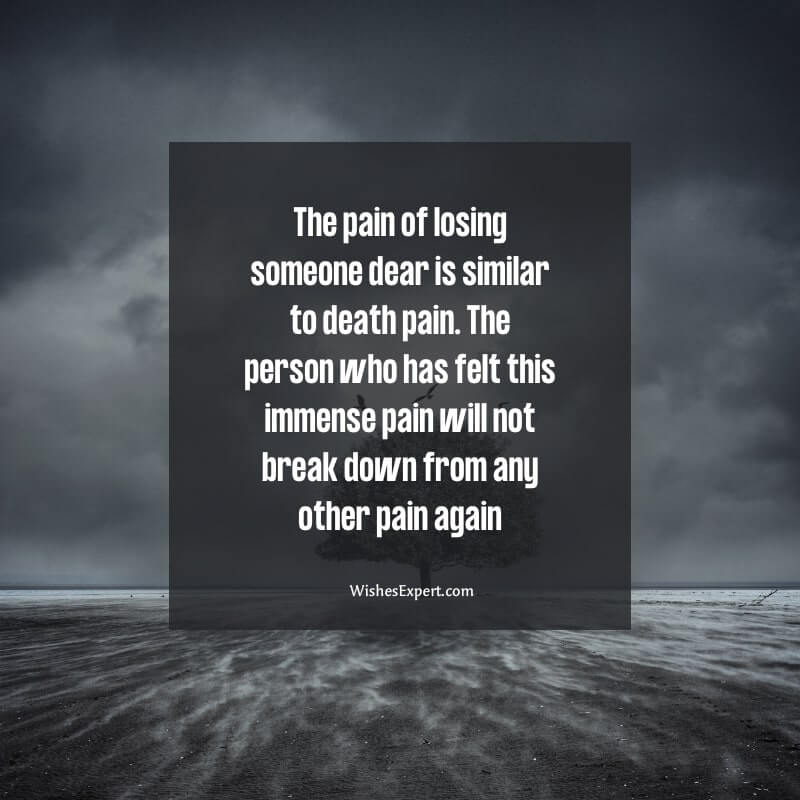 5. You have not died at all because you are living in our hearts. Your words and your memories will forever remain in our hearts like art. On your death anniversary, remember you with great respect, sweetie.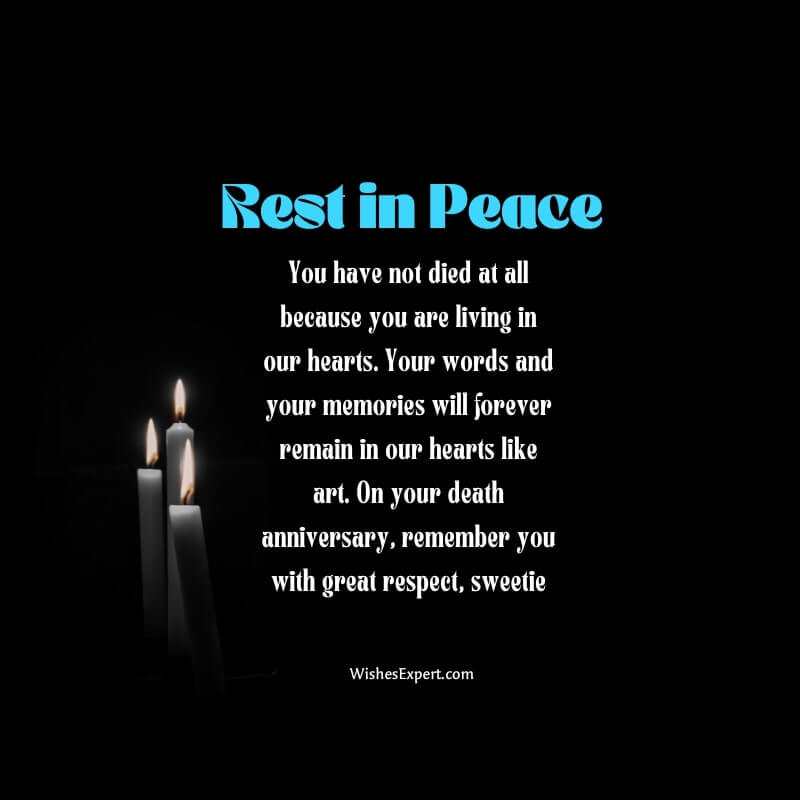 6. The human body dies. But the soul always remains by your side. Whenever I feel helpless without you, I can feel your happy soul around me blessing me with positive energies in disguise.
7. The pain of losing someone close is unexplainable to others. It is unbelievable that you are no more, brother. Only I know how difficult it is for me to live without you any further.
8. They say time heals everything. But even today, I can't stop my tears for you. I don't know how I will cope with the shock of your demise, which I never believed was true.
9. I know that every person has to die one day. But I still cannot control myself. My tears never stop rolling down on this day. But I will still ask you to control yourself.
10. You promised to be with me always, but you left me alone by breaking the promise. Our dream of living a long life together got shattered, and now you rest in peace. It's already a year since you left me forever.
Read: Rest In Peace Quotes To Comfort Someone
Death Anniversary Quotes
11. Not a single day passes by without thinking about you and the bond we shared. You were a very special person to me. On your death anniversary, I want to mention that you will forever remain in my heart. Miss you with every single breath!
12. The most difficult thing that happened to me was to part my way with you. It broke my heart. But, I am healing now with the comfort that it's not the end. I remember you with a hope that we will meet again.
13. Your death anniversary reminds me that life is short, temporary and fleeting. It feels like only yesterday when I met you first and it pains my heart that I had to say goodbye so early.
14. I regret loving you, at times. Had I not loved you so much, I would not have missed you this miserably after your death. I hope I get to see you on the other side.
15. Throughout your lifetime, you made many faces smile and comforted many hearts in pain. Now, even after you are gone, your deeds live through those lives you touched.
16. I mean to keep you alive through my memories of you, through my prayers, through my wishes of seeing you again. On your death anniversary, all I wish for you is to rest peacefully, until we meet again.
17. It's been some time since you left this world but that has not lessened the pain somehow. Your memories are still fresh and we remember you every day. I hope you are watching over us from heaven.
18. This world was difficult for you when you were alive. Now that you are gone, you often cross my mind. I hope you are living in a place better and more beautiful.
19. A few years ago, the news of you leaving us on this very day shook us. It's your death anniversary and I want to tell you that though the shock has passed, the grief has remained. Someday we will meet and I will tell you all about it.
20. It is quite difficult for me to come to terms with the fact that you are no longer by my side. I hope that even if you are gone, I can keep you with me through the memories we shared. Missing you so very much!
Read: Gone But Never Forgotten Quotes
Remembrance Messages Death Anniversary
21. Losing a loved one can leave a void in our hearts. There is nothing that can fully cover-up that void but we can channel it in a better direction by remembering them always. Your death anniversary is the perfect time to remember all the good times we spent together!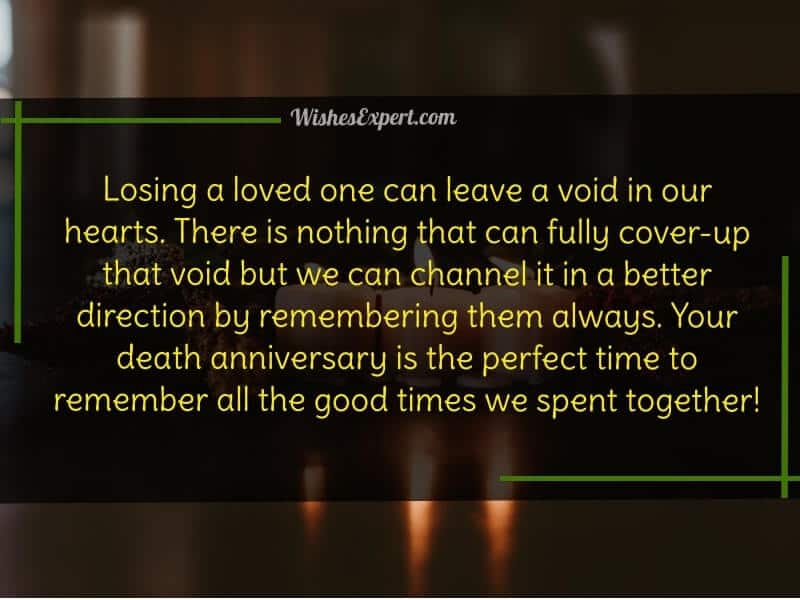 22. This past year has been the longest and the most miserable time I ever spent. I hope there is a Heaven and you are there to see me again. I remember you always until we meet again!
23. It's been a year of you leaving us and moving on to the next life. I hope you found in that world everything you couldn't find here. On your death anniversary, I wish that you are in peace finally.
24. I can never forget you or your smile, your bad jokes, your kind heart and your compassion towards me. A year has passed since you are gone from this world and I'm still lost in your memories, remembering you every single moment.
25. It's so difficult to live without you. I didn't choose this life and yet, here I am, a year after you are gone, hoping that you would meet me in my next life again.
Also Read: 1 Year Anniversary Quotes
Death Anniversary Messages
26. My heart and my soul will always be wounded by your loss. It has been a year since you said goodbye to all of us. I hope heaven is treating you well.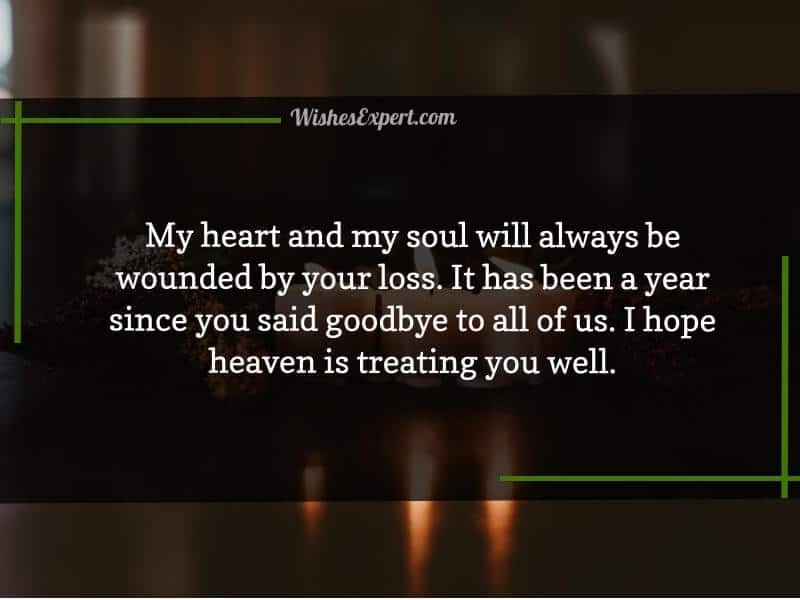 27. Time is measurable but the loss of a person and the grief is immeasurable. Today is your first death anniversary but there is no limit to the grief felt for it.
28. It's okay to be sad about losing your loved ones. It's okay that even after a year, you still miss them. That's what makes us human. The best we can do is remember all the good times we spent with them and cherish the memories.
29. They say your love for a person is seen in the grief after they are gone. On your death anniversary, I miss you terribly. I hope you are enjoying your time in heaven. When my time here will be over, I will join you too.
30. Today is your death anniversary. It's the day when you decided to end your time here and move on to the next. I hope your new world is the heaven of all happiness.
Final Sayings:
When a person loses someone very close, the person becomes too emotional and gets short of words. So, we are providing these death anniversary quotes to help you express your grief.
Death is the bitter truth of life, and nobody can escape it. Birth and death both occur according to God's will. But we cannot understand how to control ourselves when our loved ones and our strength leaves us forever. The death of a dear one is too painful because man is mortal, but our love for them is immortal.