Gone Too Soon Quotes: It is not easy to cope with the loneliness that reminds you of the gap they have left. You may search for some comforting words to soothe your ache. Here are some gone-too-soon quotes to give solace to your aching heart. You can also share it with your close ones who are going through the pain of having a loved one departing early.
There is nothing that can compensate for the pain of losing loved ones. It becomes even more painful when they depart too soon, without goodbyes. Though it is never easy to be ready to bid farewell to dear ones, the pain becomes intense when they are gone too soon. The remorse that fills the heart becomes unbearable at times.
Gone Too Soon Quotes:
#1. Months are turning into years, reminding me that you are gone too soon. It's just me shedding tears and silently remembering our days of togetherness, and by my side is the lonely moon.
#2. How can I forget someone who has given me so many lovely memories I can always remember? I can still feel your presence, though you are gone too soon and far.
#3. Your memories and my thoughts are tangled together, filling my heart with sorrow. You are gone too soon, and now, days come to me with no hopes, but only as hopeless tomorrows.
#4. My heart is filled with the warmth of your love and dearness as I have homed you there. Though you are gone too soon, you are in my every prayer.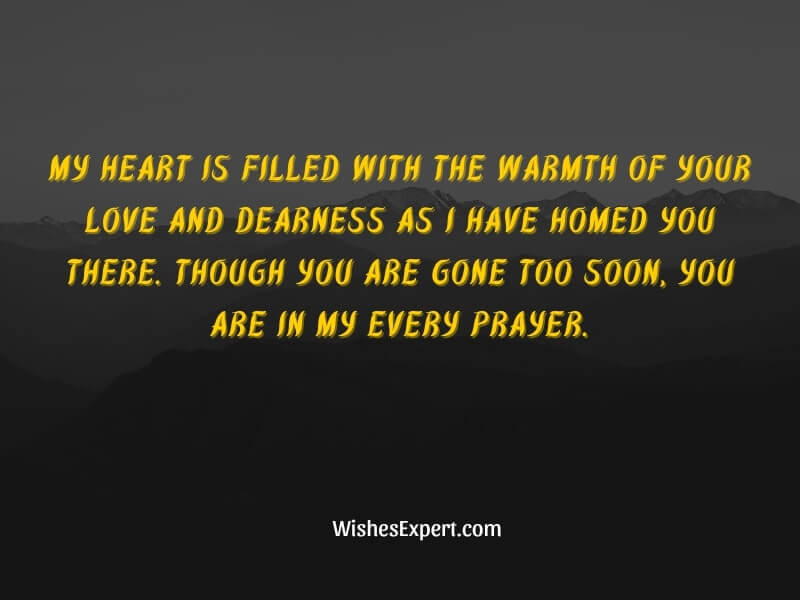 #5. You left me with a goodbye kiss, but my heart was not ready for you to leave. You are gone too soon when we had so many years to love and live.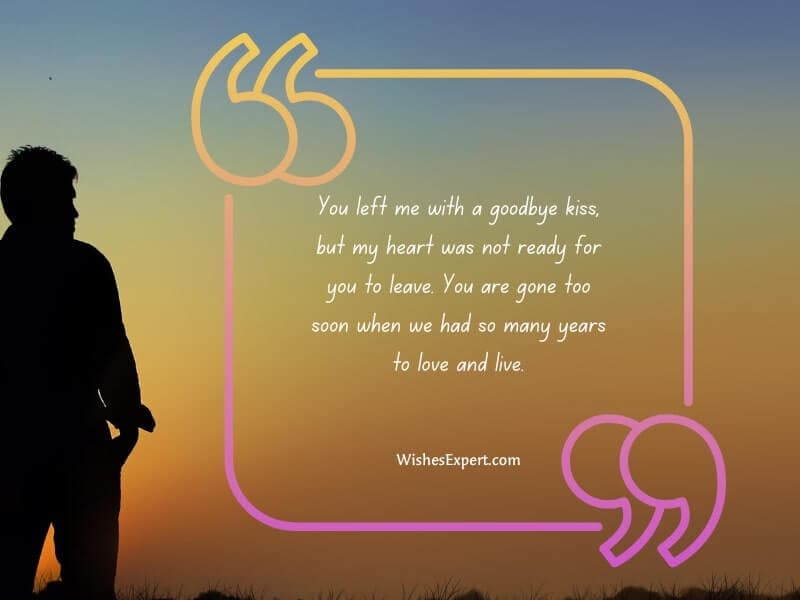 #6. Dear beloved, my heart belongs to you forever. Your absence is an eternal emptiness that nothing can fill, ever. You are gone too soon. Now only pain is there in every tune.
#7. One moment you were beside me with your hand in mine. In another, you left, and nothing was fine. You are gone too soon, away from me, only to make me as miserable as I can ever be.
#8. You were an angel, and your wings took you to your home in heaven. Love, you are gone too soon, and there is nobody to keep me sane.
#9. Your smile and kisses remind me of the best days, and your tears awaken the pain I hide. You are gone too soon, leaving me with nobody by my side.
#10. We miss you every day. Your little footsteps, giggles, and voice echo through the rooms and hallways. Baby, you are gone too soon to be with us always.
Read: Words Of Comfort for Loss of a Child
Gone Too Soon Sudden Death:
#11. You became my first friend, and now you have left me, in this cruel world, all of a sudden. You have gone too soon. Now I will look for you in the stars and the moon.
#12. Everyone loved you for the kindness you showed towards everyone. Now we are seeing how you didn't take care of yourself. We can't believe you will leave us suddenly and become a frame on the shelve.
#13. You were the closest person to me in this world, and you didn't even think twice before leaving me so suddenly and this early. You are missed dearly.
#14. I miss everything about you, especially your smile showering all the colorful hues. We were so happy a day before and not even a day later everything changed, suddenly. You are so far away, and I miss your touch, which was motherly.
#15. You never complained about anything. I wish you shared your problems with us like you did your happiness when the time was happening. I miss you. Like many of our loved ones, you left our lives too.
#16. I still remember the days when we used to have slumber parties at each other's house. Now I miss you and your emojis. You left me suddenly with a plethora of memories.
#17. You cared for me all my childhood and loved me like your child. I cannot believe I had to part ways with you abruptly as you took a sudden ride.
#18. We decided a few days ago to go on a trip, but now you left on your trip, without me. I feel betrayed now as you leave behind all bondage and fly free.
#19. It feels like yesterday when I told you I couldn't even imagine living without you. Today you left me so suddenly, but don't worry, I will find you in the early drops of dew.
#2o. We grew up deciding we would grow old together, and you left me alone on this journey as soon as we started living a happy life, dear. I will miss you forever.
Read More: Condolences Quotes And Sympathy Messages
Unexpected Death Gone Too Soon:
#21. After fighting from such a little age with so many health complications when we thought you were getting better, you left us all abruptly. Now, we are heartbroken, sweetie.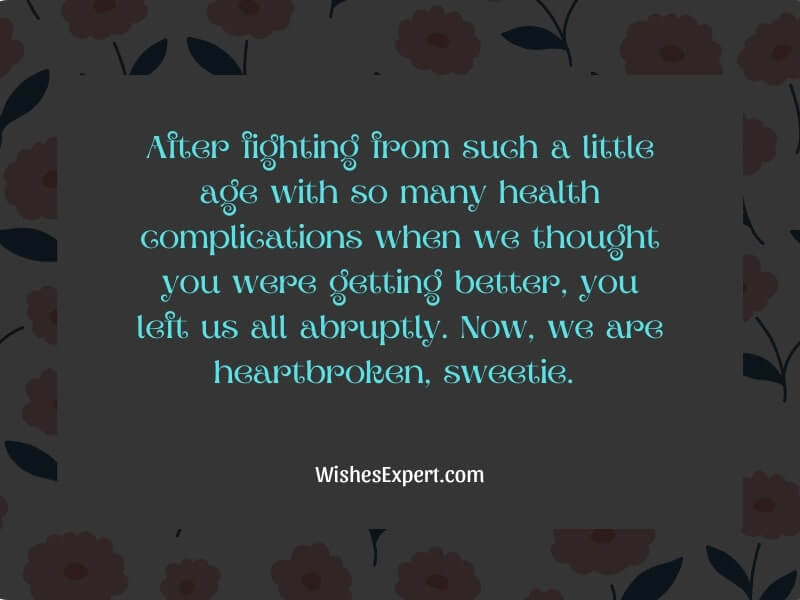 #22. You were a great friend, a great mother, a great daughter, and most importantly, an incredible human being. It's heartbreaking that you had to leave so early on a Sunday morning.
#23. You brought happiness everywhere you went, making every person smile. Now everyone is heartbroken because of your sudden and early departure to an unknown destination, far away, almost a thousand miles.
#24. Your smile, the way you used to get angry when we teased you. The way you pouted when you whined, I will miss each little thing about you.
#25. If beautiful were a human, you would have been that both inside and out. I don't understand why God did such a cruel thing to such a beautiful soul, and I want to cry out loud and shout!
Read More: Words of Sympathy for the Loss of a Grown Son
Beautiful Soul Gone Too Soon:
#26. You were the most important person to me, and now my mornings aren't as bright as before, and my nights are darker than usual. I miss you so much as you were so special.
#27. You worked hard to reach where you are and were settling down in life. I can't believe God took you away at such a young age, leaving behind your wife.
#28. You were the party, the happy pill of the family, and the most charismatic friend ever. No one will be able to take your place, never.
#29. I still can't believe I lost you early on in our lives. We wanted to live a good life, and now you are gone all of a sudden, and it has become difficult for us to survive.
#30. I know wherever you are, you are resting in peace. It's us who are struggling to live our lives until our decease. I miss you every day and every moment of my life seems like a punishment, in a way.
Read: Gone But Never Forgotten Quotes
#31. I hope you are happy wherever you are now. You never failed to care about others and fulfill your vow. Please, tell me why did you leave so suddenly? Whatever the reason is, now rest in peace gaily.
#32. You were the best thing that ever happened to me. I cannot believe that I had to bid goodbye to you so early. I miss you a lot but now may be you are having experiences that are heavenly.
#33. Never thought I would have to see the day where I will be here and you won't. You left too early and suddenly. Please don't go away, please don't!
#34. I knew you were struggling. You still kept that pretty smile every morning. You were so strong, and it is very wrong. I'm sorry that you left us so early and suddenly.
#35. I can still hear your laugh, and we promised we would stay together, but why did you break your vow? You left me early, and I'm like a lost child now.
Final Word:
The departure of a dear one is always painful, and it is difficult to get rid of the emptiness. However, when your loved ones leave too soon, making you alone, your heart may not be ready to accept the unexpected. The overwhelming emotions can give you difficult times. The grief is hard to deal with, and you may not have enough mental strength to continue your daily life chores. You can use these gone too soon quotes to comfort your aching heart. You may share with your close ones who are sharing the same pain with you to give them solace.