Wishing good night to family and friends and praying for them is a pretty sincere gesture. According to studies, people tend to remember the people who were most important to them when they wake up and before they go to bed.
Well, it is not wrong. Family and friends are the two most significant parts of our life whom we want to see happy. Doing small things like wishing them a good morning or a good night can make their days and nights way better than it originally was.
So, beautiful good night wishes for your family and friends can do the trick of letting them know how important they are to you.
Good Night Messages to Family and Friends
#1. Life will become easy if you start accepting rather than expecting things. As I wish you good night, I want you to believe in God's plan and let him handle your bothering.
#2. In life, hurdles come not to break you. It instead introduces life to a stronger version of you. Stay calm, and be firm. Good night, and while sleeping, you don't lose your charm.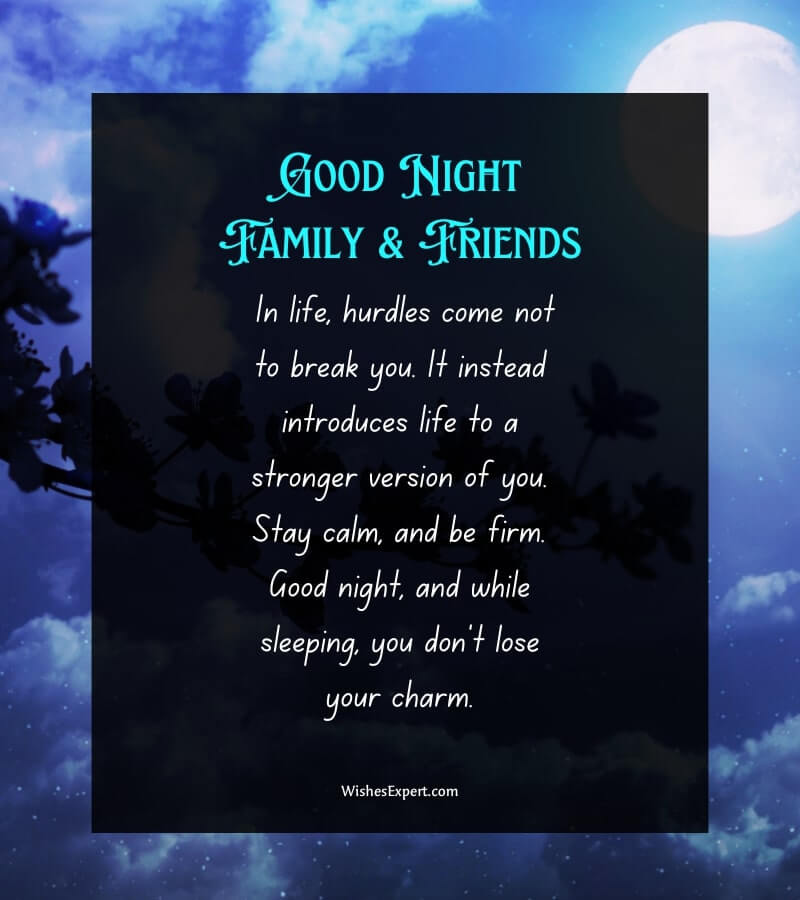 #3. My dime is for those who understand the importance of time. In my good night prayer, I always thank God for the fantastic dinner.
#4. Night comes with stars, and sleep comes with dreams. May your tomorrow morning be beautiful and filled with happy screams. I wish you have a great night after putting up a day-long fight.
#5. You have a beautiful heart like a pretty flower. May colorful dreams fill your life like a relaxing shower. I wish you a good night as you apply the night cream and prepare for a sweet dream.
#6. Before going to bed, this night, remember, my friend, you have to fight your life problems on your own. Everyone will lecture you, but no one will be there with you, and you will be alone.
#7. It's a cloudy sky, a windy night with fading moonlight. It has been a long day, so take a rest and sleep tight. Watch sweet dreams, and enjoy a good night.
#8. The night is not complete darkness if fireflies spread light. The night is not complete badness if your dreams are bright. Good night, my friend, and to be happy is your right.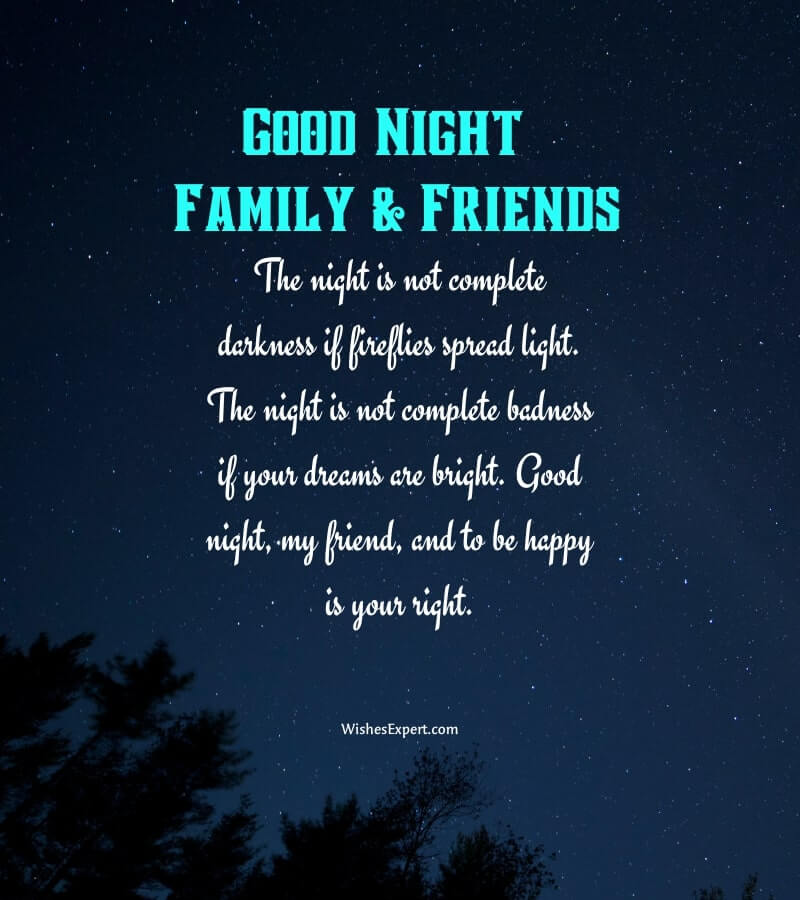 #9. The light of dawn can be seen at the end of the night. You need to again wake up and start your daily fight. A new day brings new opportunities. So, sleep well and get rid of all fatigues.
#10. The silence of the night, the beauty of the stars and moonlight. Makes your mind calm and gives your eyes a pleasing sight.
Read: 30+ Good Night Prayer Messages
Good Night Family
#1. Stop worrying so much about the next day. Nothing matters more than a good night's sleep today. It is a wish that made me see you peaceful and stress-free.
#2. I am sending you all my blessings and warm hugs so that you will have the best good night's sleep, too. Let me wish you a pleasant night to you.
#3. I hope all the angels looking over you will lead you to a beautiful sleep, where you can have the most beautiful dream. Good night and sleep tight.
#4. Before I go to bed, I thank God for making you part of my life and family, and I hope we can live our lives together happily. Good night, and sleep soundly.
#5. I hope you know how important you are to me. There is no place other than by your side that I would rather be. Good night, and I hope there are all the sweet dreams that you see.
Check: Funny Good Night Quotes
Good Night Prayer for Friends and Family
#1. On this lovely night, I pray to God that all your wishes will come true and you will be happy, and no one will be able to make you feel crappy.
#2. It is a sweet night when I wish you to sleep with a calm and peaceful mind, and God will grant me this wish as He is very kind.
#3. I hope you get a peaceful night's sleep and wake up tomorrow with enough positive energy. Good night, and have the best dreams ever, and with a lovely memory.
#4. Hopefully, you'll rest well and have a good night's sleep without worrying a lot. So that you have a fresh morning without getting your nerves in a knot.
#5. Have a great night, and may God grant you all your wishes. I hope you can go to sleep after you are done with your dishes. Let me wish you a good night with sweet dreams and kisses.
Also Read: 55 Romantic Good Night Messages for Her
Good Sayings for Family and Friends
#1. Good night mom, and sleep well. May all your wishes come true as you dwell. Let all your worries fly away, and may tomorrow morning bring you happiness and new hopes for the day.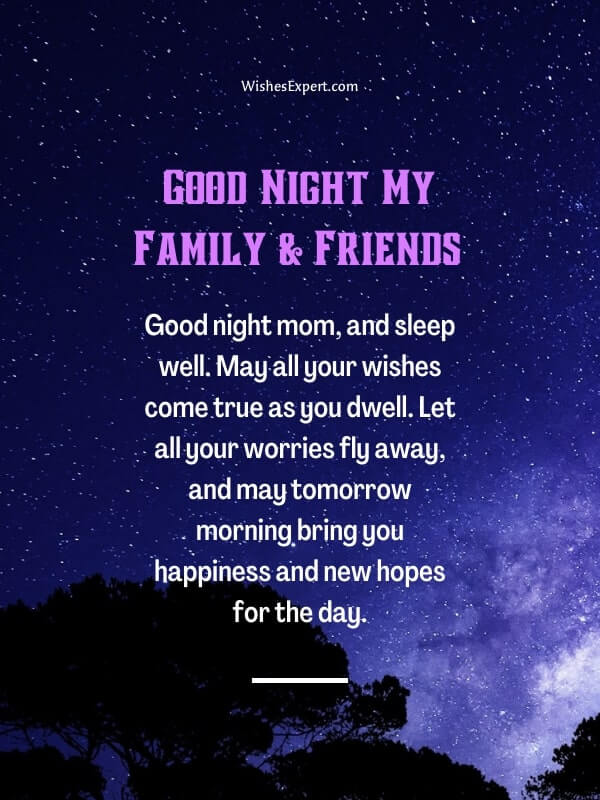 #2. When the night gets darker, you start missing your close people. Ones who do not remember you anymore. Well, they are missed a little more. So, on this lovely night, my friend, try to remember those with whom you lost touch in the end.
#3. Good night wishes are a gentle reminder to let you know that at the end of the day, I am there for you, my friend. May all your prayers get answered at the day end.
#4. Good night sweet dad, and today I will not be mad. I hope u are in a better place now. I hope to meet u in my dream somehow.
#5. With dreams comes hope, and with hope, a new success story begins. So, sleep tight, and witness a great dream, and may they become reasons for your grins.
Final Sayings:
Wishing good night to family and friends with cute little wishes so that they have a pleasant night makes you feel good. We can't always be with all of them, but our good night wishes can assure them that they are essential to us and that we are indeed thinking of them as the last thought of our hectic day.
Our good night wishes can consist of anything from something motivational or some prayers so that they can go to sleep without stressing over the next day and knowing they will have their best day.