Birthday Wishes And Messages For Old Lady: We all have that one experienced old and cool lady in our family who has always supported us. Our Happy Birthday Old Lady wishes are for showing gratitude to the old ladies who have always showered their unconditional and pure love upon their families. In all their lives they have guided us and have enlightened our path every time. Unconditional and selfless care and love showered by them are impossible to describe in any word. A family blessed with an old lady is the strongest family. We can repay their warm love and support to them by making their every day special and memorable. Birthdays are indeed a very great chance of returning their countless affection and love to them.
Birthday Wishes For Old Lady
#1. Dear old lady, please keep the young adults on your radar so that they can never miss out on downloading your wisdom. Happy birthday.
#2. Your wrinkles cannot hide the beauty of your soul that shines right through your eyes. Never let the mirror tell you otherwise. Happy birthday.
#3. Happy birthday. I hope your gusto in sharing wisdom and glasses never gets lost. It'd be difficult for us to not know life-hacks and for you to not see the person sitting next to you.
#4. May your health get much more sound to keep you able to walk miles and laugh till your stomach hurts without getting out of breath.
#5. Your beauty and calmness on your face reflect how gracefully you have chosen to age. Kudos to you. And happy birthday, old lady.
#6. Happy birthday. Your energy levels and enthusiasm scare us because we aren't able to find them in our twenties. Can you tell us on which magic potion you're living?
#7. At the core, you can never grow old. You'll still be that teen girl who gets into trouble every week. Your age number cannot fool us. But happy birthday.
#8. We'll never get enough of your cookies and cuteness. Never get tired of making those cookies and retired from the role of the grandma of the town. Happy birthday, old lady.
#9. Happy birthday. As it's now easy for you to forget things, you can forget your age and skip on acting like an old lady. Let the kid in you outshine the grandma.
#10. Happy birthday. May your head stay full with only brewing ideas and delicious recipes. We can never be too busy to try out your food and listen to your intriguing schemes.
Happy Birthday Old Lady
#11. All the love and blessings that you have given me in all these past years are so much priceless. I can't thank you enough. Very healthy and happy birthday old lady.
#12. The support and love that was showered by you upon us are impossible to describe in any combination of 26 alphabets. We are indeed very lucky to have you in our life. Happy birthday, old lady.
#13. You are growing older and older with these passing years, but your beauty, however, remains the same. The younger woman hidden inside you is still very graceful. Happy Birthday, old lady. Many many happy returns of the day beautiful.
#14. You were always there to cheer me up whenever and wherever it was needed. Your support and help mean a lot to me. I have learned so many things from you. Wish you a very Happy birthday.
#15. The lessons that you have taught us about your experiences were so useful for us. You are truly an inspiration for our whole family. Have a healthy, wealthy, and happy life ahead. Happy birthday.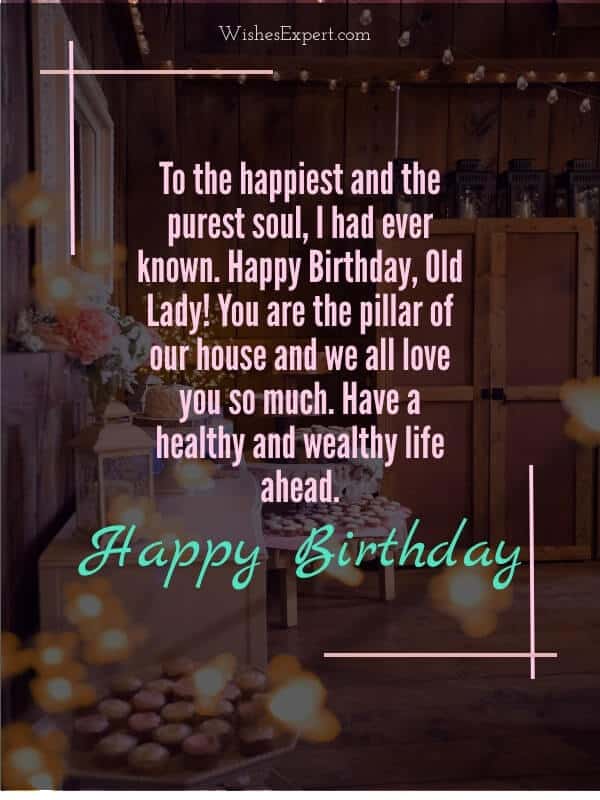 #16. Happy Birthday dear who has always supported me in every good and bad phase. Your suggestions have always helped me a lot. Thank you so much for everything. Have a wonderful year ahead.
#17. To the happiest and the purest soul, I had ever known. Happy Birthday, old lady! You are the pillar of our house and we all love you so much. Have a healthy and wealthy life ahead.
#18. Happy birthday. To my mentor, my guide, and my best friend. you are my everything. You have many great and healthy years to enjoy with me. Keep rocking!
#19. On this occasion, on your special day my strong old lady, I pray, may God shower all his beautiful and merciful blessings upon you. May you live a more healthy and wealthy life ahead. Happy birthday.
#20. I wish a very wonderful, cheerful, and happy birthday to the old lady who always cheers everyone up. You encircled us all with a very huge amount of positivity. We can't thank you enough for all the love that you have showered upon us.
Read: Happy Birthday Old Friend
Happy Birthday Old Woman
#21. Happy birthday old woman & the strongest woman I had ever known. The woman who taught me that you can achieve anything in the world by love and by your genuine efforts. Thank you for all these wonderful learnings.
#22. Happy birthday old lady. Cheers to the super cool and super confident lady. You always inspired every one of us to exceed more and more in life. May you get all the best things in life ahead. Keep guiding us.
#23. Your positive attitude towards life always keeps us motivated. Thank you so much for everything. Many graceful and healthy years to go. Happy Birthday old woman.
#24. Happy Birthday. A heart is full of wishes to the most precious human of my life. I can't explain your importance in my life in any words. Keep guiding and support us.
#25. I have never seen losing your temperament and shouting at anybody. You are the most chilling personality I have ever seen. Happy birthday old lady.
Also Read: Birthday Wishes for Father In Law