As much as birthdays are viewed as happy occasions, sometimes our lifestyle would stand in the way to enjoy them to the fullest. These happy birthday paragraphs will help you with cheering those who are having birthday blues or simply are too busy to have a huge celebration.
Sending paragraphs, at least well-thought-out ones, can make someone's day(and what else we wish to do on someone's birthday!) and might even change the course of your relationship for the better because they're that impactful.
Make your significant other or best friend feel special about them on their birthdays and tell them how much you love them by sending these birthday paragraphs.
Best Paragraphs On Happy Birthday
#1. May this year be the new dawn you've been hoping to have. I hope this occasion brings an epiphany in your life that makes you able to see life from a fresh perspective. Hopefully, this year turns out to be the best one for you and sets you on the journey that alters your life in the ways you dreamt of. Happy birthday.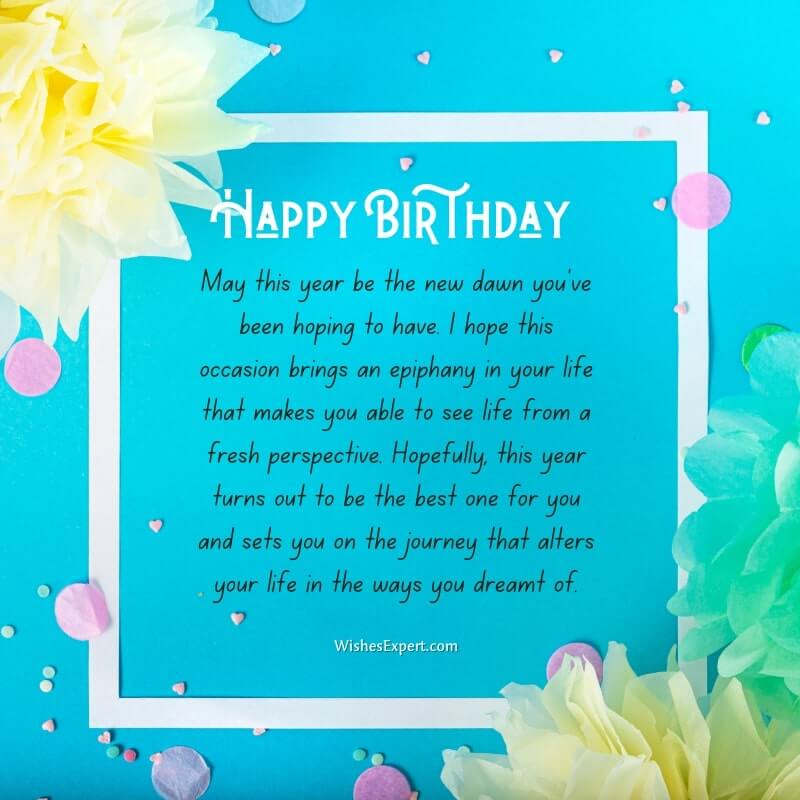 #2. Congratulations on not having fallen out of grace regardless of the fact that how challenging the hardships were. I hope that this year runs smoothly like butter for you and that your skin glows like a glancing doughnut. May you run into good fortune every now and then and that you have the best year; happy birthday.
#3. To another year of seizing the juices out of life! I wish that you enter into this year with blind faith in the universe that everything is working out in your favour and guess what! Everything will. I wish I get to see you almost every day with a smile on your face that tells me that you're living your best life because, after all, you've been working so hard on yourself in the past couple of months that you so deserve it! Happy birthday.
#4. May you bloom into the best version of yourself this year. You've been working behind the walls and putting in all the extra hours so much so that now I wish and pray that success follows your path. You've been such an inspiring friend throughout these years because not only do you work hard for what you want but you do everything with dignity and I admire your strength. May you never forget to shine; happy birthday, honey.
#5. To the person who never fails to be a human and serve humanity by being the best example of the most wonderful being, happy birthday. For simply being you and giving us the best counsellor in the form of a friend we can't be thankful enough to you. Because of you, we don't fall off the wagon. We have nothing more to give you but unwavering support and you can always rely on us. Have the best year ahead, mate.
#1. Embody the spirit of love and kindness and be the home for contentment as you'll then invite moments of overwhelming joy more than often. I wish that luck and miracles knock on your door; happy birthday. Have the blast.
#2. I wish you could live with a heart that is lighter than a feather and a mind that is not too loud. May this journey be the most serene one that you've ever been on and you get to live the life that you've always dreamt of. Happy birthday!
#3. You aren't getting any older. Have you looked at your youthful skin that never stops gleaming; may it never does! You surely are wiser for your age already and I hope you get all the instances to expand your knowledge further and further. Happy birthday.
#4. I wish you a year where you explore the territories that show you a whole new world and give you a totally fresh outlook on life. May this year be the year where you feel reborn. Happy birthday.
#5. Undoubtedly, you're the most genuine and gorgeous being I've ever seen. And for such a pure heart and loving soul, I wish and pray for everything best. May all that you ask for finds its way to you sooner than later; happy birthday.
Read: 40 Birthday Wishes For Husband
#1. Today is the day to celebrate yourself and give yourself due credit for having put on a brave face whenever time asked you to. You've been so gentle with yourself and others in the process that you set the best example of how men can be vulnerable. I'm so proud of you. I love you more than I'll ever be able to put into words. Happy birthday, hon; I'll make sure you have the best one.
#2. Happy birthday! May this year you have fewer aches and your knees don't cry for help. May this year your body doesn't betray you and you truly feel young because you indeed are very young to feel this old. On a serious note, I wish this year turns out to be one of the best years of your life simply because you've been through a lot in the past few months. And you deserve all the takeaways of happiness that life can offer. I'll however be with you to take a share of it; love you.
#3. I hope you had everything on your wishlist because I did have a sneak peek into it as I was waiting for my turn to spoil you. You're such an amazing boyfriend that I can never get enough of you and I wish nothing about it changes. Be the way you're as you're already your best version. I wish like me, God, too, doesn't hold back in granting your long list of wishes. Happy birthday, honey; have the most fun.
#4. You're not only tech-savvy but the most creative being I've ever met. How can it get better? It can't. You're the one I was looking for as you're the mixture of everything good that I once wished for and now as I have you; sometimes, it feels unreal. Often it feels like a dream but a beautiful one. Thank you for having come into my life and choosing to stay with me. I love you so much. I wish you the universe and hope to be with you for many lifetimes. Happy birthday.
#5. To the man who does an incredible job of handling a woman like me who can be all over the place sometimes, happy birthday. You truly are the most genius and yet humble person I've ever met. Your presence makes me feel safe and secure. No matter the place or people, you're your truest self always and I love that about you; please never change. Keep on being you and life will serve you only the best. Love you.
Also Read: 30+ Paragraphs For Your Crush To Impress Her
Happy Birthday Paragraph For Girlfriend
#1. To the most kind-hearted woman I know, happiest birthday. For the woman who is sweet like cinnamon, I wish that God gives you the sweetest surprises along the path, that you meet the most pleasant beings and have the best time. I wish to see you laugh your heart out because you have a heart of gold and beings like you deserve every ounce of joy. I'll raise a toast to the fate that made me meet you because I've never loved someone this much. Once again, happy birthday.
#2. You're the best thing that happened to me. It's your day today and I'll do everything to make it the best. But it's not only today that I wish to take care of you, protect you, and make you feel safe every day. You're so special to me and I won't forget to remind you that every day but today more. Happy birthday, love.
#3. To the only person with whom I feel at peace, happiest birthday. You're a magical being and your superpowers are kindness and love that you exhibit with every being you meet. For such a wonderful human being, God is always there; I don't have to worry much. My only task is to love you to the fullest.
#4. To the woman of my dreams who has brought meaning into my life, happiest birthday. The way you nurture me with your love and care is very genuine and kind of you. I consider myself fortunate to have such a strong, intelligent woman by my side. You're not a trophy girlfriend, you're a powerful woman who completes me. Cheers to your love, power, and birthday.
#5. Happiest birthday, love. I hope that you find your perfect outfit each day without any struggles. I wish God makes me able each day to handle your hunger strikes and mood swings. On a serious note, may you get to put your hands on everything you've only dreamt of! May I get to witness you turning dreams into reality sooner!
#1. Happy birthday! I'm always down when it comes to celebrating you and our friendship. Today is your day and I'm here to remind you that you have the yummiest soul and prettiest heart. For anyone to achieve something whether success or love or peace, one needs a best friend like you; and I'm the luckiest to have you.
#2. Happy birthday. I hope you find the best version of yourself this year and keep on upgrading it as beings like you are the sources of inspiration. You're my best friend and you inspire me in ways I can never tell. May all the success and growth that you wish for come to you because you so deserve it.
#3. Happy birthday. Honey, I hope this year turns out to be the best adventure of your life and in the midst of it, you shall not dare to forget making me a part of it. I'm not going anywhere. I'll always be there for you and all you have to do is always give me the last slice of pizza.
#4. Happy birthday, honey. May your optimism never fade and your potential rise exponentially. To see you better in life doesn't only make me feel proud of you but happy for you. I hope that all of your manifestations come true this year.
#5. May this year knock on your door with countless blessings and each day you wake up to your most amazing life. I hope, this year gives you everything tenfold of what the last year took away from you. Happy birthday, honey.
Birthday Paragraph For Long Distance Relationship
#1. Life is a fair share of rain and sunshine. But with you at this distance from me, the sun hasn't gleamed enough in my life. I wish we were together to celebrate you but you shall not let the distance hold you back from having fun. Have the best day regardless, happy birthday. Love you.
#2. Today is your birthday and I shall entertain the thought of me having you by my side on the loop because today I'll miss you more. Happiest birthday, honey. I hope you feel on top of your game this year and we soon get to see each other.
#3. Be mindful of what you wish for as my constant calling to God shall make him irresistible to grant your wishes. Happy birthday, love. On a serious note, I do hope that this year all of your dreams take flight and you never stop counting your blessings.
#4. To the person who means the most to me, happiest birthday. We're miles apart but I hope you hear me sing with high notes when I miss you more. I hope you feel a sense of being taken care of when I call you ten times. I hope you feel the warmth as much as I do when I astral travel to you. I hope you feel a wave of emotions washing over you as you're reading this.
#5. To stay away from you today is a tough task. The instances might not be in our favour but love will always be. We are miles apart and this distance might be sinking but our love will make us rise above any circumstances; please always remember that. To the person I love the most, happiest birthday, you're the best. You deserve the world, which I'm willing to give you each day.
So, these were all the happy birthday paragraphs we've had in store for you. We hope you found what you were looking for. They would be proven to be very helpful if you struggle to express your emotions and say your thoughts out loud. Affirmations of words of love come in handy on this page. These birthday paragraphs intend to do much more than bring a smile to your dear ones; they're to leave an imprint on them of your love and care for them and to genuinely make them feel special. We're positive that these paragraphs will do so.