With all your good wishes and heartfelt emotions for your boyfriend, are you struggling to write the best birthday paragraph for your boyfriend?
Well, don't worry! We are here to help you be the wizard of words and make that birthday paragraph for your boyfriend as unique as possible. You love your beloved boyfriend, but while writing an emotive paragraph on his birthday, you might be at a loss for words.
We are here to save you from that situation because we have prepared well-written birthday wishes in the form of meaningful paragraphs that you can use to wish your boyfriend a fantastic birthday. You can be sure your boyfriend will appreciate this heartfelt note on his birthday.
Short Birthday Paragraph For Boyfriend
#1. Your arrival in my life made me see how beautiful life can be. On the eve of your birthday, I hope the fire in your relationship remains alight while we set each other free.
#2. I had forgotten the world when I met you, and you wore that beautiful robe. My wish for your birthday is that we remain forever in our perfect little globe.
#3. Amid all the mistakes and wrong choices, I am more than thankful to God that I found you. Many happy returns of the day, dear, and did I tell you I am madly in love with you?
#4. Tears turned into smiles when I met you. You are my one dream that came true. On the eve of your birthday, my only wish is that all your wishes come true.
#5. Your companionship has made me feel alive again. Sorrow left, and happiness arrived again. You rekindled the fire in my heart again. Happy birthday dear, and may this day come again and again.
Read: Romantic Love Paragraphs For Him
Long Birthday Paragraph For Boyfriend
#1. When the trust broke, love lost, you came like a cold breeze on a sultry day, and I told myself not to dare. The broken heart refused to trust again, but your kindness mended it with patience and care. In this life, I cannot ever express the pivotal role you play in my life, and so, on your day, I wish you a fab birthday, dear.
#2. My love, words are too few to express my wish for you but let me try; for all your favors. To years of love and togetherness, we have come a long way from being childish friends to steadfast lovers. My only wish for your birthday is that you remain steadfast and strong forever.
#3. I agreed not to believe in love until you came to break that barrier. It seems challenging to imagine a time when you were not there in my life, and there was a vacuum so clear. My wish on your birthday is to have the longest possible life with you, forever and ever. I wish you a magical birthday, dear.
#4. I am so glad you made that humongous effort to convince me that love does exist, dove. I am happy that I did finally believe in the fairytale called love. I wish my real-life prince charming a prosperous life on the auspicious eve of his birthday. Enjoy a memorable and fun-filled day.
#5. There is an unfathomable secret behind how the universe conspired to make us come together in the unlikeliest ways. However, I am blessed to have finally the most caring person in this world who created for me the magical days. Your love and affection are what keep me going. Happy fantastical birthday, dear, and thank you for being so caring.
Read More: Goodnight Paragraphs for Him
Romantic Birthday Wishes Paragraph For Boyfriend
#1. I don't know how to thank God for sending such a loving person like you into my life. I wish you many happy returns of the day, my inspiration, my life! Happy birthday to the one I love. Did I tell you are my honey, my sweet dove?
#2. To the dearest person in my life, I hope all of your dreams come true. Here is a graceful birthday wish to you. Never break down, and believe that you can. Happy birthday to my favorite man. I pray you to reach the highest because you deserve nothing but the best.
#3. You are the most wonderful, loving, caring, and fascinating man, and very few are like you. I wish you a happy birthday, all love and good wishes, and have a life with hues. Together we will make loving memories with so much laughter. Enjoy the day with family and friends because you have to spend the night with me, with a candle-lit dinner.
#4. Happy birthday to my mentor, my motivator. I must reveal that your presence has made my life a thousand times better. I could not get another caring better half, darling. I wish you a fairytale birthday, my prince charming.
#5. Happy birthday, my dear love, and I wish you happiness, passion, strength, laughter, joy, and everything. For all that you do for me and others, you deserve all the lovely things! May God grant you prayer and all happiness you get. I wish you a happy birthday, my soulmate.
Check More: Romantic Birthday Wishes For Boyfriend
Birthday Paragraph For Boyfriend Long Distance
#1. I mourn a bit because you are a little far. I hope the distance will soon be shorter. May God grant all your wishes today! To the sturdiest man I know, I wish him a happy birthday! Life combines both sugar and lime. Celebrate a naughty birthday to my partner in crime.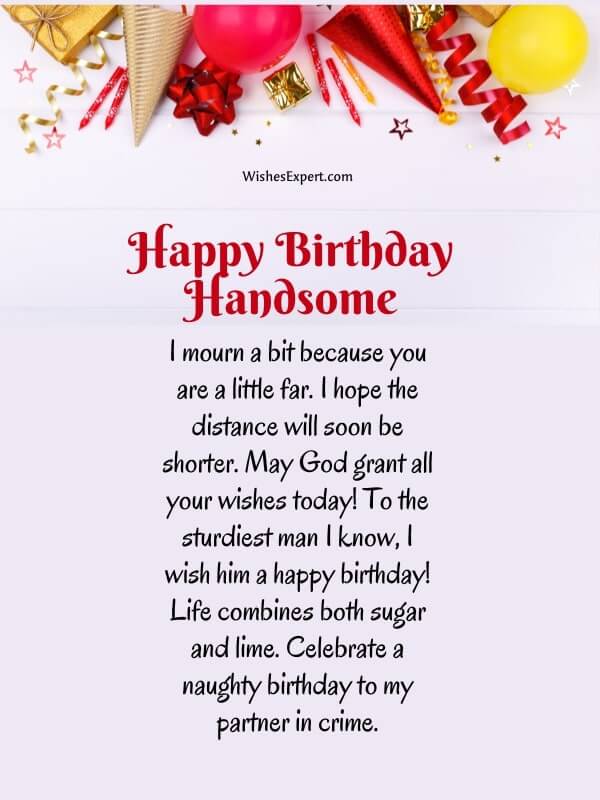 #2. In the days of technology, we believe in a handwritten letter. I can't wait to see you, so come back home soon, dear. I know how much love is hidden in those caring eyes. All I hope, this time, you have an exciting birthday filled with a lovely surprise!
#3. To the most handsome, strong, and bright man I know. On your birthday, I pray that you overcome all hurdles and never stop to grow. Many happy returns of the day, and this is the best day in the month of May.
#4. We may not be near, but we are neither far, darling. You are chasing your dreams, and this distance is not for mourning. Life gave you all tough shots, but you managed to smile though. I wish a memorable birthday to the most powerful man I know!
#5. May all your dreams come true and life becomes as you expect it to be. On your birthday, my darling, I wish you all love and strength from me. 'Life is beautiful, full of gratitude,' I remember, you say. May God listen to whatever you pray. I'm lucky to have you, and I know not what more to say. You help me grow better every single day.
#6. Thank you for being there for me as the best counselor, best friend, and best lover. Once again, happy birthday, and I love you so much, dear. Your favorite homemade cake, books, and flowers are some little things I could send. Here is a big birthday wish to the best boyfriend.
You might feel hesitant about using messages not directly written by you, but we can assure you that our birthday paragraphs are highly creative and unique. Check out our birthday paragraph for the boyfriend section and select the one you prefer. We make sure that each paragraph is uniquely written to sound phony. You can take time to write an emotive paragraph for your boyfriend, but we don't think you will be able to ignore the articulate birthday paragraphs we have in store for you.
Therefore, before you sit with your pen and paper and carry the tedious task of writing a birthday paragraph, check out what we have.