Friendship is truly the finest companionship and to see your children grow together is the best feeling. As you've come up to this page, we assume your friend has a son and his birthday is around the corner. If that's the case, then you've come to the right place. We've come up with happy birthday wishes for a friend's son which are not only unique but are buoyant.
We wish to make you sound like the cool guardian that we're sure, you're! These wishes will put a smile on your friend's son, which will make your heart giggle. Also, your friend would consider you very thoughtful for having sent meaningful wishes or having written them down on the cards.
Birthday Wishes For A Friend's Son
#1. Happy birthday to the most handsome boy of his age who has never failed in getting straight As; you have a bright future without a doubt.
#2. Like father, like son. You're an imprint of him, he has been my good friend for ages. You're growing in the best hands. Happy birthday, may the divine's love and light stay with you always.
#3. Happy birthday. You have so much potential within you that life ahead of you is very promising and I want you to never doubt yourself, okay? You got this.
#4. Honey, my friend is so lucky to have you as a son. Instead of troubling her, you make her life easy. What can I say? You're a heaven-sent, stay blessed. Happy birthday.
#5. Dear _____, your mother is the most talented woman I've known but more than that she is the best mother I've ever come across. You're in the best hands, god bless you. Happy birthday.
Read: Birthday Wishes For Son From Mom
Birthday Wishes To Friends Baby Boy
#1. My friend might have done good karma for having received you as her child because you're an extraordinary boy with exceptional abilities. She has nothing to worry about. Happy birthday, champ.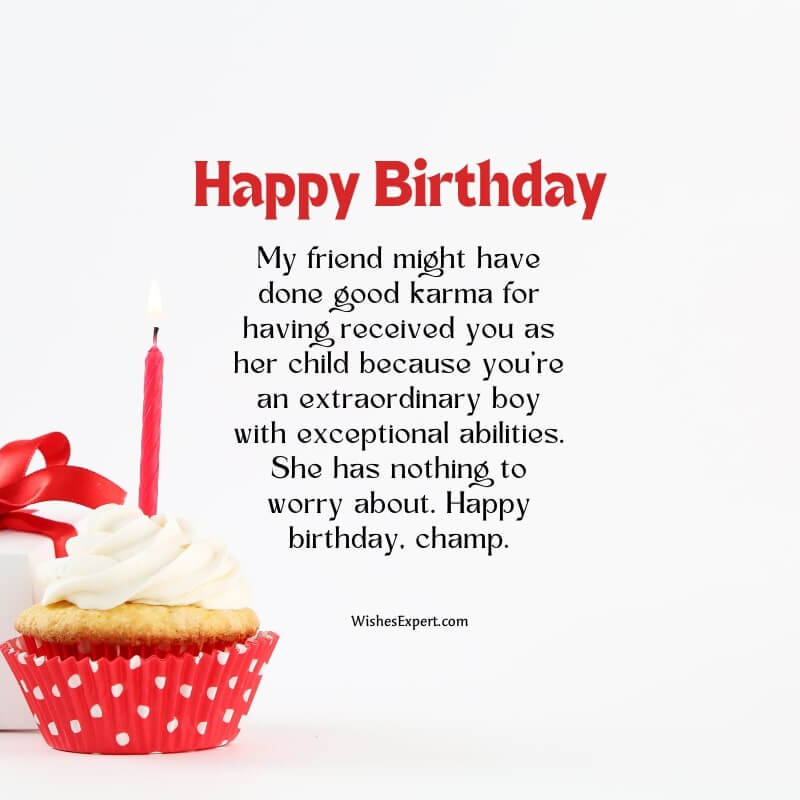 #2. When you grow up, your mother aka my friend is going to be so proud because you're her biggest blessing and time will prove it to her again and again. Happy birthday.
#3. You're the best thing that has happened to my friend. He became a dad and it turned him into a tolerable man; huge thanks to you. Keep on doing the great work, happy birthday.
#4. Happy birthday, champ. You might be the most notorious boy I've seen but also the cutest one. A little daredevil is all your father needed to change for the better.
#5. With those little blue eyes and chubby cheeks, if you think you can get away with anything then you're absolutely right, you win. Happy birthday, little munchkin.
Read More: Funny Birthday Wishes For Son
Birthday Prayer Wishes To A Friend's Son
#1. May God help you channel your unlimited potential in the best ways, and you make yourself and my friend proud. Happy birthday.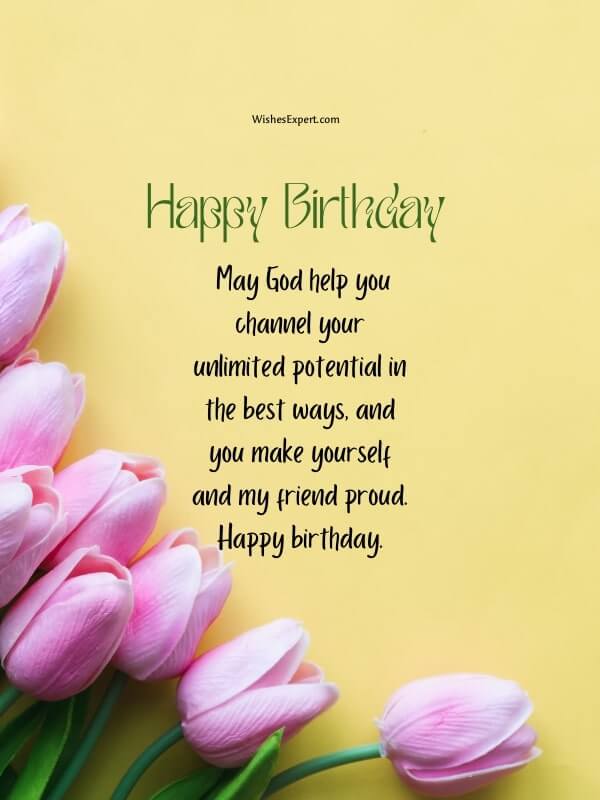 #2. I pray that you develop such a high intuition that you never fall short of deciding what's best for you and what's not! Happy birthday.
#3. Your little eyes are seeing the world most magically right now. I pray that as you get older, you keep the innocence in you alive to see the world with the same lens. Happy birthday.
#4. My friend has raised you to be a good boy and I do not doubt that she'll raise you further into a gentleman. I pray the course of the run stays smooth. Happy birthday.
#5. You might not find society as pleasant as you do right now but my friend's upbringing won't fall short of making you strong for it. May you find your tribe sooner, happy birthday.
Also Read: Birthday Wishes For Godson
Happy Birthday Wishes For A Best Friend's Son
#1. Happy birthday, champ, here is the deal I want you to remember. I love you so I'm always only a call away to take you out of any trouble your mother put you in.
#2. My best friend is a saint partly because of you. You're taking care of her more than she is and I just want to thank you for that and wish you the best, happy birthday.
#3. Happiest birthday, boy. There is nothing I would wish more for you than for you to have a life of ease filled with contentment; stay blessed.
#4. As you're my best friend's son, I want to be your best aunt. You can ask me for anything and I promise I won't tell your mother a single talk. Happy birthday.
#5. May you let your imagination run wild and find yourself in the realms of wonder so that you can soar higher and higher. Happy birthday.
These were all the happy birthday wishes for a friend's son we had in store for you. Your friend's son, if not always then often would feel like your own son. And he might also be seeing you as a caring guardian that he can rely on and trust. To maintain such beautiful dynamics, you sometimes have to be thoughtful on special occasions like birthdays. Hence, it's necessary for you to have saved these sincere wishes and be on the beat on his birthday.