Sympathy Messages For Loss Of Grandfather: Having grandparents when you are growing up is a huge blessing. They are the wisest and most caring companions a child could have. Since most people share a very close and emotional relationship with their grandparents their loss is a very upsetting and hard time on them.
If such an event has happened to your friend or an acquaintance, then here are some loss of grandfather quotes and messages that you can use to show your sympathy in their moment of despair. Send them a card or a message with these touching words and show them that you feel their pain.
Loss of Grandfather
I was shocked on hearing the news of death of your grandpa. This must be a very hard time for you and I wish that God gives you the patience to deal with this pain.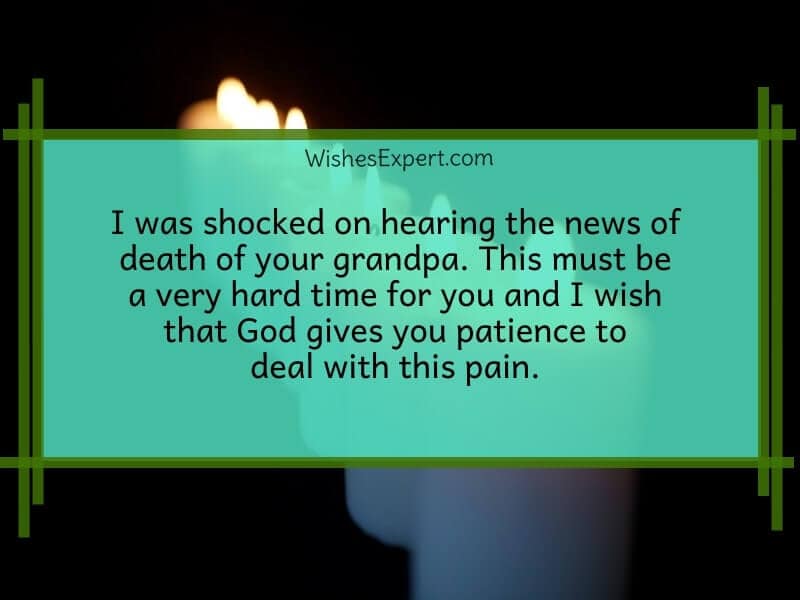 The news of death of your grandfather was so sudden even I got really upset. I can imagine how hard this must be for you but the thought of him being at a better place should comfort you.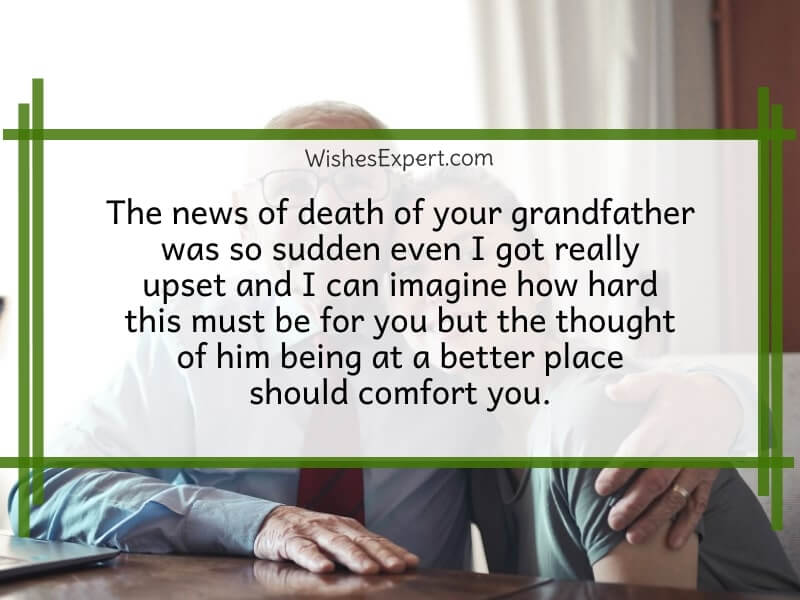 I had the honor to meet your grandpa and it had been such a good experience. He was such a wise Oldman. His departure is heartbreaking.
You were lucky since you shared a very special bond with your grandfather and his death must have been so traumatic for you. But I know you are strong enough to get out of it.
I pray to God that your grandfather gets a beautiful place in heaven and I am sure he will get that as he was one of the courteous men I knew.
Remembering the day, I met your grandpa, I can still recall how nice and caring he was. I admired you so much for having such a supportive man in your life and this news was very saddening.
It is hard to imagine the pain you must be going through but the reality is that sooner or later we all lose someone we love and we will meet them in our afterlives.
Death of a closed one makes us so helpless and I am sad knowing how alone you must be feeling but I wish that you keep up your strength.
I was taken aback by the news of the death of your grandfather and I am sending my deepest sympathies to you and your family.
Death is an inevitable reality that is supposed to happen anyway and I wish you can feel less upset recalling the good times.
Check: Rest In Peace Quotes
Grandfather Pass Away Message
I with my breaking heart am informing you about the death of my grandfather and I hope you can pray for him.
I heard the news of your grandfather passing away and I knew I had to be with you. Stay strong as that was all he wanted from you.
The death of a man who was so wise and honorable is indeed a loss for all of us. I am staying by your side whenever you need me.
Losing the people, we love the most is the biggest tragedy of life but the truth is we have to face it anyway.
The news of the death of your grandpa reached me late but I am sending my deepest condolences to you and your family.
Read: Condolence Messages For Loss Of Mother
Losing a Grandparent Quote
Your grandfather was a great man and he was a role model for you and all of us. It is so sad that he is no more.
You are lucky to have lived under the shadow of the grandfather who was your biggest support and now you have to prove yourself to you. That is all that is needed to make him happy.
Feeling helpless when we lose our close ones is so heartbreaking and you have to make that pain your strength.
I always envied you for having such a charming guy as your biggest fan but remember one thing that he would always be with you in your heart.
The best way to remember a person who is no more with us is by making their wishes true and living a better life. Do it for her and you.
Also Read: Condolence Message On Death Of Father
What to Say to Someone Who Lost a Grandfather?
Being a human seeking strength in all the pain is what makes us strong. The best thing to do now is praying for him.
A man who was so kind and pious, heaven is the best place and you should be satisfied since your grandfather was a great man.
Love for a close one is something that death cannot trespass and you should think he will always be your support forever.
I know that you must be very lonely and desperate right now but remember you have to stay brave to get over this hurt.
Having a grandfather is like having a best buddy who is wise and you lost him but be patient and send your best wishes for him.
We are often at loss of words on times like sharing the hurt and pain with someone who has lost their close one. It is important to make them understand that you are with them so that they can get over the trauma.