To be 49 is to be so close to turning 50. As someone's approaching the end of the second quarter of their life, the below-mentioned happy 49th birthday wishes are the ones you need to go with. Why? Because they're unique and hence have the element of freshness to them. To sound enthusiastic or at least happy for the birthday man or woman, these wishes are necessary as they carry a lot of cheer with them.
Whether you desire to wish the other person sincerely, sarcastically, or with heart-felt greetings, you've come to the right place. We assure you that your scrolling won't go to waste and you'll end up saving more than one wish.
Happy 49th Birthday:
1. You've spent 7 spans of 7 years to be here today. Get yourself a threat and us, a birthday party. Happy 49th birthday.
2. May this year the breath of fresh air brings the cool breeze into your life to make your tedious journey better. Happy 49th birthday.
3. Happy 49th birthday. Leave your worries under the palm trees. Let the ton of stress be washed away by the waves of the ocean. Let nothing but joy take over this year.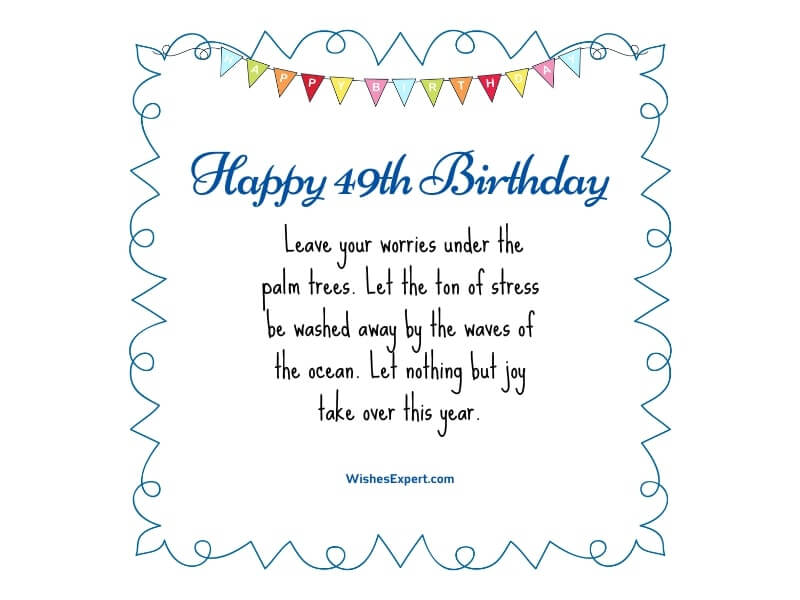 4. Drop down your pretense and let the plethora of rapture rush in to make your life lusher. Happy 49th birthday.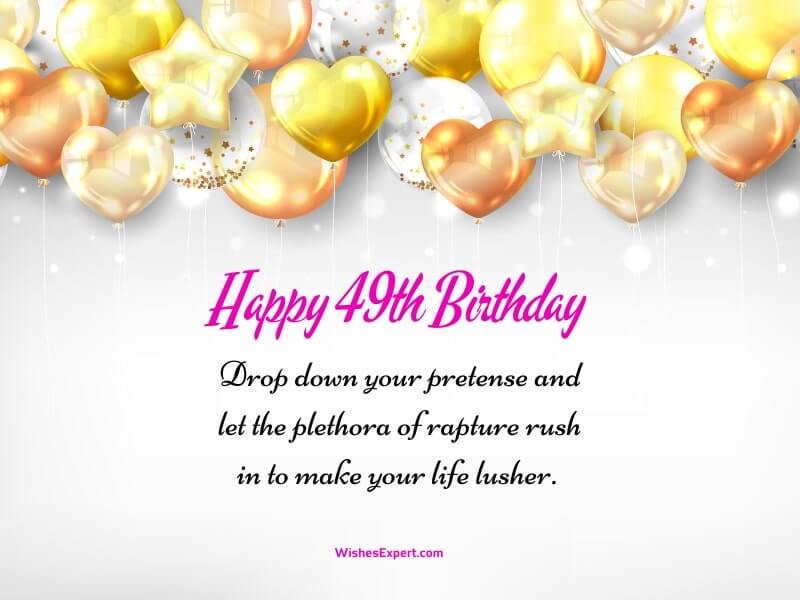 5. One more year to go to complete the 2nd quarter of your life, make this year count. Happy 49th birthday.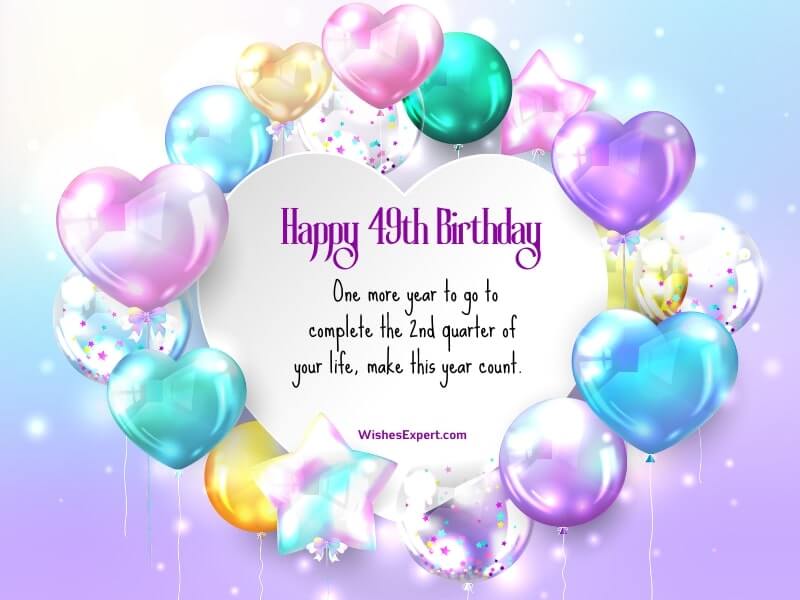 6. May this year you yield the serenity for all the seeds of sanity you've planted all these years. Happy 49th birthday.
7. Happy 49th birthday. Out on the fields, under the sun, sunflowers giggled to send you the beams of cheer to make your day and year ahead.
8. Happy 49th birthday. This year dive deep to find the pearls that the universe has kept somewhere safe for you.
9. Bring the madness in you to the surface. To prepare the people for your 50s, show the world the crackhead in you. Happy 49th birthday.
10. Unwind under the starry skies. Slow down with the water of life. Let nature refill your soul before you enter your 50s. Happy 49th birthday.
Check: Best 75th birthday Wishes
49th Birthday Wishes:
1. Let the wisdom that runs through your veins be the source of inspiration to others. Let those wise cells sprinkle some wisdom onto the moronic souls. Happy 49th birthday.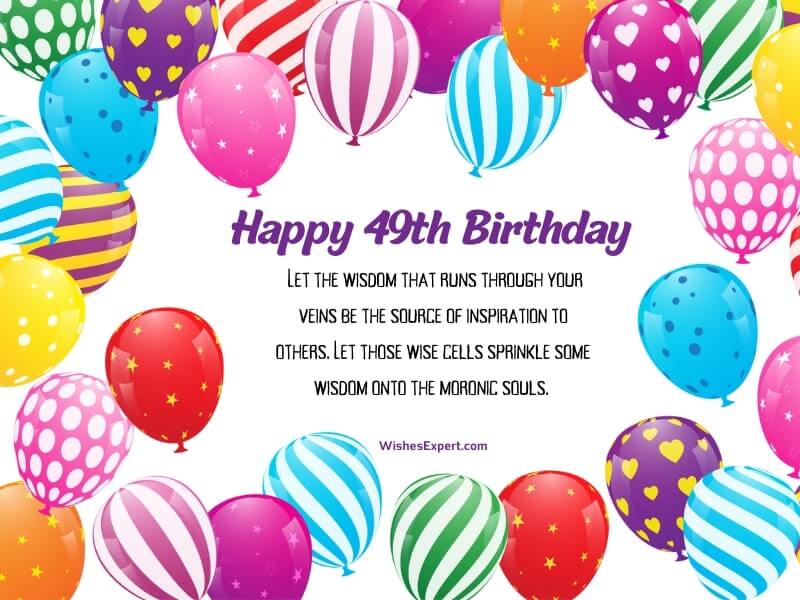 2. Delete everything and everyone that no longer serves you. Exit the rooms where the resonance doesn't come in handy. Start this journey with a clean slate. Happy 49th birthday.
3. May this year you nurture your mind with fruitful thoughts and relationships with love. Happy 49th birthday, have the best one.
4. Unchain yourself from the thoughts that keep you stuck in the shallow water. Unchain yourself to dig deeper this year. Happy 49th birthday.
5. Dear 49, bring the zest with you that my dear friend hasn't experienced in a decade and an exciting birthday party that he hasn't thrown ever. Happy 49th birthday, brother.
Read: Happy 45th Birthday Wishes
Turning 49 Years Old Greetings:
1. Pour your heart on this blank canvas and life will speak to your whirls of emotions with all the splashes of colors. Happy 49th birthday.
2. Send love to those parts of you that make you question your worth. Heal those moments of the past that made those loopholes. I wish you a very healing year. Happy 49th birthday.
3. Whether people come into your life for chapters or lessons, welcome them with an open heart and a broad smile as each of them has come up with a gift. Happy 49th birthday.
4. I hope you find your place in your community. I wish you can share your voice without a hint of hesitation. Being seen and heard is the biggest blessing. Happy 49th birthday.
5. May the gentle strokes of love and gleaming beams of hope brighten up your day and the year ahead. Happy 49th birthday.
Read More: Best 15th Birthday Wishes And Messages
49th Birthday Quotes:
1. Happy 49th birthday. Catch up your breath as you're catching up this year. Patch up with your inner child to get the best of this year.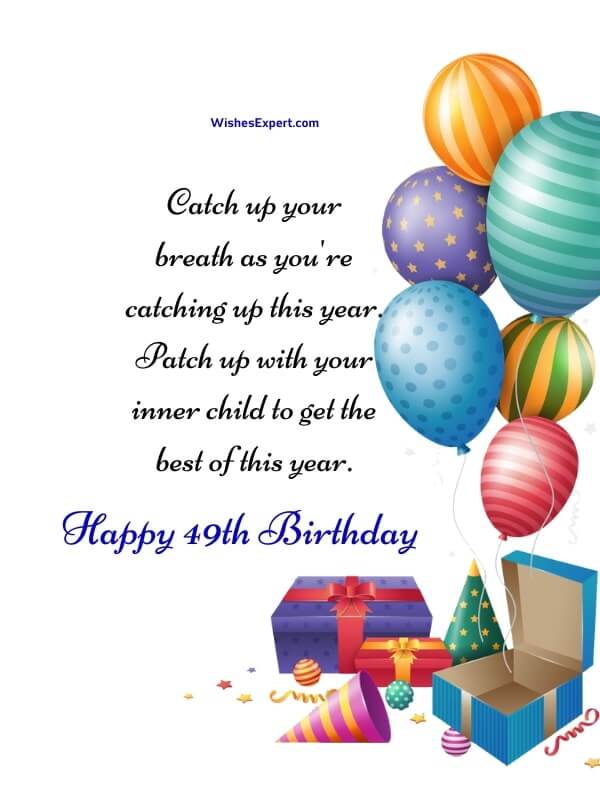 2. You will find me here always by your side to laugh when you throw up and let you make all the wrong decisions.  Don't worry, I got your back. Happy 49th birthday.
3. Whether you turn 49 or 59, like a Schrodinger cat, we'll never find you at the right place. With the thinnest hope, we hope this year changes that. Happy 49th birthday.
4. Wear rose-tinted glasses and see the world as a dreamy place to live in. Let every moment put you in the awe of the wonder of creation. Let yourself love and live.  Happy 49th birthday.
5. Happy 49th birthday. As you approach this year, we wish you to seek happiness in all the places you go and find love from all the people you meet.
The above-mentioned happy 49th birthday wishes will not only intrigue good emotions in the birthday person but some of them will make him/her inspire, motivate or cry happy tears. Whether it's your best friend, a parent, or a family member who's turning 49, you can find that one wish that feels fitting. By now, you would have found something to go with and we're happy to have helped you. You can find many other wishes and greetings on our main page too. Happy scrolling.