Happy 15th Birthday Wishes And Messages: Birthdays are the days which are special for everyone. A teenager is not an exception. A teenager goes through a rough patch of life. Thus, if someone wishes them a happy 15th birthday at this point, it will undoubtedly make their day a hundred times better and give them a sense of importance.
So, if you have an acquaintance with a teenager, you must know that they are at a comprehensible age where a birthday is the most memorable day in their life.
You do not always need to give them expensive gifts to show how much you love them. Sometimes simply a happy birthday wish is enough.
Happy 15th Birthday:
1. You spread your love wherever you go. Being mean to people is not something that you know. Happy 15th birthday and many, many happy returns of the day.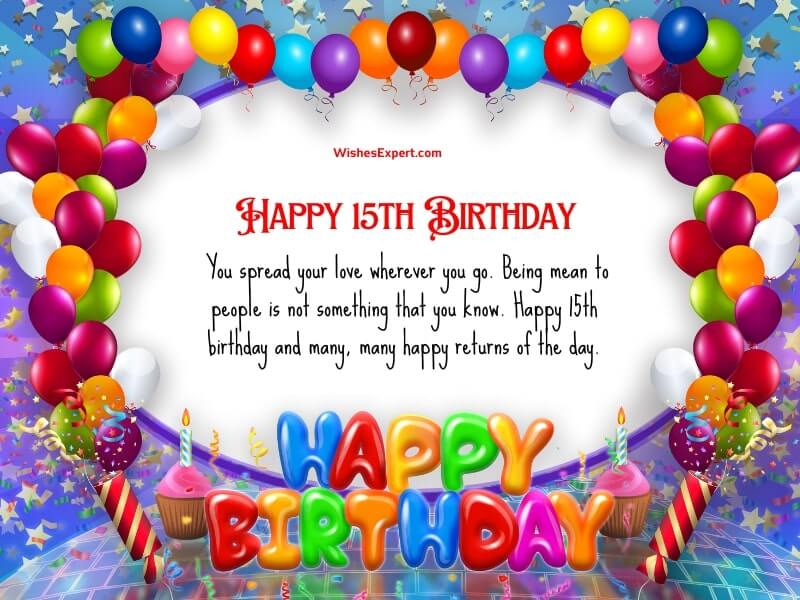 2. You are the most cherished person in my life, and for you, I am even ready to stand in front of a knife. Hope you have a great day on your 15th birthday.
3. I know sometimes everything gets hard to deal. But always know that it is valid whatever you feel. I wish all your birthday wishes would come true. Let me sing happy birthday to you!
4. I promise I will stay with you forever. I will not let anything break our bond ever. May God grant you all the success, and let me wish you a happy 15th birthday with loads of hugs and kisses.
5. I can't even imagine my life without you. You have no clue about the love I have for you. Have a great 15th birthday with your family and friends. You know you are always following the trends.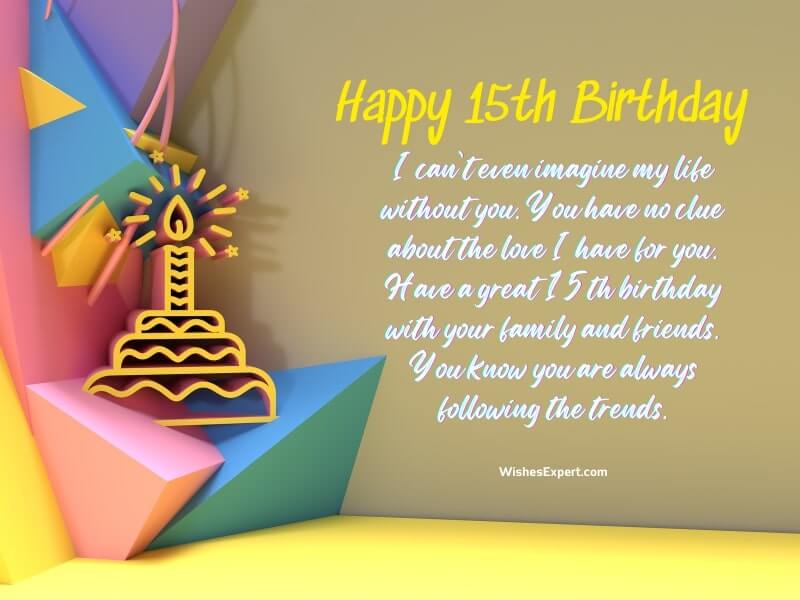 6. It has been years since we have known each other. You are my family even though we aren't from the same mother. Many happy returns of the day to my chubby cheerleader.
7. Though meeting you was a complete accident, it's still my life's most cherished incident. I send you lots of love and well wishes on your 15th Make it an exciting day.
8. We do everything together every day. I hope we will never go our separate ways. Happy birthday, love, and I hope you have a wonderful 15th birthday enjoying it happily with your friends and family.
9. You are the brightest star in my constellation. I admire you and how you love what you do with a passion. Hope you have a great 15th birthday spreading motivation.
10. You make even the darkest of my days bright. You should know that you are my life's light. I wish God shower you with a long and healthy life. Don't forget to sing happy 15th birthday when you cut the cake with a knife!
Read: Exclusive 19th Birthday Wishes
Happy 15th Birthday Wishes with Images:
1. You have grown to be such a good daughter. As your dad, I can't be prouder. Hope you have a great 15th birthday that will make your future sweeter and brighter.
2. You are the apple of my eye. If I don't get to see you regularly, it makes me cry. Have a great 15th birthday, my favorite person ever. Never you dare to forget me, ever.
3. You have always given your best in everything you do. I have no complaints against anything you do. Happy 15th birthday, and many happy returns of the day to you.
4. Always be the way you are, and never try to change yourself for others. My birthday wish is that you live a long and healthy life. My heartfelt 15th birthday wishes will help you to thrive!
5. You have just started the journey of your life that's so beautiful. But always try to be very careful. I hope you celebrate your 15th birthday in a way that's wonderful.
Read More: 13th Birthday Wishes
15th Birthday Wishes:
1. You are happy with the littlest of things; you are like an angel without wings. May God grant you all the success as I shower your 15th birthday with loves and kisses.
2. No one can be as selfless as you. I hope you will always succeed in everything you do. Lots of love and well wishes on your 15th birthday, dear. Whatever happens in life, never fear.
3. I will always wish for your happiness no matter where I am. My love for you is like an open dam. I adore that simple smile of yours when you peacefully lay. I hope you have a great 15th birthday.
4. You don't know how lucky I feel because I am your friend, while I wish to stay with you till the end. On your birthday, I know all your wishes will come true as I wish a happy birthday to you!
5. Eat lots of cake on your birthday. I hope you live your life at its best every day. May you have a blast on your 15th birthday. Many, many happy returns of the day.
Check: 25th Birthday Quotes
15th Birthday Quotes:
1. Turning 15 has its own unique benefits. You can now be as smart as an adult or a child who is stupid. You can handle any circumstance immediately. Happy birthday, lovely!
2. May the Lord shower you with benefits like rain from a stormy cloud. The way you brightly shine makes me proud. Welcome to the fifteen-year-old club. I am wishing happy birthday to my little cub.
3. Living a human life is like ascending a flight of stairs. You should understand this as you completed your 15 years. Darling, there are a lot of obstacles to overcome in life! Cut them like you will cut your birthday cake with a pink knife.
4. Happy 15th birthday, buddy! Only three left before you may legally become an adult, and you should remain steady. Enjoy this fascinating occasion! I only hope for the best and brightest future with complete devotion.
5. My sweetheart, you are no longer a little girl of thirteen. You have grown into a lovely queen. So, here's to you, live it up to the utmost today as you reach your year fifteen!
1. Right now, I'm the happiest father as my son steps into the most crucial year. He turns fifteen, thus reaching a significant milestone. Happy birthday my child, and may God guide you while you choose your friend zone.
2. Greetings on your 15th birthday, my beloved son. I wish you all the best, lots of love, and loads of fun. Smile because you deserve all the happiness. Of course, you will have to deal with your stress.
3. I love you more than everyone else, including your mother. Happy 15th birthday, sweet boy, and always remain cheerful as ever! We are so grateful that God gifted you to make our world beautiful.
4. The loveliest child in the world turns 15 today. You are the most gifted and intelligent child I have come across my way. I feel so fortunate to wish you a happy birthday.
5. Happy 15th birthday to you, darling boy. The day you came into our lives, you filled it with joy. You are the reason behind my happiness, and on your birthday, I will shower you with my lovely kisses.
15th Birthday Wishes For Daughter:
1. Although I adore the woman you are becoming, you will always be my baby, darling. Thank you for showing me the ropes as a mother. I wish a 15th birthday to my precious daughter.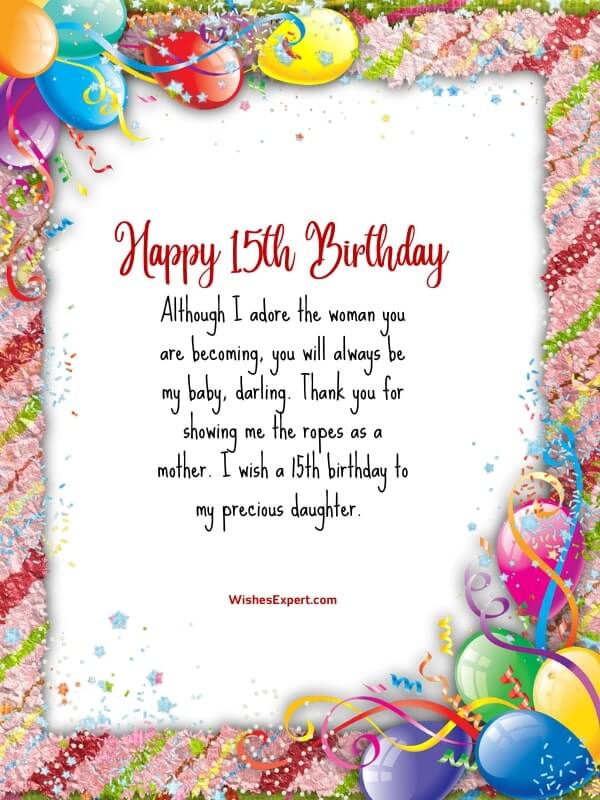 2. Nothing is more important than the affection of those around you, so enjoy this special day only with those who love and cares for you. Even if they are few. Girl, wishing a happy 15 to you.
3. Sweet daughter, not just today on your birthday, but you will have peace every day. Love, happy 15th birthday. May you experience the magic and love each day.
4. Never lose sight of the fact that your parents are there to help you out when you need it. My little kid, this world is yours if you make yourself the best fit. Happy 15th birthday, my girl. Your smile is as bright as a pearl.
5. I want you to achieve all of your aspirations and ambitions because you have always been my inspiration. We don't turn 15 every day, so I don't mind shouting loud, and singing happy birthday.
15th Birthday Wishes For Niece:
1. You are an outstanding young lady, and we adore you so much as you approach your fifteenth birthday, buddy! We are immensely pleased with the woman you are turning into. Birthday greetings, sweet niece, and happy birthday to you!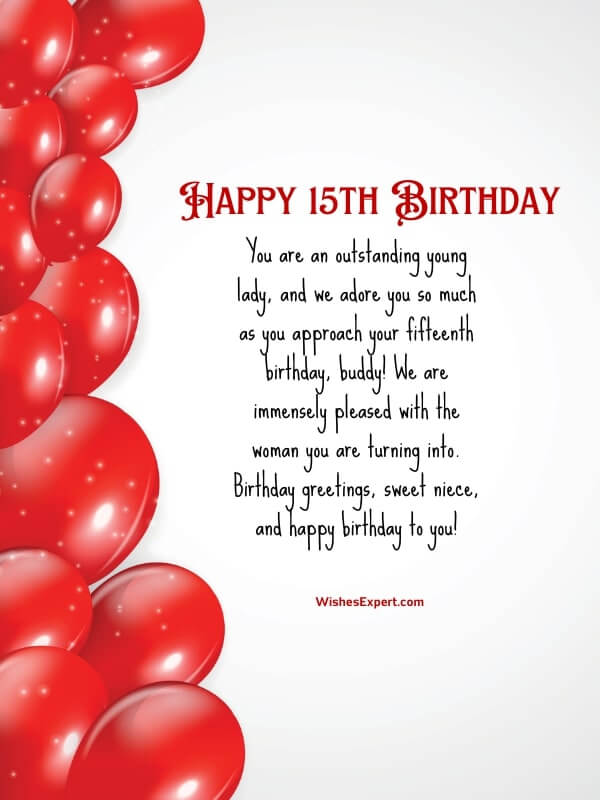 2. Cheers to being 15! I know, in the future you will be the glamour queen. The lady whose followers always increase, I am wishing her happy birthday, my niece.
3. Happy 15th birthday, dear niece! We are ecstatic to share this occasion with you, and save me a cake piece! I'm looking forward to witnessing what the upcoming year has in store for you. I wish a fab birthday to you.
4. Niece, happy 15th birthday! Our lives are so much merrier because there you stay. I love you because you are beautiful, intelligent, and amusing! Happy birthday, darling!
5. Celebrating the 15th birthday of my adorable and fashionable niece! Best wishes go out to this amazing teen who always loves peace. I hope you have an amazing day while you celebrate your birthday!
So, with a sweet smile on your face, if you wish someone a unique happy 15th birthday, it will be a very appreciated thing. But in today's social media world, wishing them via messages or emails can also be a good idea. The message needs to be heartfelt. It is enough to make the person realize their importance. A simple happy birthday can go a long way and win enough hearts even though it seems too insignificant of a gesture without a grand gift, but it shows that you are someone thoughtful.