Happy 19th Birthday Wishes: Birthdays are the days to make your loved ones feel special and loved. Especially their 19th time to take a complete revolution around the sun should be celebrated as this is the year when they bid farewell to their teenage years while beginning their journey into this wondrous world of opportunities, success, and happiness.
So, it is a memorable year of their lives. So, you whole-heartedly want to wish them on their 19th birthday with a uniquely composed quote. And once you have found the perfect 19th birthday message, you desire to embellish their special day with creative gifts and fill their special day with joy.
But here, you are stressed over selecting the best birthday quote for them!
Let us help you find a few hand-picked quotes so that you can convey your heartfelt feelings for them through your birthday wish.
Here are some aesthetically composed happy 19th birthday quotes to bring a smile to their face:
Happy 19th Birthday:
1. Life with you has been nothing but a rollercoaster. If it turns to a movie, that surely will be a blockbuster! Happy 19th birthday, pal! Have fun, be a happy girl.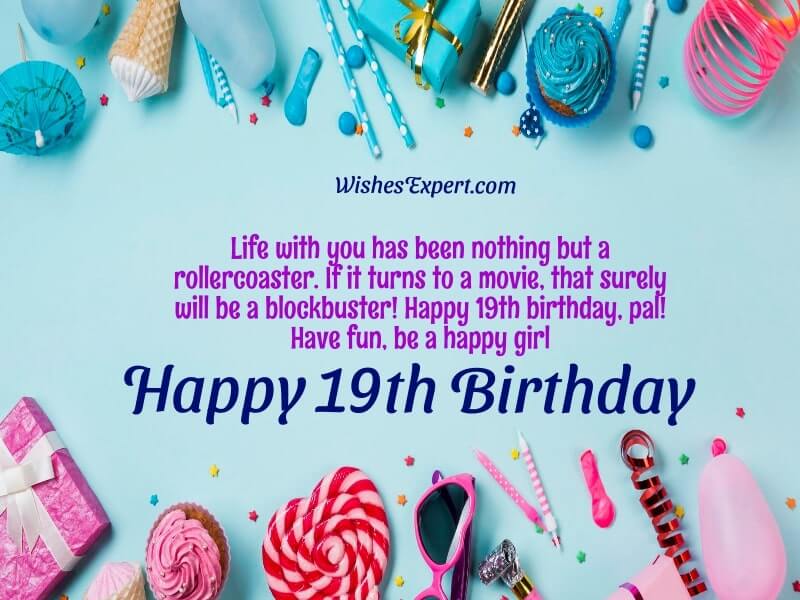 2. This is the last year that you shall remain a teen. For today you have turned nineteen! May your dreams come true with every heartbeat, and you rise over every defeat. Happy 19th birthday dear, this year do things you like, and never fear!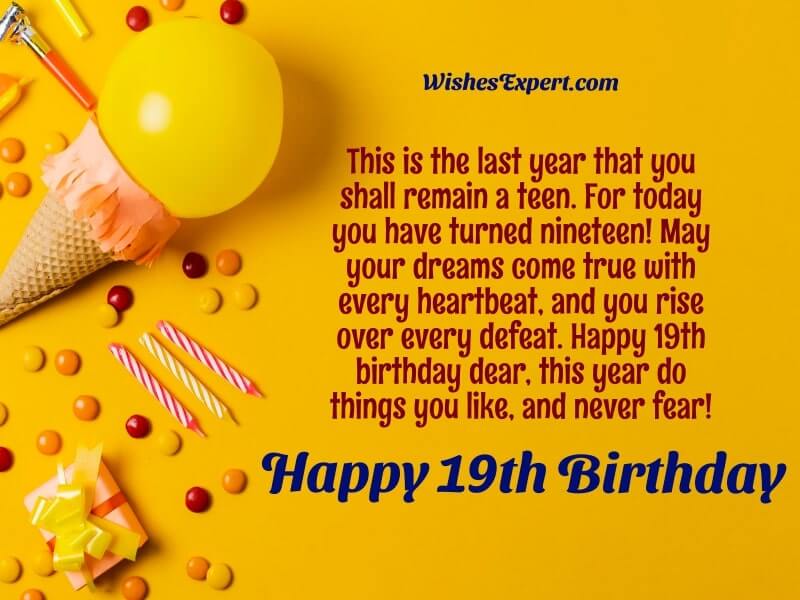 3.  Wish you a happy 19th birthday, my white lily. You are the pillar of my strength, really! Hope to see you reach the zenith. May the light of your dreams always remain lit.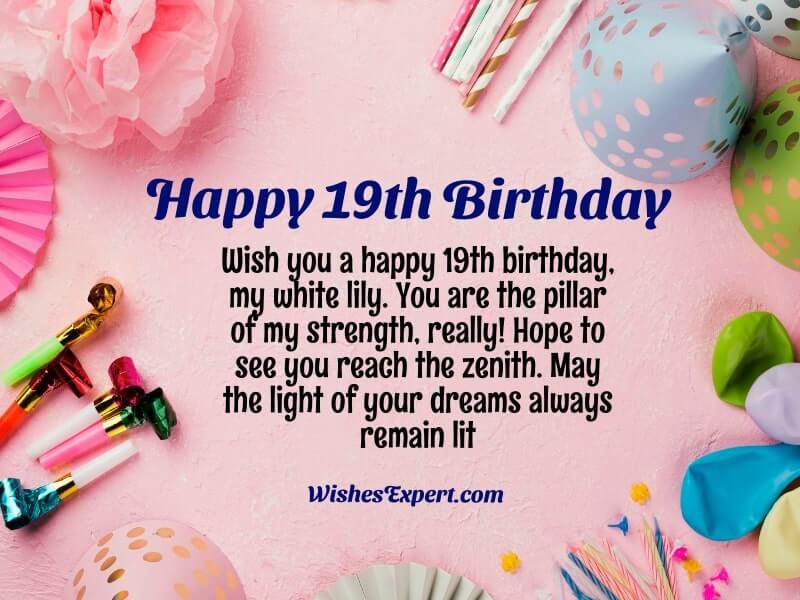 4. As you arrive to the last of your teenage days, with grace, if I may. Relish every second of this eventful year is the last thing that I will say. Armor yourself for challenges to come, my dear. Happy 19th birthday, you are now too big to play with a teddy bear.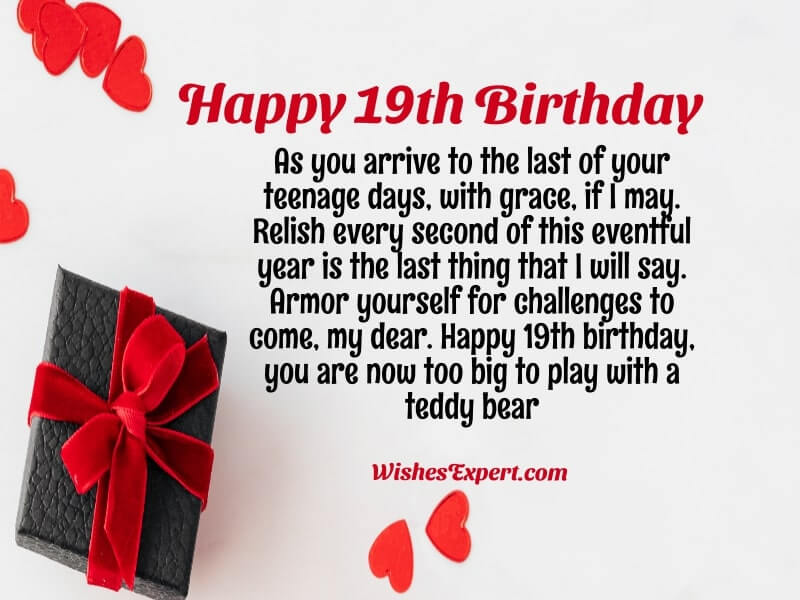 5. Wish you a very happy 19th birthday, my child. Thinking of a life without you seems wild. In this ever-changing life's stream, may you always hold onto your dreams.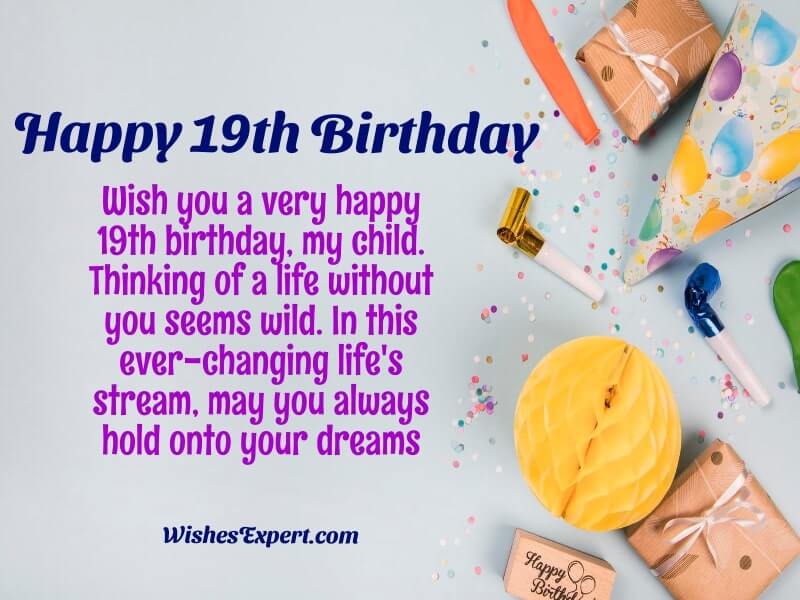 6. Happy 19th birthday to my all-grown-up baby! Day by day you look more and more like your daddy. My heart fills with pride. May happiness and peace in your heart always reside.
7. Hey, today is your 19th birthday, my sweet sis! May you get your birthday wish! For such a caring person you are. You deserve to shine like a star.
8. The clock ticks twelve and it's your special day. Wish you a happy 19th birthday! Offer your teenage years a goodbye kiss! May your future be filled with great bliss.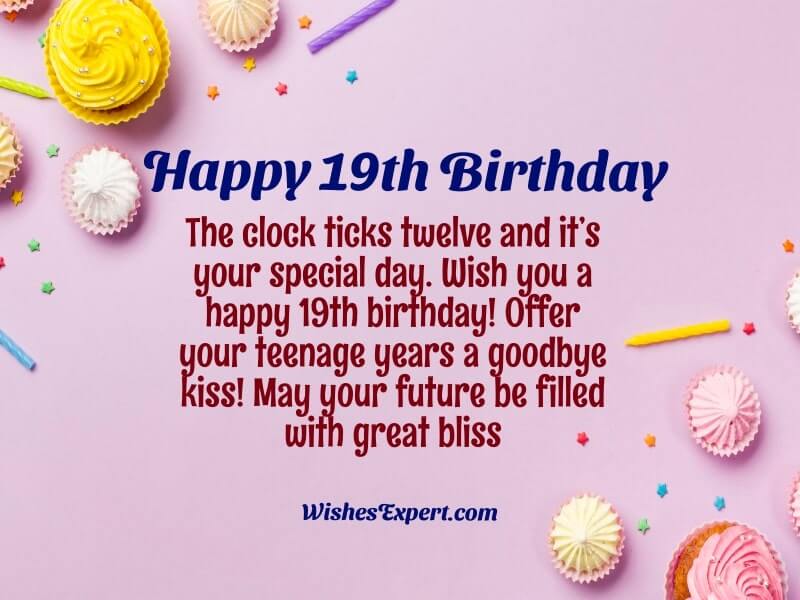 9. Wishing you a very happy 19th birthday. Be true to yourself, come what may. Wish the heavens shower you with great happiness, for you are a bird of joy and kindness.
10. This is the year for fresh new beginnings. May you have successful innings. Wishing you a very happy 19th birthday. May your path ever be enlightened by a heavenly ray.
Read: Top Happy 25th Birthday Wishes And Messages
Happy 19th Birthday Wishes With Images:
1. You are the ray of hope and love in my life, that shines in the day and glows at night. Keep glowing and spreading your charm more and more. Happy 19th Birthday to you, with you I never get bored.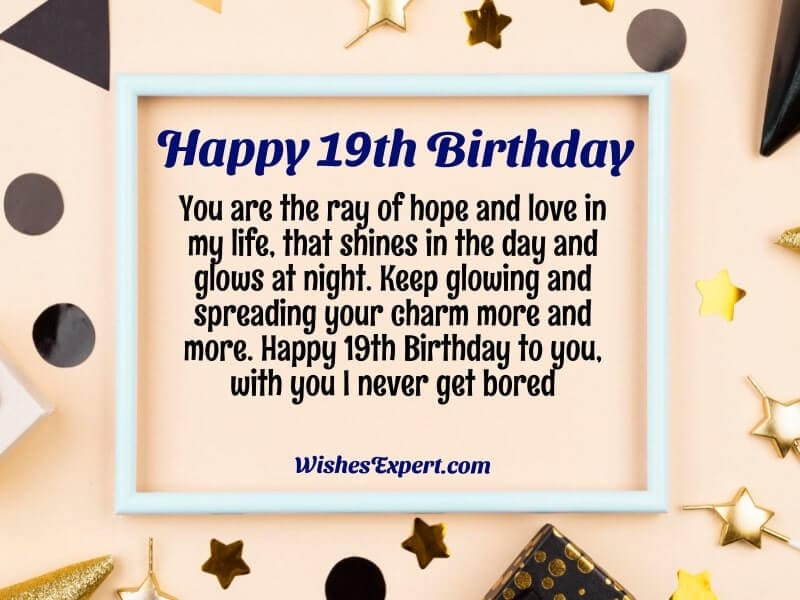 2. Happy Birthday to a person who is loving, caring, talented, humorous and helpful. Happy 19th Birthday to my friend who is always cheerful. Enjoy the day meant specially for you. Wish your crush will soon ask you; how do you do?
3. Sending you birthday wishes on the day, which is as special as you are. May you be blessed with what you have been wishing for.
4. A person having a beautiful heart believing in beautiful things turns 19 today. Happy Birthday beautiful wish you to celebrate it your way! May your teenage ends with a blast. Do pace it slowly, do not run fast!
5. You are more special this year as you bid bye to 18 and say hi to 19. Happy 19th Birthday to you as you bloom fresh and new. Sending you loads of good vibes and love. Stay blessed, my peaceful dove!
Read More: Birthday Wishes For Lover
1. Lucky are those men who are blessed with daughters, and luckier are those who are blessed with a daughter like you, who always fill the home with laughter. Happy Birthday to my daughter dear, today you turn nineteen and I wish you a future brighter.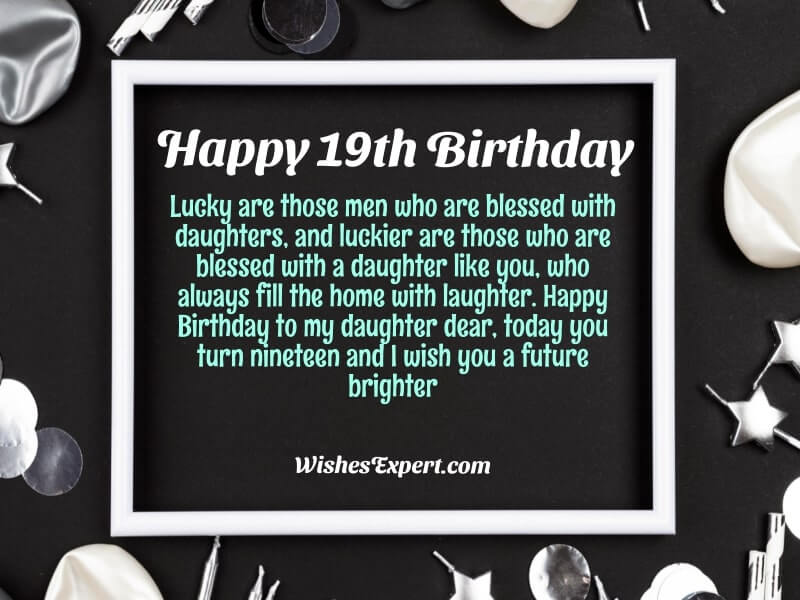 2. Every daughter is not a princess to all but to her parents. For the last nineteen years, you have been one to us for your talents. Happy 19th Birthday to our loving daughter. Your pain is the only thing we cannot bear!
3. You may look at the brightest star in the sky every night. But I look at you as you are the brightest star to me holding me tight. Happy Birthday to you dearest. I have said a lot of time, so you know, you are the best.
4. Since the day a daughter is born to a father, nothing else is there for him to bother. Happy Birthday to my little princess. May God shower your life with love and prosperity in excess.
5. For the last 19 years we feel blessed to have you as our daughter, as you bloom with grace and compassion with every passing year. May God bless you. Happy 19th Birthday to you.
Check: Celebrity Birthday Wishes
Happy 19th Birthday Son:
1. Dear son, I still remember how you looked up to me with those bright eyes in the early dawn. Now you grew beyond my shoulders, and with passing years you have become a wonder. Happy birthday to you my son, wish you luck and success in the long run!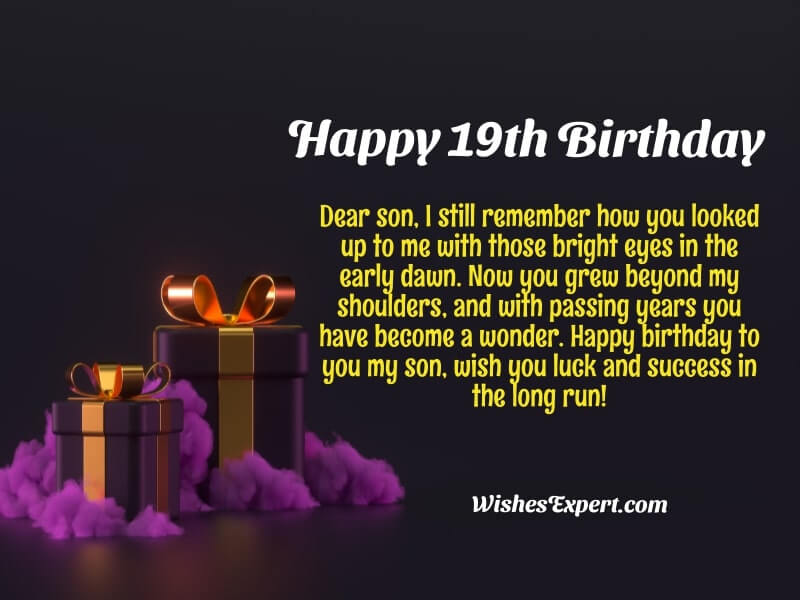 2. My lovely son, if I knew the time would fly this fast, I would still have you wrapped around my hands because you are my stardust. Happiest 19th birthday to you son. I love you a ton!
3. Many more happy returns of the day my boy. May your days be filled with joy. It's time to stretch your wings and soar high, the sky is your limit, it's time to bid boundaries goodbye. Enjoy your last year as a teen, and be the best ever human being.
4. My dear young boy, though every year you grow older you are still a baby to our eyes. Mommy and daddy love you so much, even though you are still afraid of the mice. Happy birthday moon pie, you are, apple of our eyes!
5. Hey kid, I wish you have another blissful year and lovely life with a bright future waiting for you to venture. Happy birthday my dear son, shine brighter than the Sun.
Happy 19th Birthday Niece:
1. My dearest niece, when I look into your eyes, I can only see peace. I can see my brother with a bright future, you are his rightful successor. Happy nineteenth birthday to you dear, a person like you is very rare.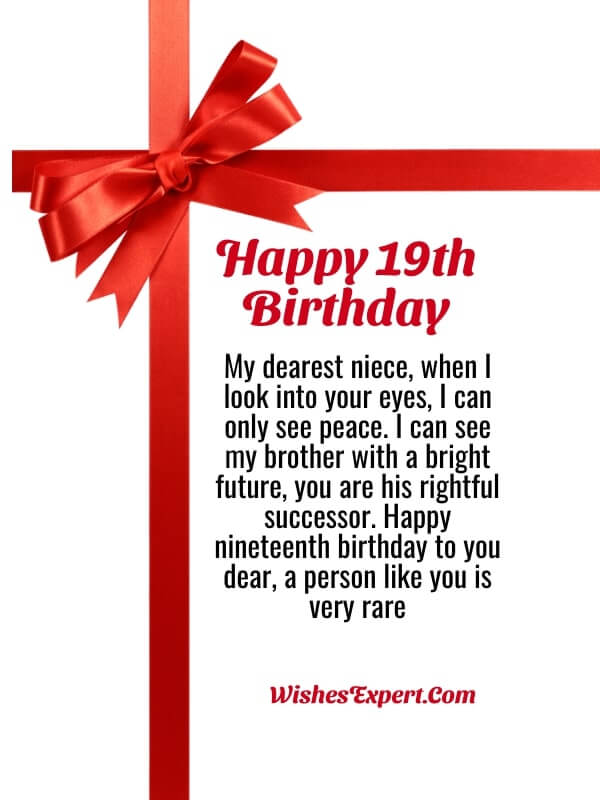 2. Many more happy returns of the day to my favorite niece. It's a blessing to have you in my life, you are such a bliss. Aunt will always be on your side, as soon long you have that beautiful heart inside.
3. Showering all my love and kisses to my lovely niece for turning 19. Looking forward to seeing you as you pass your teen. Grow into an amazing and independent lady, you have a great future ahead baby.
4. Happy birthday to you my dearest niece. With growing years, you have become gorgeous, miss. You know you have always been my darling dear. Uncle, will always be your partner in crime never fear.
5. To my beautiful partner in crime, your aunt wishes you a very happy birthday, I can spend for you all my dime. You deserve all the happiness in this world because you are rare. Wish you a rocking birthday, as rocking as you are.
Quotes For 19th Birthday:
1. Happy 19th birthday to you love, you are the best. This is your last year as a teen so live every day to the fullest. Let all odds be in your favor. You will always have beside you, your mother and father.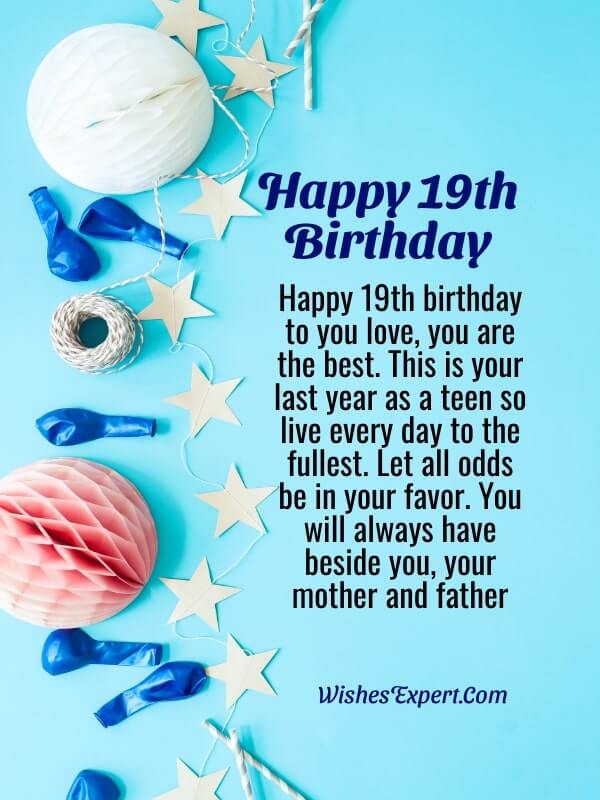 2. May this beautiful day bring you all joy, you are my prince, my boy. Live your life with peace and serenity. Happiest birthday to you, may your life be filled with positivity. Love you dear, will love you more, don't fear!
3. Happiest birthday to you my dearest friend. A life without you means, life has come to its end. Thank you for being there with me at all times. You are the best, treat the year nineteenth as precious as a dime.
4. Hey champ, welcome to the awkward phase of half adult and half teen. This year will be more fun than you imagine. Happy birthday to you. You deserve all love, I love you, and miss you too.
5. Hey best friend, can't imagine you turning 19 so soon. I feel like it was just yesterday I met you at the kindergarten. Have a great day and a fabulous future ahead that's the only thing I must say.
With these happy 19th birthday wishes, you are off to a great start. And you can personalize these quotes with a touch of your flair and make them feel extraordinary. If you are feeling creative, don't restrict yourself to just sending these quotes as texts. Assemble a hand-made card with these quotes, or even so, print them out as decoration for their birthday party.