Happy 45th Birthday Wishes And Messages: You may not have many occasions to let your dear ones know how much you adore them. You may not require a special occasion to do so, but birthdays are meant to show how much you love them. Apart from giving them a gift, flood their birthdays with happiness by letting them know about your feelings for them.
Congratulate them on their 45th birthday with sweet birthday quotes. Make them feel special and make their special day filled with smiles to the brim. You can select the following happy 45th birthday messages to wish them or add your touch to let them know they are special to you.
Happy 45th Birthday:
#1.  Happy 45th Birthday dear Father, on this special day in your life, I pray to almighty for you to have his blessings all the time. I pray for your happiness and good health forever; may we always remain together.
#2. Happy Birthday, My Love! Each and every day of your life is special for me, but your birthday is something that I always fancy. Will you believe for the last Fifteen years what I felt? You get angry easily, but in front of a hot cup of tea, you quickly melt.
#3. Happy 45th Birthday dear mother! May you 'STAY BLESSED and BE HAPPY FOREVER'. The moments we come across and the memories we make are 'ETERNAL,' whenever you were there with me times were 'SPECIAL.'
#4.  Happy Birthday my dear Son! Always be yourself in your life whatever the circumstances are, be a good human, stay blessed and do whatever makes you happy, no matter wherever you are.
#5. Every day is a new day to begin something new, every day is a new day of Hope, Love, Positivity and Happiness and you started this journey 45 years ago on this day with loads of freshness. May you stay happy and blessed forever. Soar higher, happy birthday, dear.
Check: Religious Birthday Wishes And Greetings
Happy 45th birthday wishes with Images:
#6. Every year enriches you with memories and experience, and these help you to balance. You are an amazingly funny human being; you find your joy in doing simple things. Hope this year brings you more happiness than all previous ones. Happy 45th birthday, may this year you give life new dimensions.
#7. Each day of companionship with you means a lot to me. We learn more about each other while traveling together hand-in-hand, you provide me shade like that big banyan tree. Happy 45th birthday, my love, sweeties, may you always be happy.
#8. You are my first teacher and my best friend, who doesn't know what is it to pretend. Thank you for supporting me in everything and anything, happy 45th birthday to the person who is always there beside me, at life's every crossing.
#9. I never realized when our friendship surpassed the limitations of office meetings and reached the warmth of comfortable house gatherings. Happy 45th birthday, on this day say 'Yes' to new beginnings.
#10. It is a relief to have someone to rant about the boss, or watch games together, from the toss. But it is even greater relief to know that a caring friend like you is just a call away. Wish you a happy 45th birthday.
Also Read: Birthday Wishes For Mom
Funny Happy 45th Birthday Quotes:
#11. Happy Birthday Sweetheart! Do you want to know a secret? Today on your 45th Birthday I found and came to a logical conclusion that whatever admiration and appreciation you got from me is insufficient. Calling you foodie should be the best compliment, even your partner will when you are in front of tasty dishes, then you are the most decent.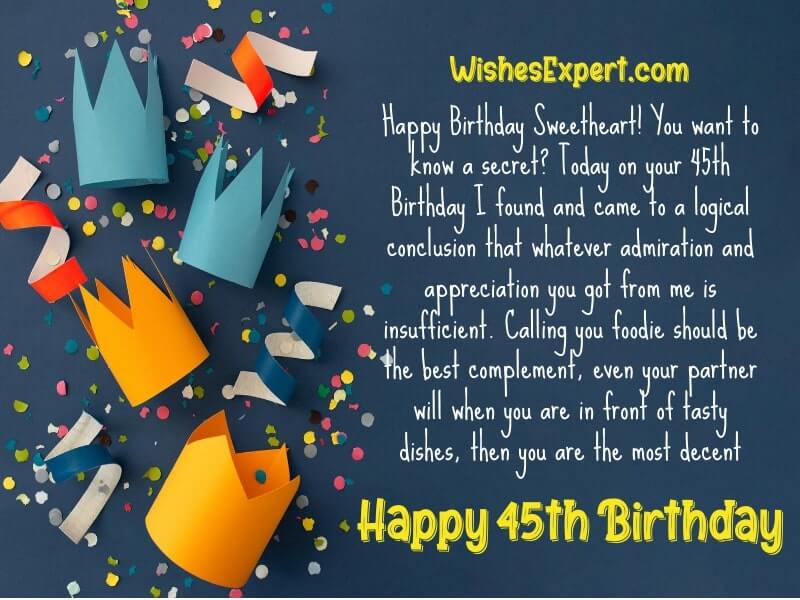 #12. As days are moving ahead, you are becoming cuter and cuter and younger my dearest brother, while I am growing older, always searching for my charger. Today I am 45 too, yet you will have more messages than I do. I guess you too have some nice words for me, you see, I never compliment anyone for free.
#13. Happy 45th Birthday sister! Just wait and be patient, and watch how I reveal all your secrets to your kids and your mister. I won't hesitate to tell how you follow weird fashion trends, adding crow's feather to your hat's end. But, wait till I tell them how you got afraid of a 'Ghost' this weekend!
#14. Happy 45th Birthday my cutest champ! You will always be my champ, ruling every ramp. Now take the gift, take this key and your dream car is waiting outside, it's pretty heavy. Oh, wait, I forgot to tell you boy, the key is of the chest that has car of your joy, you see it is a car but that's just a toy!
#15. Happy 45th Birthday dear father! I always tried my level best in my life to fulfill all your wishes and today I believe that I can make you happier. Today I am an author and each and every story of mine defines our relationship, the way we accepted each other. The way I define you, the way we think of you, the way I love you now and forever.
Check: Happy Birthday Wishes For Cousin:
45th Birthday Quotes:
#16. The world knows you as a teacher who makes tough mathematics a fun subject to learn. But I know you as a person who makes this world easy and fun. Happy 45th birthday to the best teacher, may you always be this great fighter.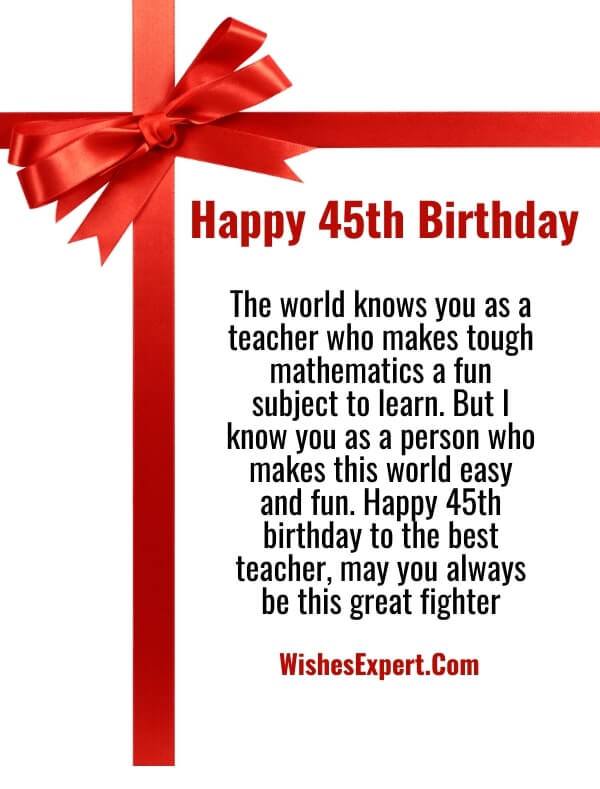 #17. On every occasion, I explore a different side of you. Hope this new year wraps you with joy and happiness and with a colorful hue. Finally, I have just one thing to say, wish you a happy 45th birthday.
#18. You are the person who has taught me how to ride a bike. I also learned how to be childlike. Happy 45th birthday to the person who taught me to face this universe by challenging the adverse.
#19. Starting from getting each other scolded by my mother, our relationship grew out to sharing our deepest secrets. Happy 45th birthday to my sibling who has now started caring about budgets.
#20. Even though you worry about your skin getting slightly wrinkled and a few grey hairs here and there, you look lovely like the day we crossed paths, together. With maturity adding elegance to your beauty, you are now my prettiest lady. Happy 45th birthday to you, sweetie.
They can be your friend, parent, better-half, or colleague whom you want to tell how much they mean to you. Let them know how you value them with your birthday wishes. Let the birthday wishes reach them to convey your love and respect for them. You can use these happy 45th birthday wishes or add your own words to make the messages personalized.