Birthday wishes for a friend's daughter might not be something we see frequently, but sometimes some relations are unexpectedly close and loving. Some people are as close to their friends as their family, and they grow old like that. In such cases, a friend's daughter will be equally valuable and adored as one's daughter.
Other than that, it doesn't matter how close you are to someone as there are no such criteria to be followed to wish someone a good life on their birthday.
So, wishing someone on their birthday is a very touching gesture. Anyone can do it for anyone. So, the wishes here can be of good use.
Birthday Greetings For Friend's Daughter
#1. You are like the beloved daughter that I never really had. I hope that throughout your life, you never face anything bad. Have a great birthday, kid, and never be sad.
#2. I am very proud of whom you have grown up to be. Remember that whenever you need someone, you will always have me. Have a wonderful and happy birthday, cutie.
#3. I hope you succeed in everything that you ever want to do. Know that we are always here to support you. May god bless you on your birthday as we all sing happy birthday to you.
#4. May all your wishes come true, cutie. May you achieve all success and prosperity. Always be responsible and fulfill all your duties. Eat cake and enjoy your birthday while creating sweet memories.
#5. I wish you many happy returns of the day. I pray to God to bestow you with the strength to overcome all the hurdles that might come your way.
Read: Happy Birthday Wishes For A Friend's Son
Happy Birthday Wishes For A Best Friend's Daughter
#1. You have grown up as a beautiful girl with chubby cheeks and bouncy little curls. Have a magnificent birthday, princess, and enjoy your tasty cake and make a splendid swirl.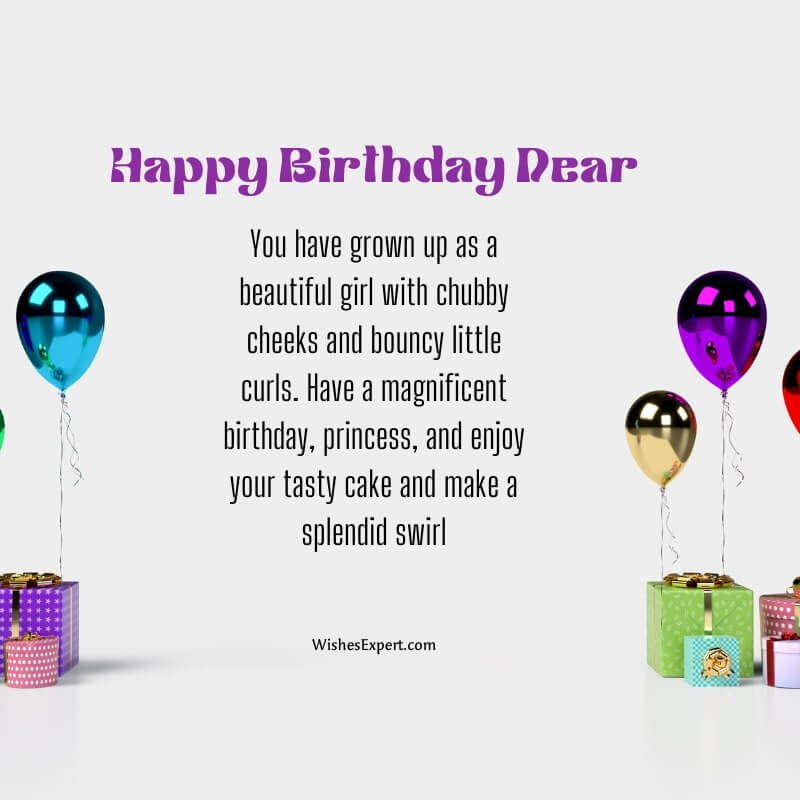 #2. I hope you can feel my love and support even when I'm not with you. I know your birthday gift is due. Spend the birthday with your family and friend, and my love for you has no end.
#3. I know you are working hard to do something good for your career. But you should also enjoy your birthday, my dear. I wish you an excellent happy birthday, and I know you'll be a topper.
#4. Even though I could not be here to celebrate your birthday with you physically, sending lots of love, hugs, and kisses virtually. So don't worry, just enjoy it frantically.
#5. I wish you good luck and good health for your birthday. I hope on your next birthday we will be together to enjoy the whole day. But today, don't hesitate to celebrate the day.
Read More: Birthday Prayers And Blessings For Daughter
Birthday wishes To A Friend's Baby Girl
#1. To the darling baby girl, I wish you the happiest birthday with lovely memories and laughter. It is your aunt wishing many happy returns of the day, dear.
#2. A sweet baby girl like you is indeed God's grace and blessing. Many happy returns of the day, my lady charming. Your aunt is always there for your styling.
#3. I remember, a year ago, a lovely baby girl was born on this auspicious day. My prayer to God is to make you a magnificent human and send blessings your way.
#4. I wish the most delightful of days to the prettiest baby girl. Happy birthday, cutie, you are a pleasure to be around, little girl.
#5. Here is a heartfelt birthday wish to the tiny creature I love. You are my little dove. I sincerely hope you have happiness, laughter, joy, and everything because your mom deserves all the lovely things!
Also Read: Birthday Wishes For Daughter
Cute Birthday Messages For A Friend's Daughter
#1. To the cutest, sweet, and lovely princess, I know. Happy birthday, I pray that you continue to grow. I wish you many happy returns of the day. It is the best day in May.
#2. May all your dreams come true. I shower all my love and happiness on you. Life is but a potpourri of emotions, as they say. May God listen to whatever you pray.
#3. Your parents are so lucky to have you, and I don't know what more to say. They will help you grow better every single day. Here are your gifts of teddy with flowers. I wish you a magical birthday and much love, dear.
#4. To the cute tiny tot of our life, I hope all of your dreams come true. Here is a graceful birthday wish from your aunt to you.
#5. Such a pretty little princess like autumn's dew. I wish you an enthralling birthday, and let me shower all love and good wishes on you, do enjoy life with hues.
Anyone can use the "birthday wishes for a friend's daughter" to portray the depth of their adoration. If you wish someone happiness and good health, proper heartfelt words can make their special day way more special. It's not always expensive and extravagant gifts that are expected as birthday gifts. Sometimes sincere words of love and adoration can be the greatest gift of all time. Through these wishes, you can make someone realize that someone out there will take care of them. It will ensure that their special days are even more special.