Goodbyes can be challenging, especially when you are saying farewell to a beloved friend or colleague, but this does not mean that the farewell messages have to be all tears and sadness.
You can add a bit of wit and humor with your funny farewell messages to make the goodbye as memorable as the time you have spent together.
Whether it is a simple 'goodbye' or a hilarious goodbye quote, the moments and smiles they will bring will be a part of your special memory.
Whether you bid farewell to a friend, colleague, or family member, these witty goodbye quotes are sure to leave them smiling long after they have said their goodbyes.
Here are some funny farewell messages which will fill those sad moments with bursts of laughter. Send these funny farewell messages to make your dear ones smile with a comedic twist when they are leaving.
Funny Farewell Messages
#1. Managing deadlines without you would be a big deal. We will miss your extended prep talk during our meal. We cannot bid you farewell. Nevertheless, we will miss the long tales that you used to tell.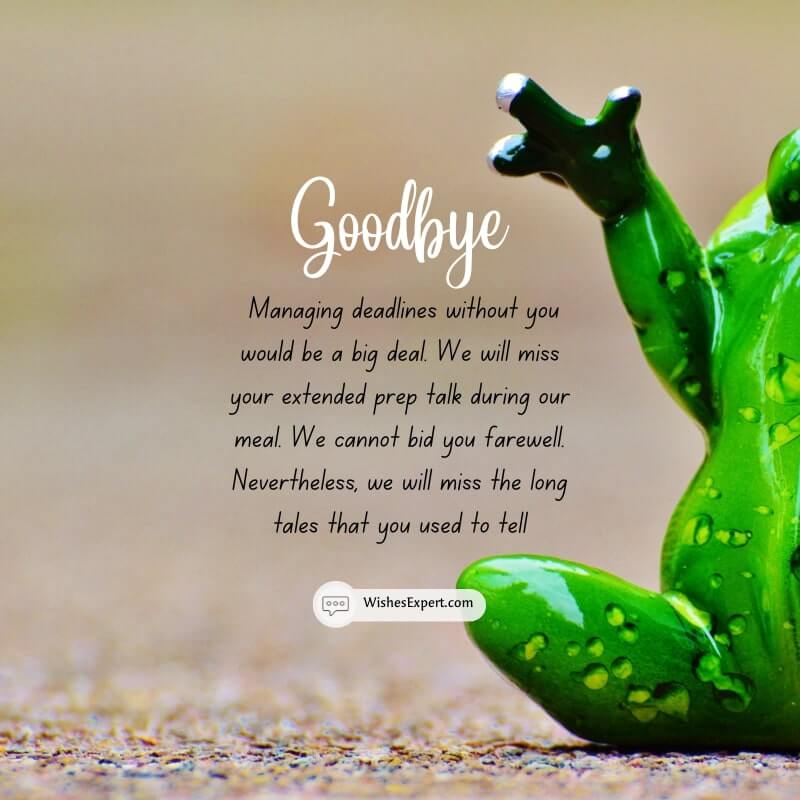 #2. Farewell is just a term, and we will always feel your presence. In our sober moments, we will realize your absence because you used to babble, forgetting the meaning of silence.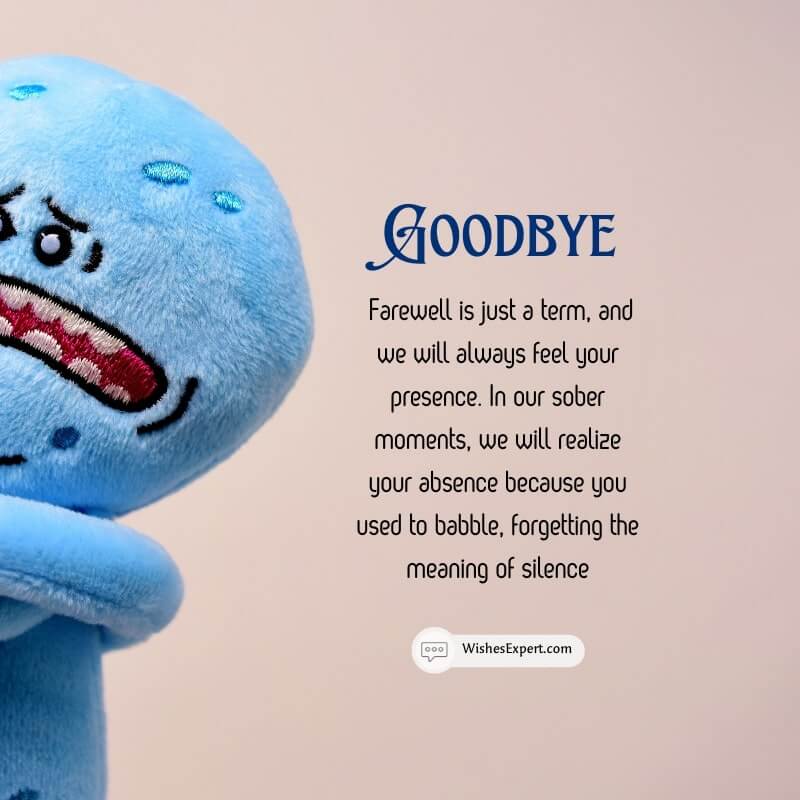 #3. Come on, gossip lady, stop being emotional, and stop crying. Your gossip has made our dull days much more exhilarating. Your candor and competency have highlighted your character more. Bidding you farewell is more challenging than bearing your throat soar.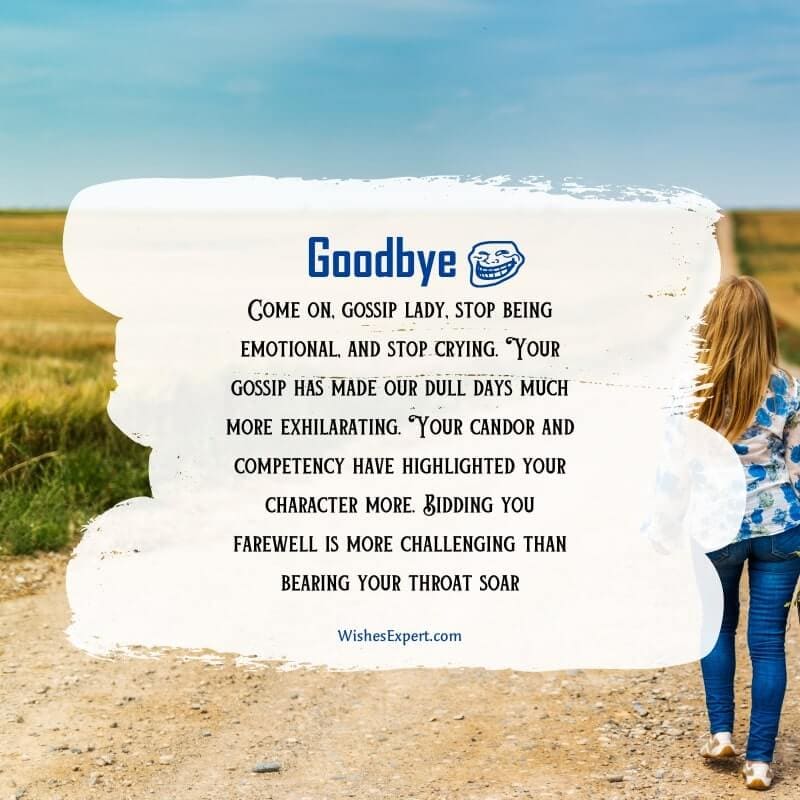 #4. On your farewell day, we wish you the best. A gust of wind may blow off your acceptance letter, but after gossiping for thirty-five years, you must need rest.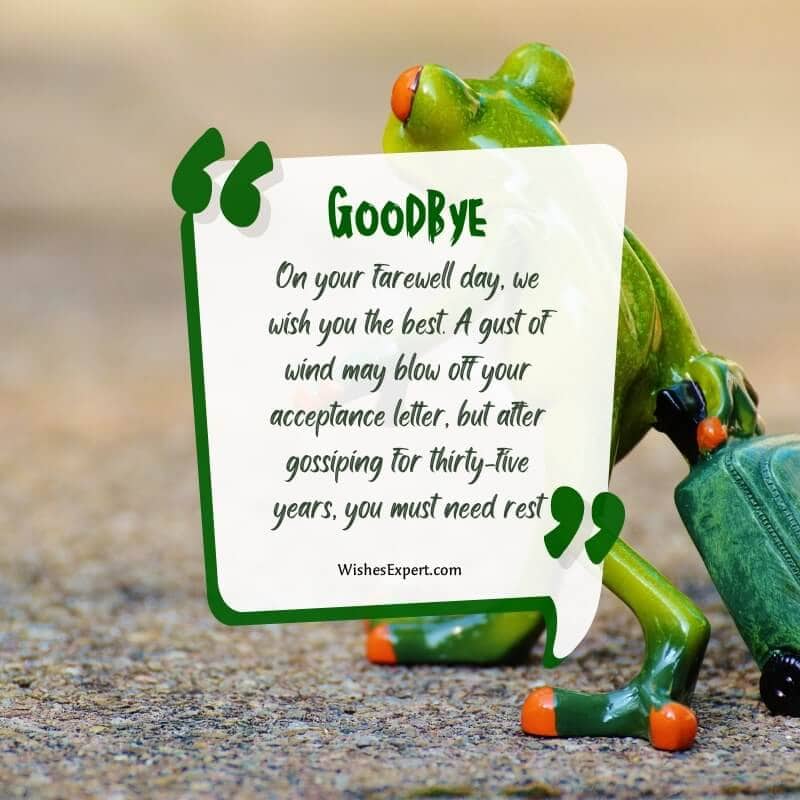 #5. Ah! Finally, it is D-Day! I have become hopeless while thinking of this day. But, the day of farewell has come without delay!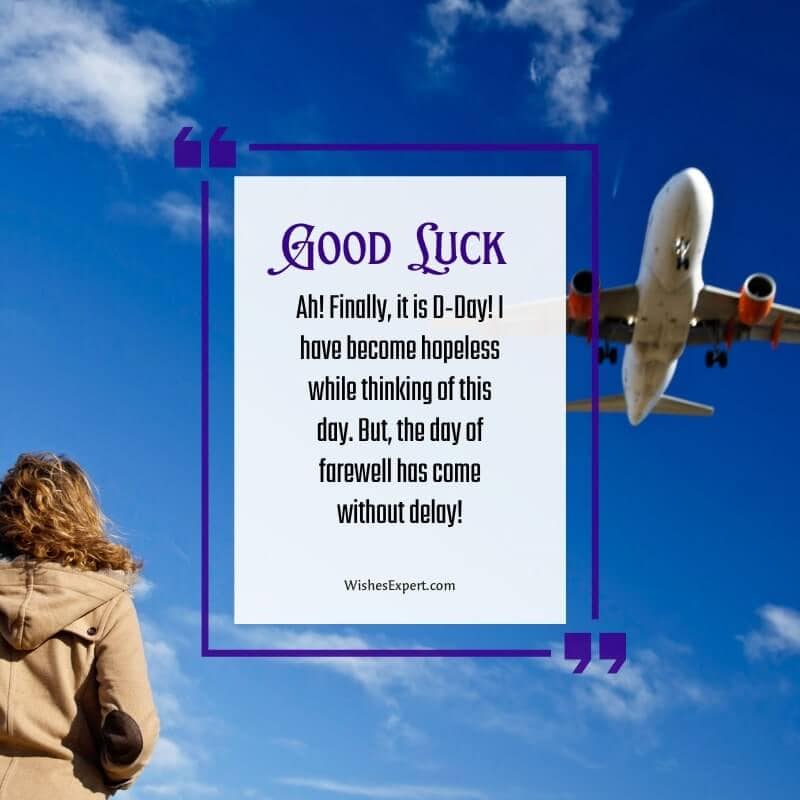 Read: Farewell Message to Coworker
Humorous Goodbye Messages
#1. It has always been a pleasure to make myself present in your circle. Although I never imagined saying goodbye would be so difficult for all. Walk the way you smell progress. Although, I know you will smell cheese in excess.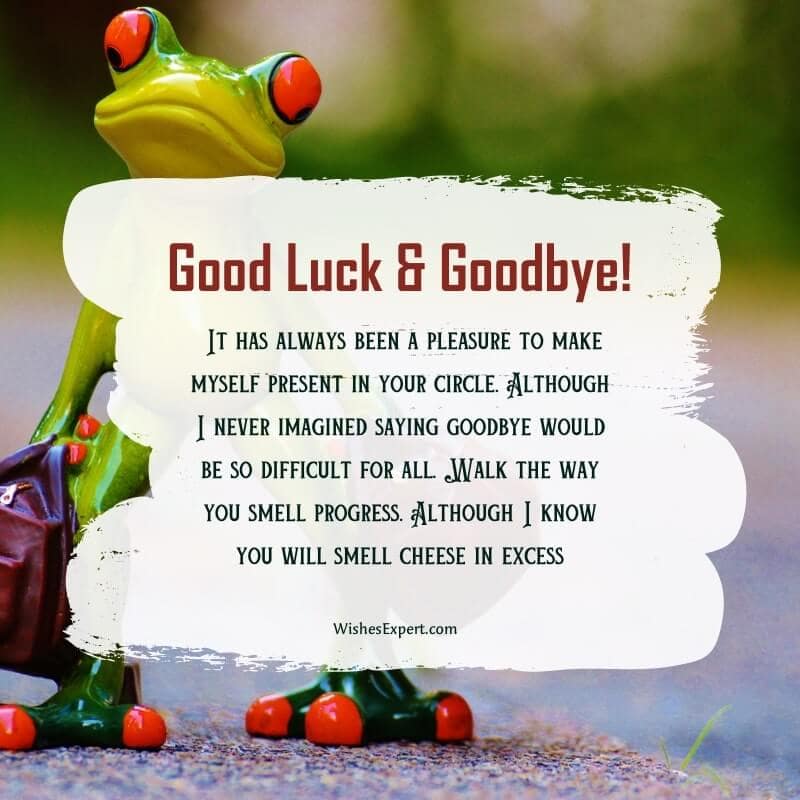 #2. We say 'hello' to the one when we enter the room and a simple 'goodbye' while leaving. But why isn't this goodbye as pleasant as the first one; pretty surprising!
#3. I thought bidding you goodbye would be easy thinking about our enmity. But saying goodbye to you is leaving your favorite chocolate with your enemy.
#4. Goodbyes are a tough job for me as I become a weeping cat. But my heart says we will meet soon, buddy when you put on some fat.
#5. Without you, the place won't seem the same, dear. There will be less roar of your laughter. Bidding you goodbye is like working after office hours when the clock ticks more slowly than ever.
Read More: Farewell Messages to Employee
Laughable Farewell Comments
#1. We are going to miss trying to avoid you around here. Good luck, but remember you cannot find a better colleague than me anywhere.
#2. Saying goodbye to you is such a crazy thing, but I know this will not end here. You will always come to see me and get some advice, but it will not be free, that's clear.
#3. People will never learn the meaning of Monday morning blues because of fun colleagues like you. From today, your only job is to have fun, and you are a real pro at that, which is true.
#4. You would always arrive late and make up for it by leaving early. But now the time has finally come when we will sigh in relief from your constant leg-pulling, seriously.
#5. Your determination, workaholic nature, and realistic attitude made us look mediocre. Now we will not face any trouble matching up your insane work schedule to impress the management like a joker.
Check: Farewell Messages For Friends
Joking Farewell Notes
#1. Oh God, I will have none now to blame for my tragic mistakes. I will miss my easy scapegoat, who also taught me the value of keeping a check on essential details.
#2. Your silliest jokes and baffling pranks have often got us severe warnings from the management. But trust me, I cherish and miss those moments.
#3. You are a rare breed that combines a funny personality, hard work, and selfless nature. Working with you was a pleasure, especially when the Danger HR was near.
#4. You taught me a lot when I didn't want to learn. With you, calories were the only things you helped me to earn. I hope that you don't land up with someone like me again in any term.
#5. I am sure you have learned a lot about how to deal with people like me. You caused enough headaches, but still, all the best for your future, filled with glee.
Related: Farewell Messages to Boss To Say Goodbye
Entertaining Farewell Statements
#1. As you leave with teary eyes, know that goodbyes are only for people who love with their eyes. For those who love with their heart and soul, there is no separation, no goodbyes. Did we bid you with our hearts or with goodbyes in our eyes? Solve that with hot fries!
#2. No matter how saddened you are, the beginning is often the end. To make an end, you should make a beginning, my friend! Let's start afresh if my farewell message hasn't given you any stress.
#3. Often goodbyes are blessings in disguise. Surprises await that you may not surmise. Get to ready to listen to your wife now. Life will reward you with new rays of hope somehow.
#4. Don't be bewildered at goodbyes. A farewell is necessary for life's lows and highs. My love and best wishes to your family as they will bear all your cramps followed by your loud sighs.
Sarcastic Farewell Quotes
#1. We know you will get a good salary in your new job offers. But we doubt there will be such wonderful colleagues like us who will bear all your fuss!
#2. One less person to suffer in the office, it's good that you are leaving. Don't take my remarks to heart, darling. You know I am a sarcastic human being who is just kidding.
#3. You know how to spoil people with love, making you the great buddy you are. With your moving, there'll be no one to care. I will feel awkward eating my lunch alone without giving you the lion's share.
#4. Having a lovely colleague like you is a bad habit. Now, who will chew the back of my pen like a rabbit? It'll be impossible for me to work with someone else while you're leaving. But again, you know, I am pretty charming.
It has been hard to say goodbye to a loved one. The hardest part of life is not seeing a loved one for a long time, or in some cases, never again. With a heart full of emotions, sentiments, love, and warmth, we can bid au revoir with these funny farewell messages and goodbye quotes. We shall bid goodbye to a loved one with a twinkling smile. It won't bring a happy moment in your loved one's day if you shed tears. Goodbyes with delectation are always cherishable. Here you can follow up on a few quotes and messages on farewells and goodbyes to keep a blissful smile on one's face.