Good Morning Sunday Wishes: After a long hectic week, your mind waits for the weekend. The rush of the weekdays gets diluted on Sundays so that you can catch your breath. The week comes to a pause so that you can relax and enjoy the warmth of your loved ones. You can have a seat with your dear ones and spend some happy hours together.
But what about the ones with whom you cannot spend much time, even on Sundays? Remind them that you are always with them. Send them some heart-melting good morning Sunday wishes. You can also add inspirational quotes to motivate them for another busy week.
Good Morning, Sunday:
1. Good morning, dear!
It's Sunday, The day of waking up late from the bed, The day of no fixed schedule, The day to cherish, make and recall SWEET MEMORIES, and Spend a good time with friends and families.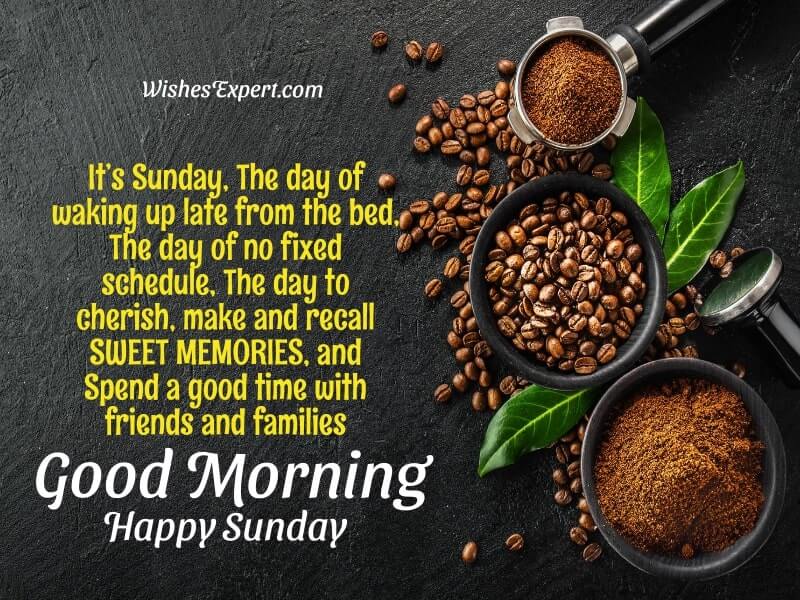 2. Good morning!
We all wait longer for this every week, every day. With our daily job we also get indulged in counting the number of days left in the entire week until it reaches Sunday.
3. The whole year is divided into various kinds of special days, which are celebrated worldwide without delays. However, over the year, no special days are ETERNAL, but the repetition of Sundays every week is PERPETUAL.
4. Sunday is the only day to begin everything with more and more energy, freshness, and a pleasant mood. To me, Sunday is the day of Fun, when even the most annoying neighbor turns out to be good. Very often, I regard this day as 'FUNDAY' instead of a 'SUNDAY'.
5. SUNDAY—The day of beginning, and The day of Ending. To many, Sunday concludes a week as it's the last day of the week. But to me, it's the beginning of a week, The day to gain and restore energy for working the entire week. It's nothing much, it just depends upon your perception and what you seek.
6. I wish my Birthday is on Sunday every year, then I can enjoy the day with my family and friends with their care. Go for an outing and enjoy the day the way I plan, leaving the world behind us because we all live for this short span! Hopefully, my wish will come true someday, until then good morning, and happy Sunday!
7. Over the years I have realized how this day, THE SUNDAY works and stays. The day doesn't begin with the early morning alarm followed by our traditional routine, and it's a PURE BLESSING! What do you say, darling!
8. Good morning, Dear! Let's begin the day with a 'PERFECT CUP OF TEA' and the most preferred breakfast, then go out for a movie in the evening, and then call it a night with dinner somewhere near. Isn't it the best idea ever?
9. I still wonder, why the name SUNDAY always gives me the feeling of the most awaited Bliss. Sunday always lets me feel 'BLISSFUL AND BLESSED,' it's a day I dare not to miss!
10. Every Sunday, from the moment of uttering the good morning, wishes to good night kisses, we make some delightful memories with our families. Enjoy the most scrumptious meal and prepare ourselves for the coming week's thrill!
Good Morning, Happy Sunday:
Sunday Mornings are memorable as they embody the warmth and longingness of the whole week. Even though a week went hectic, Sundays can wipe out the tiredness and rejuvenate a person. Hence, Sundays are associated with comfort, relief, and happiness. You can wish your loved ones a happy Sunday with these following good morning, happy Sunday quotes.
1. Hope the gentlest rays of the Sun hug you in the morning and kiss you so that they can say a sweet good morning to you on behalf of me. Happy Sunday, my honey-bunny!
2. The cozy Sunday mornings know how to pamper the loved ones just like I do. Let Sunday morning bring a smile to your face, and help you to face the Monday morning blue. Good morning, happy Sunday, darling!
3. Let the Sunday unfold all its comfort and joys as you wake up and shine with your aura. Good morning, happy Sunday, wake up my sleeping beauty, my Aurora.
4. Sunday stores one week's worth of coziness and love within its bosom, and you wake up with love and comfort like a flower that has just blossomed. Good morning and happy Sunday, dearie.
5. Wake up and see sun peeking through your window, remember today is a Sunday, you do not have the option to feel low! Happy Sunday morning dear, hope you battle this week with courage and no fear.
6. Hope the Sunday morning brings you the joy and freshness that a winter evening witnesses while you enjoy a gentle and hot cup of coffee with its sweetness. Good morning, honey, wish you a happy Sunday, my bunny.
7. The Sunday mornings look dashing with green grass drenched in shiny dew. Hope this Sunday morning welcomes you with new energy and such a gorgeous view. Happy Sunday, dear! Wish you a very good morning, look the sky looks so clear.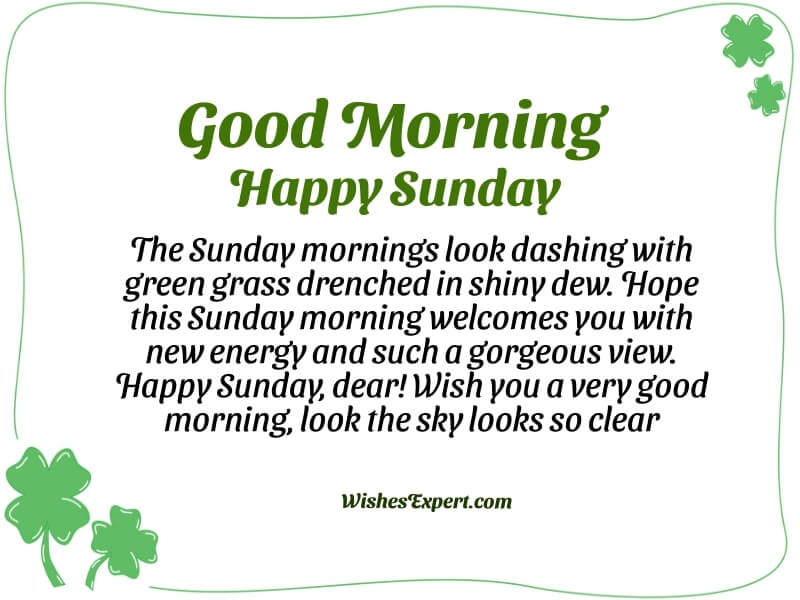 8. Forget the grind of Mondays, ignore the hectic Tuesdays, Wednesdays, and Thursdays, neglect the impatient Fridays and Saturdays; just enjoy the glee and glitters of Sundays. Wishing you a very happy Sunday!
9. Let the freshness of Sunday morning melt in your day with all its colors to make it vibrant with happiness and love so that you have a satisfying week ahead, my dove. Wishing you a happy Sunday morning, darling.
10. Hope this Sunday morning enriches your day with comfort, love, and freshness so that you can work passionately throughout the week with less stress. Enjoy a happy Sunday, sweetheart, wishing you a good morning with all my heart!
Read: Good Morning Prayer Quotes
Good Morning Sunday Wishes with Images:
1. Wishing you a very good morning this Sunday. Every week, we actually wait for today.  Weekdays seem to be really tiring. Today we'll just enjoy the most and jump like spring.
2. A very good Sunday morning is always pleasant. We need not have to line up like an ant. A day for relaxing.  A whole day without any kind of faxing.
3. Sunday is the most awaited day for all of us. Enjoy your Sunday morning without any fuss. Wish you all a good Sunday morning just. Spending a splendid day is a must.
4. No work, no pay. Today, no one has anything to say. A day full of enjoyment. Wishing a very good morning this Sunday, out of merriment.
5. Life becomes full of mess, every week. So, Sunday works as a precious gift for every meek. Today is a day of refreshment. Wish you all a very good morning, Sunday with embellishment.
6. A very good morning this Sunday. All tasks are kept aside for today. Enjoyment is the only thing that should be done. Fun and laughter are the things for everyone.
7. Wish you a good Sunday morning. A blissful day for which we all are waiting. This day is full of amusement. Spending a beautiful Sunday without spoiling any tomfoolery moment.
8. Sundays are actually rollicking. Wish you a very good Sunday morning. Cheerfully spend a day at its peak. Eat some delicious food without even thinking if anyone is calling you a geek.
9. Happy mood makes a pleasing day. That's why wishing you a very good morning this Sunday. Good thoughts may fill your mind. This may cause you a good week just behind.
10. May you refill your heart with merriment and joy. May you have a great day to rejoice. Wishing you a very good morning, on a Sunday. Enjoy your outstanding brew served in the tray.
Try: Good Morning Love Messages
Good Morning, Sunday Quotes:
1. Sunday reminds you to value the moments that you spend with your friends and family so that your week can start with loads of love and care. Enjoy your Sunday with your loved ones, remember if you have nothing, you have love to share. Good morning bae, Happy Sunday.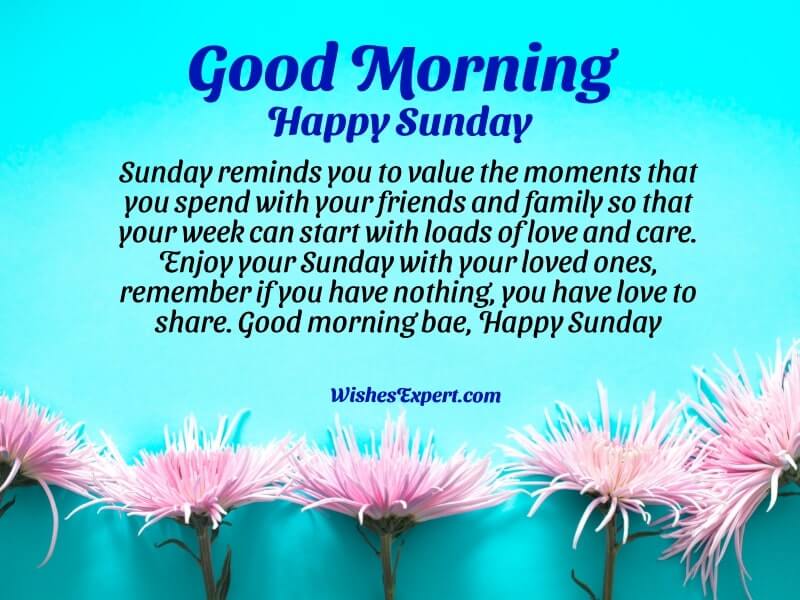 2. Sundays are like new beginnings; they are like fresh starts so that you can begin your week with a renewed passion and love as it's your last innings. Wishing you a happy Sunday, and a very pleasant morning!
3. A pleasant Sunday morning offers the energy to endure the coming week's bruises and tiredness. Therefore, it is important to start Sunday morning with a smile and loads of happiness. Wishing you a good morning and a happy Sunday with lots of sweetness.
4. Hope this Sunday morning wraps you up in its love and warmth so that you can spend nice and happy weekdays with a big smile on your face. Happy Sunday and have a good morning; enjoy the day with full grace.
5. Let the sweet aroma of coffee and homemade breakfast wake you up on Sunday morning. Hope the Sunday morning embraces you in its warmest hug, and may the good morning kisses be the seasoning. Happy Sunday, Good Morning.
Also Read: Inspirational Good Morning Messages
Inspirational Sunday Morning Quotes:
1. Sundays are the must-needed pause in the busy flow of life so that you can catch your breath and start again towards your dreams, for which you daily survive. Wishing you a good morning and a happy Sunday; may you have an exciting holiday!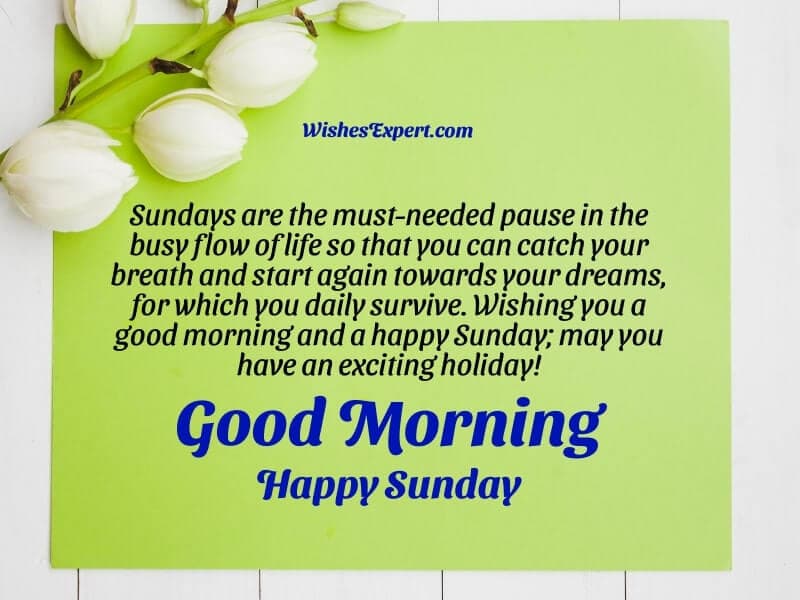 2. A week that cherishes hectic weekdays also comes with a Sunday to make you realize that changes are normal and a part of your play. So, deliver your best performance each day, but seize every moment and make memories on a Sunday.
3. Sunday comes with the warmth of close friends and family. Never forget to cherish them and show your love and care for your dear ones, even if that looks silly. Wishing you a happy Sunday, enjoy it fully.
4. Sunday holds the brightness of the Sun while wiping out the dark clouds that are accumulated throughout the week. Be your own Sunday embodying the warmth of the brightest star of the universe, and achieve what you seek.
5. Sundays are always fascinating, and on this day, I wish you a fantastic morning. The week can be hard for you to dwell, but Sunday is always there to embrace you and say, "you are doing well."
Positive Good Morning, Sunday Inspirational quotes:
1. Each day begins with a 'SUNRISE' and ends with a 'SUNSET.' However, Sundays start without the sunrise at the onset, but with a realization to 'OBSERVE AND FEEL' every moment so that you spend the whole week without regret.
2. No matter what we come across every day, but we definitely believe that something different with more energy comes across us on Sunday. It helps us to comprehend the actual difference between 'DOING WELL AND FEELING WELL.' So, this Sunday, fill your day with positivity, you will see there is waiting for a new possibility.
3. Wondering when you can 'LAUGH OUT LOAD,' mock, go out and watch a movie, spend time with family, make meals and memories or seize every moment of a day? Well, you can do it any day, only if you think that's a Sunday.
4. Sunday transforms a person from his real form to his best form. Do you want to know why? Because SUNDAY IS 'STRESS-FREE.' SUNDAY IS 'WORK-FREE.'
5. As the SUN symbolizes 'THE SOURCE OF LIGHT' for its rays. Similarly, 'THE DAY OF HOPE', POSITIVITY, OPTIMISM is signified by Sundays. So, you see my boy, Sunday is Universally accepted as 'THE DAY OF JOY.'
Good Morning, Have a Blessed Sunday:
1. The journey of life is all about 'SUCCESS and DETERMINATION,' undergoing this journey, one needs a vehicle, which drives him, and that vehicle is 'OPTIMISM and INSPIRATION,' and definitely the vehicle will need a fuel, which is 'HARD WORK AND MOTIVATION.' Let's all take an oath to complete the journey on this 'BLESSED SUNDAY' without further delay and hesitation.
2. A GOOD MORNING wish from someone is definitely a combination of 'BLISS AND BLESS.' To feel a perfect combination of this 'BLISS AND BLESS,' Sunday is a great day, even if it is a mess. The day itself is a joy for everyone, because you receive less stress and happiness in excess.
3. Sudden plans are definitely more and more worthy than previously made ones, after all, surprises always give happiness new dimensions. Sundays are those blessings in disguises where every moment you are gifted new surprises.
4. Whether it's a Seaside or Hill, Jungle or Desert, Sunday is same everywhere. Sunday presents its best form wherever you find love and care. It is same as the 'SUN,' constant everywhere.
5. Good morning, dear, have a blessed Sunday and take care! Do you know why I love Sunday the most? Because I can feel a temporary retirement from work on this day, well almost! It gives me immense 'JOY,' as I have all the reasons to live every moment and 'ENJOY.'
Good Morning Sunday Messages:
1. 'GOOD'AND 'MORNING' both the words are different in meaning but sound the best when uttered and heard together. Good morning, Love! Let's feel and enjoy the Goodness of this 'BLESSED' Sunday morning like nobody is there anywhere.
2. Does 'SUN'- 'DAY,' is more related to Sun? The answer is NO, but it is definitely related to Fun! But it is more and more related to Leisure and Pleasure. Good morning, happy Sunday, dear!
3. GOOD MORNING BABY! Let's celebrate the day today because it's the first time after we got married, we are having a perfect holiday! Let our first Sunday marks our new beginning, may God shower us with heartfelt blessing.
4. Taking a leave from work and go somewhere on other days in a week is an adventurous option. But Sundays are not for adventure, it is there for you to chase your passion. So, wish you a very good morning and a happy Sunday, hope today you meet your better version!
5. I was not an author, writer, storyteller or anything like that before. But Sundays help to pursue my passion with love and care. Today, I am an author, writer, and storyteller, but life seems so fair! So, make your Sunday the day to pursue your dreams, it is not just another holiday, as it seems!
Wish your friends and family your kind words. Your good morning Sunday wishes can make them feel happy and ready for another week. You can use these good mornings and happy Sunday wishes. You can also use your own words to add your personal touch and make them fill their day with joy and a smile. Give them strength with your wishes. It will help them to face the world.