To have lost a companion with whom you took the vows to spend the rest of your life is painful. But it's her birthday today. So, say happy birthday in heaven to your wife and celebrate it.
It certainly doesn't mean that you shall run away from the grief you're feeling. You should always allow yourself to be vulnerable.
A loss of a loved one never frees one truly and totally from the grief but today as you reflect back, you can see how far you've come on your healing journey and that your wife must be very proud of you.
On her birthday, speak your heart to her, believing that she is listening.
Birthday Wishes For Wife In Heaven
#1. Celebrating your birthday without you is a day I never saw coming; living life without you is a nightmare that still shakes me to the core; I miss you! Happy birthday in heaven.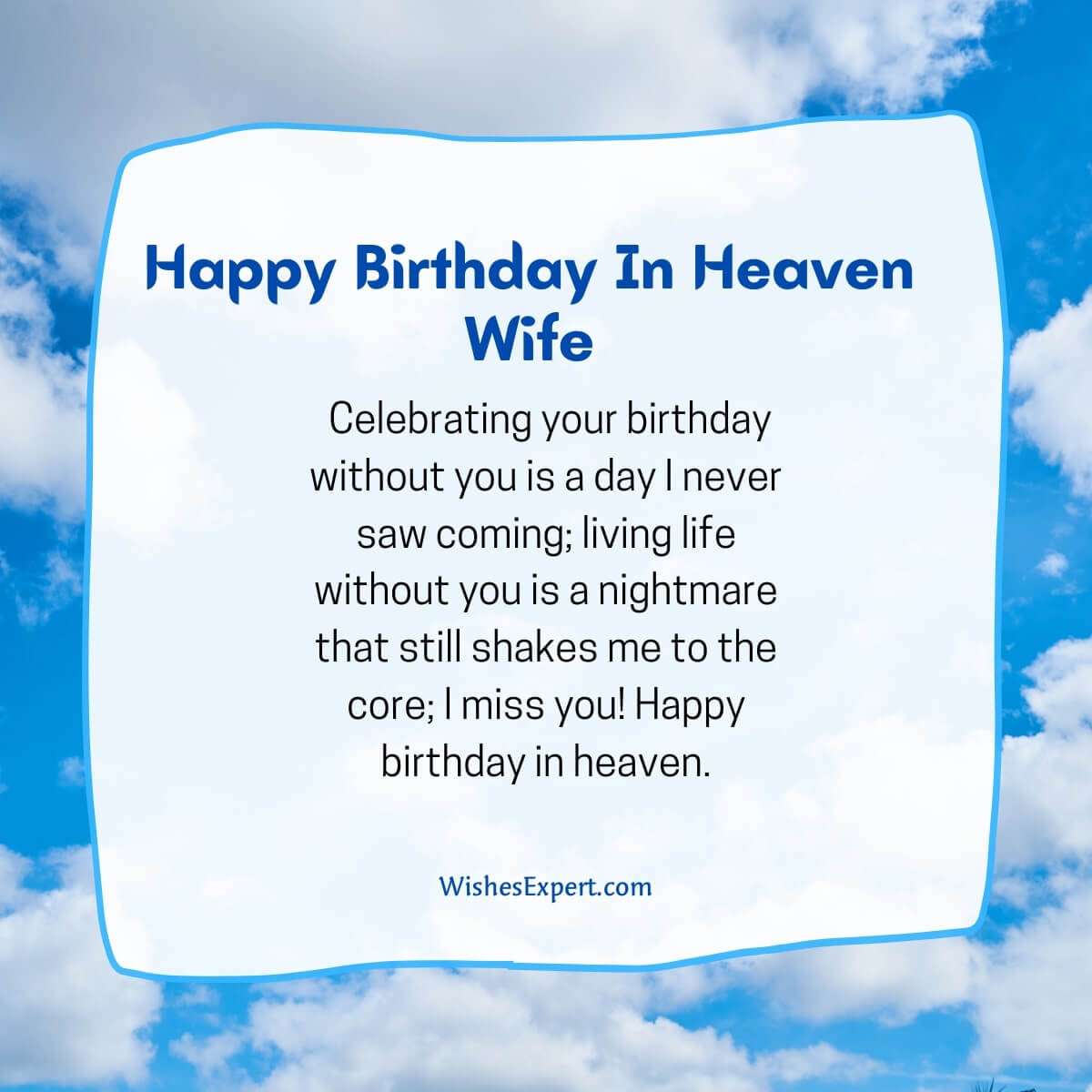 #2. To my wife in heaven, when you were here with me, this place was no less than heaven for me, and I wish to create that heaven with you in another lifetime. Happy heavenly birthday.
#3. Honey, you were a solely important person in my life and will be forever. I'll never stop loving you and reminiscing over the beautiful world I got to create with you; Happy birthday in heaven.
#4. Honey, Happy Heavenly birthday. If you were here, I'd be very busy planning one heck of a surprise; I miss those days; life was easy back then, and I was at peace; I miss you.
#5. You were the most beautiful woman I've known and will ever. We'll reunite some other time, in some other lifetime and I'll love you more than ever and never let you go. Happy heavenly birthday.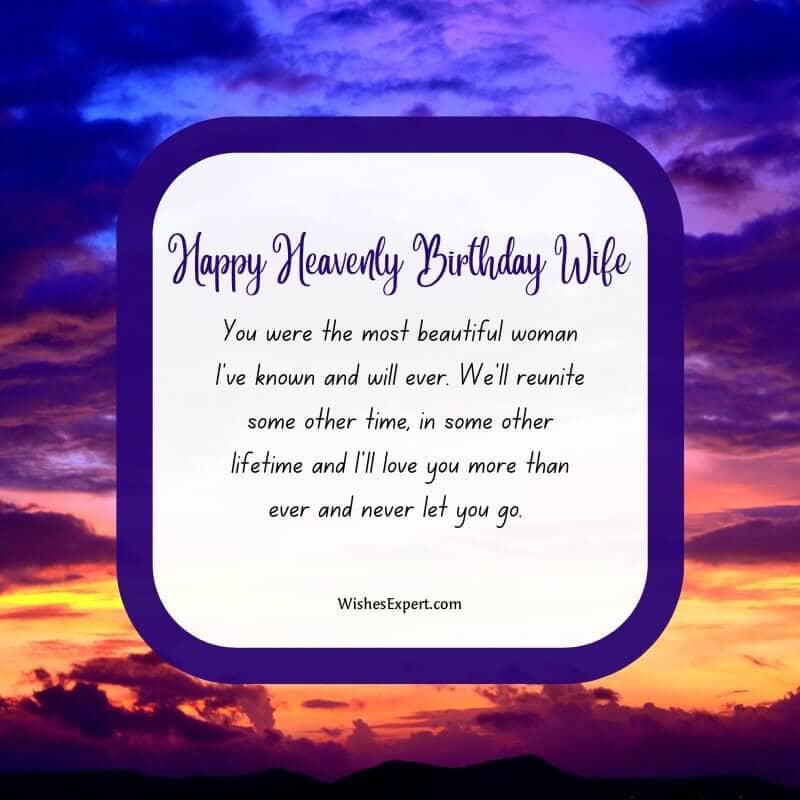 Read: Happy Birthday Wishes For Husband In heaven
Happy Birthday To The Deceased Wife
#1. Happy heavenly birthday wifey, with you my life, was all rainbows and sunshine, then a storm came in and took away everything but a part of you still lives rent-free in my heart and head.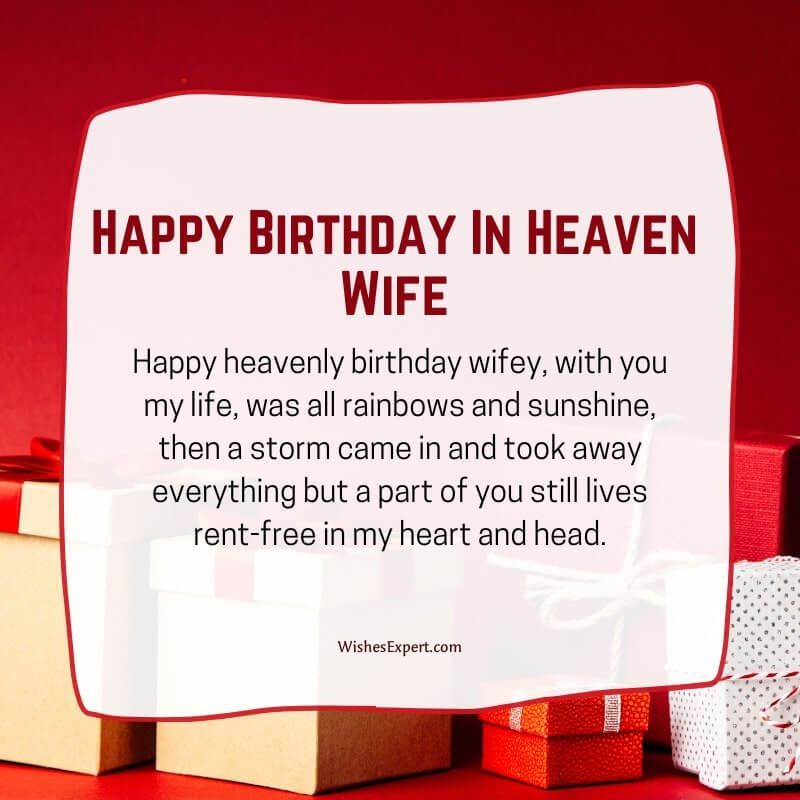 #2. Happy birthday. Sometimes, I think how would you want me to live if you were here and then try to live like it to be the husband you can still be proud of!
#3. From the heavens above, she is looking after me, looking for me; she is no longer with me yet she is not apart from me. We're in this together forever. Happy birthday to her.
#4. I look at the stars at midnight and I know from somewhere there, she is looking at me too with the same love that my eyes carry, Happy birthday to my wife in heaven.
#5. Realms apart we're yet our souls are the closest. New people might come in but noone can ever take your place; happiest birthday to the mother of my children and my wife in heaven.
Check: Sympathy Messages For Loss Of Wife
Missing Wife On Her Birthday Who Is In Heaven
#1. Today used to be a joyous occasion to sweep my wife's feet with my charm and now it's a reminder of her forever absence. I miss my wife; happy birthday to her in heaven.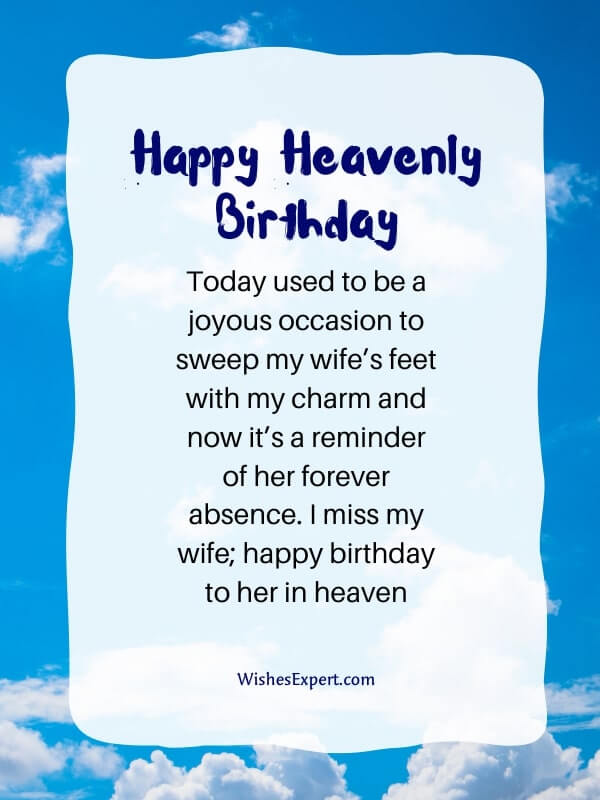 #2. I miss you. I miss those days when I used to begin planning for this day, months before to make you feel more special. Happy birthday in heaven honey, rest in peace.
#3. My wife was the superwoman who never knew limits when it came to taking care of me, her children, and this home! I miss her the most and wish her the happiest birthday in heaven.
#4. I never realised how lucky I was to have you till God decided to make me aware of it by taking you away from me. I miss you the most, Happy heavenly birthday.
#5. You had abundant love to give but it wasn't in my fate to receive that abundant love for life. It is the saddest truth of my life but happy birthday; I miss you every day.
Related: Exclusive Birthday Wishes for Wife
First Birthday In Heaven Wifey
#1. I can't change fate but the guilt of not being able to do so and keep you closest to me will stay there forever. Happy first birthday in heaven wifey.
#2. Happy first birthday in heaven wifey, when you were with me, nothing seemed impossible to me and now on most days, I'm not even ready to face the day without you.
#3. I'll make sure that today seems no different to you than before, that even from the above, you still can feel and see my love for you, Happy first birthday in heaven wifey.
#4. Now that you're gone, my future might never be as radiant as my past; but with a hope that you're somehow with me, I try to move forward in life. Happy first birthday in heaven.
#5. Happy first birthday in heaven, wifey. Without you nothing is fine but I'd let you rest in peace and try my best to make you see your husband at his best.