Birthdays are exclusive occasions in every person's life. Thus, making it memorable to bring a smile to your wife's face is always your priority. Hence, here are a few "funny birthday wishes for your wife."
So, you, the husband, can wish your beloved wife without any tension or stress.
Husbands always love to make fun of their wives, and a wife's birthday is the safest occasion where husbands can easily make fun of their wives, the most special person in their life.
There should always be a funny side in every relationship. And in a husband-wife relationship, the funny side becomes more relevant.
Through the funny wishes, a husband's creativity and love come into play.
So, make your wife's birthday more special by making them laugh on their special day with these funny collection of birthday wishes.
Funny Birthday Wishes For Wife
#1. Happy Birthday, honey. You are such a great cook that I never think you waste my money. But today is, after all, your day, so let's eat something tasty today.
#2. Happiest Birthday, dear, and I hope you have a great year filled with love and laughter. May you never lose your temper. It is my most important wish for today and hereafter.
#3. You are my best friend, even when you are not in a good mood. I wonder if there is any such a day when your mood is good. I promise I won't ask your age today. But again, I will happily celebrate your sweet-sixteen birthday.
#4. Happiest Birthday to my sweetheart. My life would be easier if I didn't love you from my heart. If you would like, I would be honored to do your makeup, even though I tend to overdo it at some part.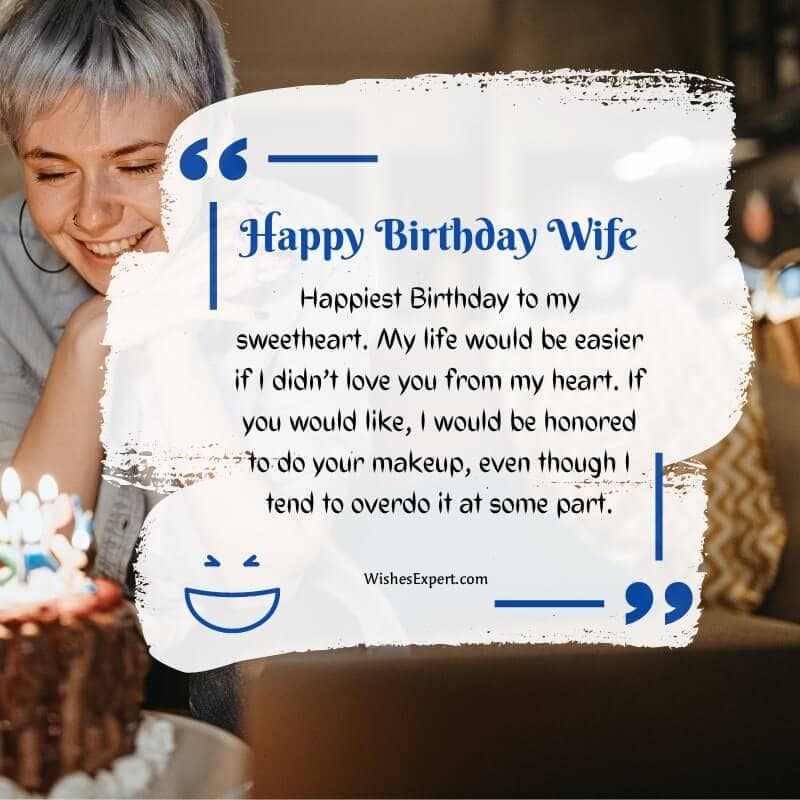 #5. Happy birthday, wife, and do you need any gifts when you have a splendid husband? I know you must be proud of me because I am the best thing ever, like a legend.
Check: Funny Birthday Wishes For Husband
Short Funny Birthday Wishes For Wife
#1. Happy birthday, dear, wife, I know you are too critical for your good, and that's no crime. But be ready for your birthday party in time.
#2. On your birthday, my dear wife, you should start counting your blessings, me, and your wrinkles. Do let me know if you need any anti-aging cream to sprinkle.
#3. Seven billion people on this earth, I got stuck with you. Happy birthday to my angel or my devil, and I am not sure which are you.
#4. Some people have a beautiful wifey, some have an intelligent one, others stylish, but I have you, and today I am going to sing happy birthday to you.
#5. There is a saying that all you need is love, and I hope you know this, dear. So, I don't have to buy you any presents on this lovely occasion of your birthday this year.
Read More: Funny I Miss You Quotes & Messages
Funny Birthday Wishes For Spouse
#1. I wish you a happy birthday, my beloved wifey. You're hilarious, lovely, and goofy. You are funny and make me happy. I love you a lot when you are sloth and grumpy.
#2. Strange and fantastic, humorous and original, you know, wifey, you are too sentimental. Happy birthday, my love, and I hope that today, on your birthday, I dance with someone else, and you won't be judgemental.
#3. I decided to be honest and clear on your birthday this year. So, let's not hide this from you, dear when you sleep, your nose makes loud and creepy noises, and I stutter in fear.
#4. You're getting older gives you a nightmare. So, being your caring hubby, I thought of doing you a favor. Let's not wish you a happy birthday, dear, and let's cancel the party this year.
#5. On your birthday, I wish you remain happy today and tomorrow! I want you to be like this, so I scratched the word sorrow. From the dictionary you lend, me to borrow.
Funny Birthday Wishes For Future Wife
#1. Happy birthday today to the fascinating woman! I do not know what I did to earn a wife like you, a crazy Bollywood fan. I'm incredibly fortunate that our wedding will be in Jan because it will help you to remove your tan.
#2. My future wife, I thank you, my protector. So, I feel immense pleasure in wishing you a happy birthday, my dear! I feel the luckiest to have you because you are the one to shoo the cockroaches from my sight. Thus, ensuring immense delight.
#3. My lovely future wifey, let me wish you a lazy birthday. Let's cook ramen for this day. Be a couch potato and binge your favorite series the entire day.
#4. My teeth and jaw pain when we're together! But you effortlessly flaunt your white teeth, dear. Many say that your laughter makes them close their ear. But birthday girl, it is something I love to hear.
#5. I hit the jackpot with a lady like you incredibly attractive and intelligent! Happy birthday, my wife-to-be looks radiant. With your intelligence, I know you can arrange a party for your and our entertainment.
Funny Birthday Quotes For Wife
#1. I promised you, my lovely wife, that I would always be there for you and support you. I'll still adore you when you're gray and old, your hair remaining a few! Forever and ever, I will wish happy birthday to you.
#2. I told my wife, "I brought you some anti-aging lotion." Happy birthday, dear reader, and please resist your fighting motion. You ought to begin counting your blessings and your wrinkles. Happy birthday, darling, and I love your twinkle!
#3. Happiest birthday to my darling angel. Or shall I call you my devil because your long, manicured nails remind me of an evil! Sorry, babe, it was just a joke, and I hope you don't mind if I don't leave the chance to poke.
#4. Wife, wait until you see yourself in the mirror if you think getting older is humorous. I have seen things even more dangerous. So, ignore your wrinkles, and be lazy, bae, and I wish you an aging birthday.
#5. I am a love-sick puppy. Yes, I am your sick hubby. I am thankful to my mother-in-law today because it's your happy birthday!
Birthdays are occasions where you can have endless fun. These funny birthday Wishes for wives are an excellent way to make their birthday memorable with fun. As you all know, women love humorous men. Husbands should try this trick with their wives. But remember not to go too extreme with your funny nature because it will undoubtedly create trouble for you. After all, every wife is the boss of their house. So, celebrate your beloved wife's birthday with love and laughter.