The grief and pain of losing the wife is not something to tackle, and nothing can heal it. No consolation can fill up the emptiness they are feeling in their heart after losing their beloved. Friends and family should stand beside the mourning husband at this challenging time. If you, too, want to stand by a grieving husband, send these sympathy messages for the loss of a wife and tell them they are not alone and express your condolences.
Your words of sympathy and support can give them strength and hope to endure a hard time. Though nobody can take up the void left by the spouse, you can remind them that you will always be there for them. You can take these sympathy messages and structure your own to make them personalized.
Here are some sympathy messages for the loss of wife which you can send someone who is grieving the loss of their beloved wife
Heartfelt Sympathy Messages For The Loss Of A Wife
#1. The bond of marriage is unbreakable and cherishes the union of a husband and a wife. Death cannot fade away, and it goes beyond life. My deepest condolences to you, and be strong because you have to survive.
#2. No words of sympathy can heal the pain you are going through, but remember how bravely she fought death to spend more time with you. My deepest condolences to you because your wife was one among a few.
#3. The pain you are feeling now is hard to cure and let go of. Heaven got back an angel, but the world has lost a person full of love. Take my condolences, and be strong all above.
#4. Your bond with your wife is so special that not even death can break it apart. She might have left the earth, but she now stays in your heart.
#5. There is no consolation to substitute the warm embrace of your wife, but please remember, her love will always fill your life. I have nothing else than my prayers for you in this difficult time.
#6. Death does not have the power to destroy love, and it can only pretend. Your aching heart can attest that your love for your wife knows no end.
#7. The pain you are experiencing after losing your wife can never be measured, but she has left many lovely memories and tons of love for you to treasure.
#8. Nothing can fill the void she left, but she will never leave you behind. You need to look inside your heart for her, and there you'll find. But move on with a calm mind.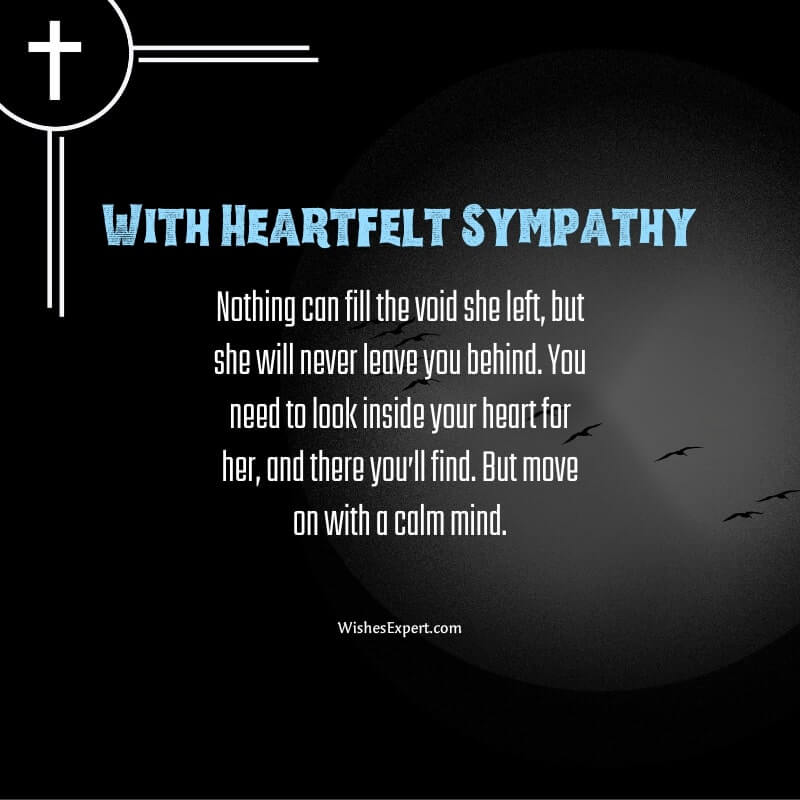 #9. God sent one of his angels to us to teach us, love. Now she is taken back to her home in heaven above. The sudden demise of your wife has broken my heart. But she will always be our part.
#10. Death cannot break the love formed by the union of two. The lovely memories of your wife will always remain with you.
Try: Sympathy Messages For Loss of Husband
Words Of Encouragement For The Loss Of Wife
#1. It is the most challenging time; the ensuing loneliness will make you pine. But you have to stay strong tonight. In this darkness, be the beacon of light.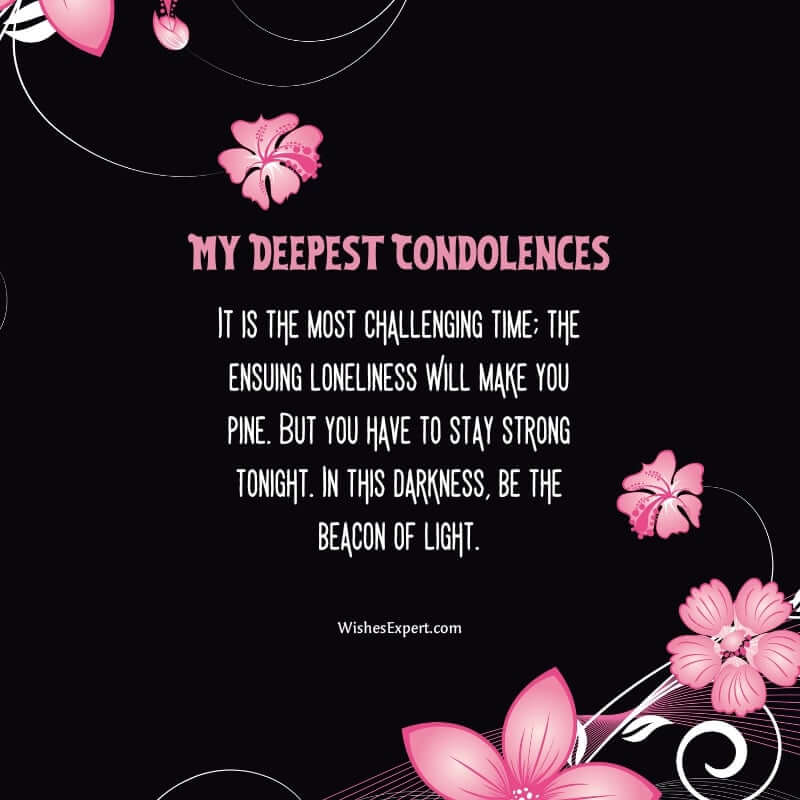 #2. Nothing I say would make it right. The loss you have suffered wasn't right. You have endlessly cried, so it is time to stop this fight.
#3. I know she wasn't just your wife. She was your confidante and your life. You will miss her all your life. But moving on is the essence of life.
#4. Losing your partner is painful. But this is life, so you need to be hopeful. I know life with her was beautiful. But you cannot forget your future and remain regretful.
#5. Your wife was your best friend. But now she is gone, my friend. She would have been angry with you if she had seen you suffer like this. So, shake off this sorrow and try to find bliss.
Read More: What to Say When Someone Says Sorry For Your Loss
What To Say To Someone Who Lost Their Wife?
#1. Words are stuck in my throat. Bury this sorrow with a consoling note. Remember, your wife loved you with all her heart, but now it is time to carry her love in your heart.
#2. I cannot console you when the grave is fresh and new. I am struggling to find some words because happiness has been left with the birds.
#3. What should I say for your sorrow? I don't know. You have suffered the biggest blow. Losing your wife has stopped life's flow. Now in the dark, nothing glows.
#4. With this loss, your life has been upturned. I know you never thought life would take this turn. Maybe this sorrow will help you to learn that life can change drastically at any turn.
#5. I know this loss is going to leave a deep scar. The one whom you loved so much has gone so far. No worries, your wife will be watching from afar as a twinkling star.
Related: Gone Too Soon Quotes
Words Of Comfort Upon The Loss Of A Wife
#1. It is disheartening to hear about the loss of your wife. In this situation, I will stand by you, and if you want to talk about anything, I will be readily available to help you survive.
#2. I am at a loss for words. I know there is nothing for me to say that will make your loss easier but know that I am sending you my love and support, hoping it works.
#3. Love knows no boundaries. While your wife is no longer physically with us, her spirit is always around us through our memories. I share my deepest condolences from overseas.
#4. I was shattered when I heard about the loss of your wife. I hope and pray that you gain the strength to remain alive. I am sending my condolences and support to you during this time.
#5. You have my deepest and sincerest sympathy from miles across. Just know that you are in my thoughts and prayers during your time of loss.
Check: Words of Sympathy for the Loss of a Grown Son
Words Of Comfort For A Friend Who Lost His Wife
#1. I want to let you know I am here for you if you need anything, my friend. You are welcome to come over whenever you want anything from my end.
#2. Those who love us never go away. I hope you know that even during this dark time, your wife will be with you in spirit every day.
#3. I hope that all the great moments you had with your loving wife before she passed away bring you solace during this time. My sympathy is with you in your grieving time.
#4. The loss of someone dear to us is never easy to swallow. Please accept my heartfelt condolences during this time of sorrow. I know it's challenging, but if you've to live tomorrow.
#5. I hope the love and support from your loved ones bring you peace during this time of agony. Words are not enough, I know, so I am sharing my heartfelt sympathy with you and your family.
#6. You don't suffer or feel pain in heaven. While we grieve her physical loss, please remember that your wife is in a far better place now, so don't remain unshaven.
Read More: Funeral Invitation Wording And Messages
It is difficult to accept the absence of a family member, especially a loving spouse. Bidding goodbye to the person one loves the most is heartbreaking and requires strength to continue with life. You can stay by them at the trying time and show your support. A sympathy message from you means a lot to them as it will remind them that they are not alone in going through the loss. Though words can never express an emotion perfectly, you can express your condolence and support with these sympathy messages for the loss of a wife.