This article has "enjoy your vacation wishes" that you can send to someone to give them a memorable start to a lovely vacation.
In our day-to-day lives, we generally don't get the time to enjoy vacations. But when we do plan for such trips, we feel elated and anticipate a lot about that.
Among all these anticipation, expectation, and excitement, if we get well wishes for a successful and happy vacation from our family and friends, the whole experience becomes much more meaningful than imagined.
So, to make someone close to you happy, you can use these wishes as they deserve your love, attention, and well wishes.
Happy Vacation Wishes And Messages
#1. I know how stressful life can get when you work so hard. So, enjoy this vacation because you deserve it in all regards. Have a stress-free vacation without any worries or tension.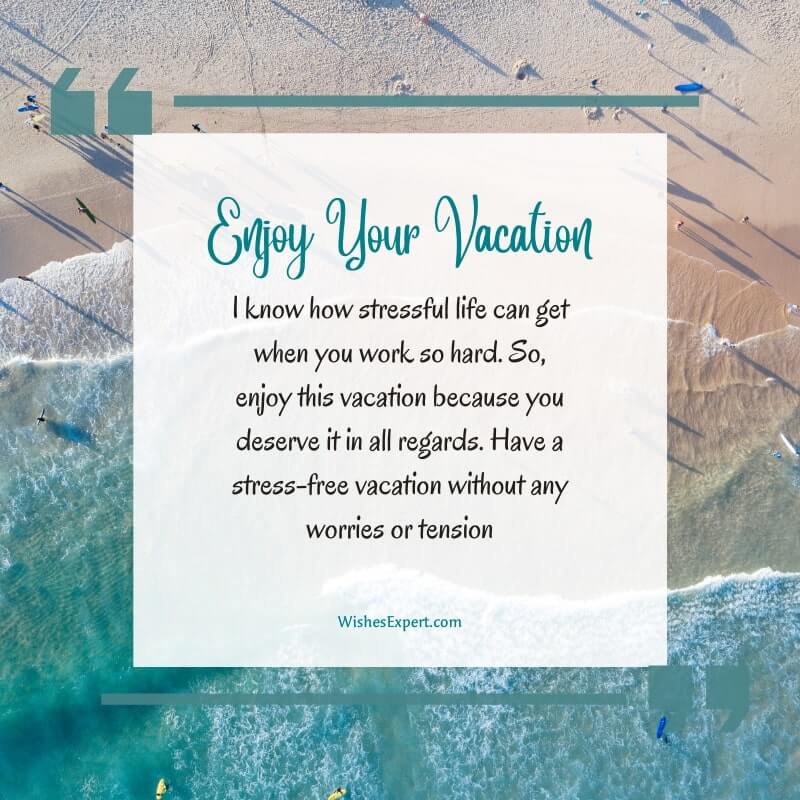 #2. Spending time with your family is the best thing ever. If you can go on a vacation, it'll be memorable forever. All my wishes are with you, take care.
#3. Life is unpredictable and surprising, so cease every moment while you are fit. I'm glad you are not wasting it. I believe you should spend more time traveling and eating.
#4. Going to beautiful places has always been on your bucket list. I'm glad you are successfully traveling a lot to unique places that exist.
#5. Vacations are supposed to be a stress reliever. It doesn't matter what you do while on vacation as long as you enjoy yourself more than ever.
Read: Have a Safe Flight Wishes
Vacation Wishes To Boss
#1. You handle enough responsibilities every day. So, vacation was the best decision as it will help you to get away. Boss, we all wish you a safe trip. Forget everything and relax while taking a dip!
#2. You care for your employees all the time without fail, but you going on a vacation is like a holy grail. Boss, try to forget every occasion. Try to enjoy every bit of your vacation.
#3. I heard you would be spending time with your family this holiday. I hope you enjoy every moment you spend there while your stress avoids your way.
#4. Overworking can make you unhappy and even cause serious health issues, so your decision to go on a vacation is the best option to rest your brain tissues.
#5. I hope you have the best vacation ever. Forget about everything and enjoy yourself like a true traveler. You only live once, so live to the fullest and make this vacation memorable forever.
Read More: Happy New Week Wishes and Messages
Happy Vacation Message To Colleagues
#1. Every single person values their vacation. You may be celebrating it because, at last, it is not a staycation. My dear colleague, I wish you a fab vacation. Don't forget to go out of the league on this occasion.
#2. The moment for which we always wait is a vacation at least once a year. Here we go now. A beautiful holiday is waiting for you, dear. I hope you enjoy your vacation, forgetting office pressure.
#3. Working with such an exciting colleague makes me lucky. I hope this holiday brings back my ever-cheerful buddy. I hope you enjoy a joyful vacation with your family.
#4. Learning and experiencing several elements of my task have made me a brilliant worker. But with you in the workplace, I know I have nothing to fear. Happy holidays, my partner.
#5. I like to thank you for everything that I have learned from you. I hope you and your family have a great vacation too. When it is about work, you give the best, but now grab this opportunity to enjoy it to the fullest.
Related: Have A Great Day Wishes
Enjoy Your Vacation Wishes To A Friend
#1. I hope you enjoy a fantastic vacation, my friend, and cease every new moment of this holiday, from starting till the end. We will miss you, but we hope you enjoy your vacation too.
#2. Vacation has always been an essential part of our lives. Pal, you are leaving this town for a while but remember this will help you survive. Relish every moment of your vacation. Enjoy your happy holidays in front of the ocean.
#3. Happy vacation, dear. Visit each and every place for what you desire! Click through every bit of the vacation. Remember to taste the restaurant's signature dishes for extra sensation.
#4. A vacation is always a symbol of self-love, so put yourself all above. Friend, you've always been encouraging and kind to others. So, your holiday will be rocking as ever.
#5. You have been diligent and indefatigable. Now, you should take some time to relax and enjoy your holiday, and be comfortable. Happy vacation, my best friend, and don't forget to post photos, as is the trend.
Try: Have A Great Week Ahead Wishes
Funny Happy Vacation Wishes
#1. Ah, finally, the day has arrived when this town will relax. You will be on vacation, and the drinks will fill your lack. There will be no one to irritate at all while we enjoy ourselves at the mall.
#2. When I see pictures of beautiful places on social media, I feel like rushing there for an attractive holiday. But at that very moment, my account balance reminds me not to skip my working day.
#3. An attractive vacation is the only thing I require. Stupid weekend plans are not enough for me to stay calm, dear. A short trip to a beautiful place, and I will give you all the space.
#4. I'm just offering myself an excellent vacation. I'm saving funds for this attractive occasion. But my bank account is not giving me enough motivation.
#5. Every night, I fantasize about taking a vacation in a beautiful location. But bad luck is also very workaholic, like me. It, too, hasn't taken any holiday, you see.
A few enjoy your vacation wishes can mean a lot to people. We all know that sweet words are the most loveable gift one can ever have. Expensive gifts hold no candle in front of some well-intended and beautiful words. The wishes mentioned here are nothing special, yet they can still touch your heart and convey someone's thought process perfectly with sincerity, and that is what we need to do. Use heartfelt words, as they can have a long-lasting effect and make someone's entire vacation experience excellent and unforgettable.