It's the wedding season. We assume you've many couples around you who are packing the bags to go on their most-awaited romantic holiday. These honeymoon wishes and messages are the ones you need to save then to send them and wish them the best possible trip.
Honeymoon for any couple is a very exciting holiday and you want to be a friend or a family member who keeps that excitement high, right? Then, you won't regret having come to our page.
You'll find unique, fresh, romantic and even funny honeymoon wishes and messages here. And if you're the one who is going on their honeymoon, even then you'll find something useful here. Keep on scrolling.
Honeymoon Quotes
#1. You take me to outer space, a place I can reach only when I'm with you. We might call this vacation honeymoon but any day with you is the ride to the moon and back.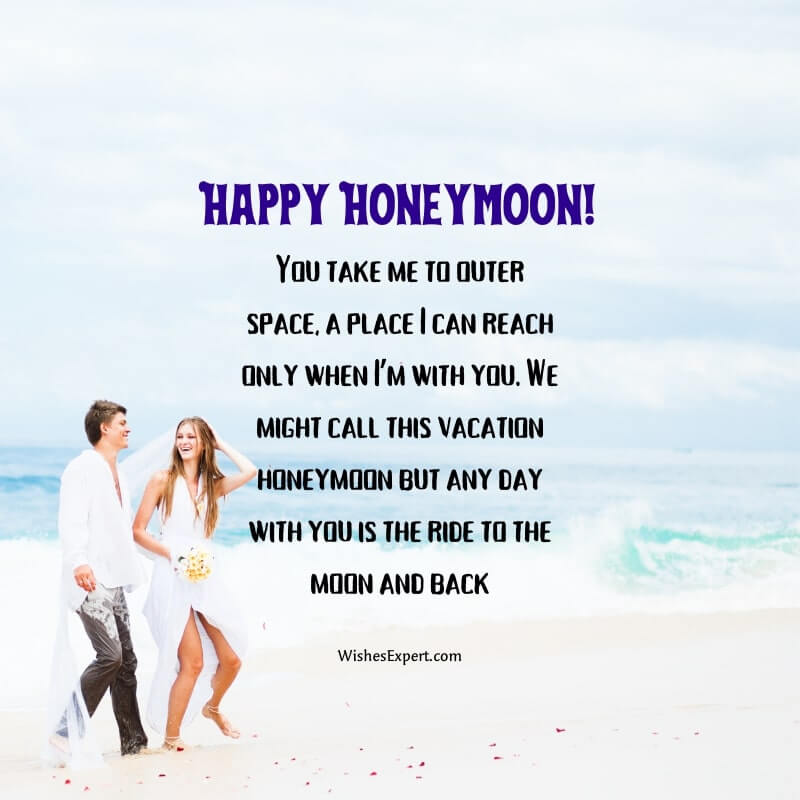 #2. They say the honeymoon phase soon fades, however, the memories can't. I'll keep the moments spent with you locked somewhere safe and secure. I'll never let them fade.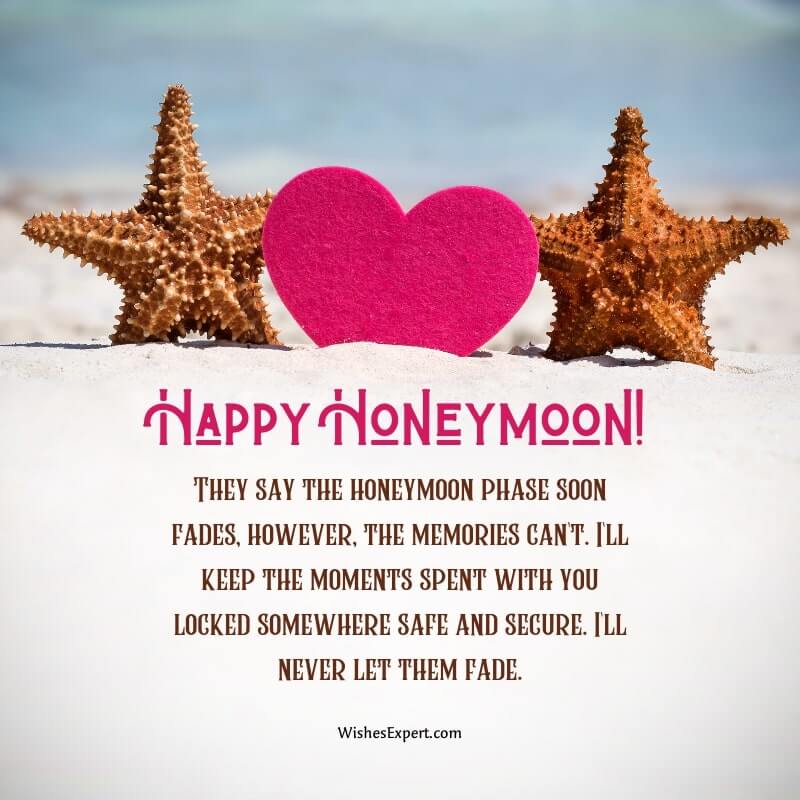 #3. We might grow out of the colours that this honeymoon phase will bring; but, as long as we don't run out of love, we'll never fall apart.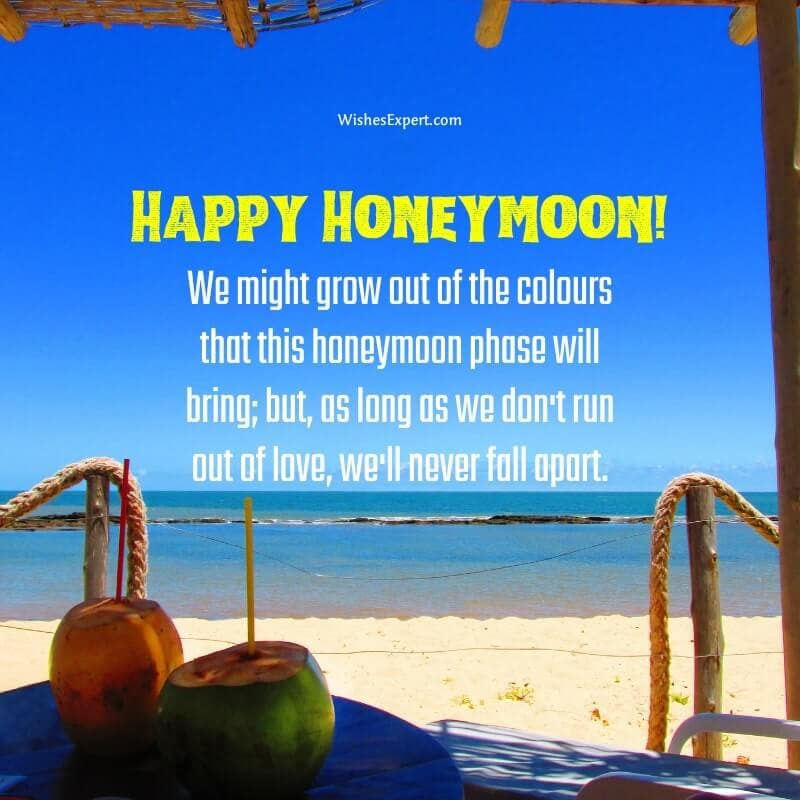 #4. The honeymoon is a fancy word for the fancy vacation that you go on with the person you vowed to be together with. It's the best excuse to celebrate love in the fanciest way.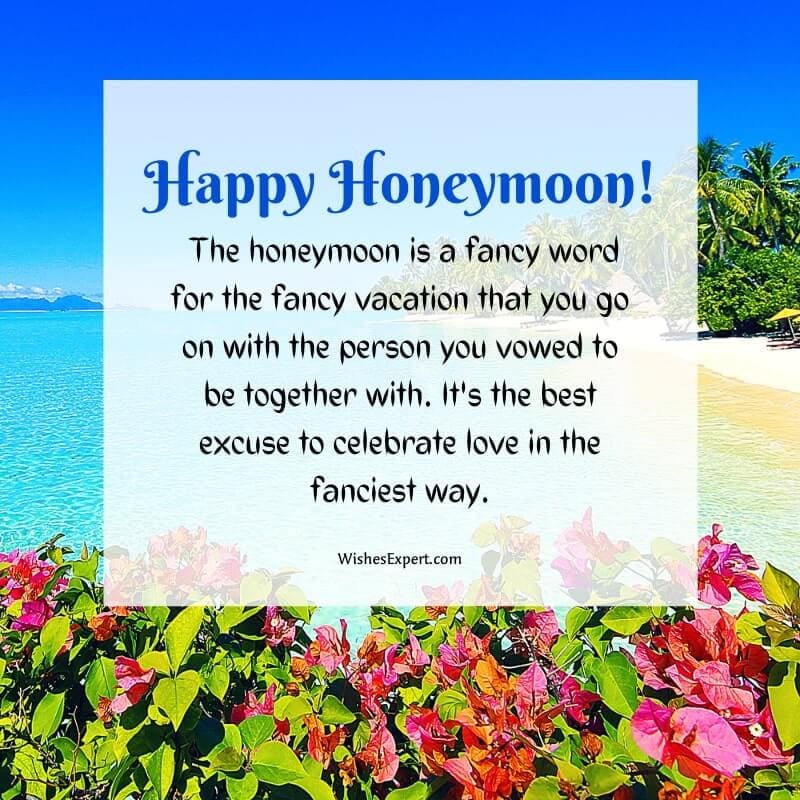 #5. Newly married or not, going on a vacation that you can call a honeymoon is the best way to save the marriage, keep love alive, and escape reality.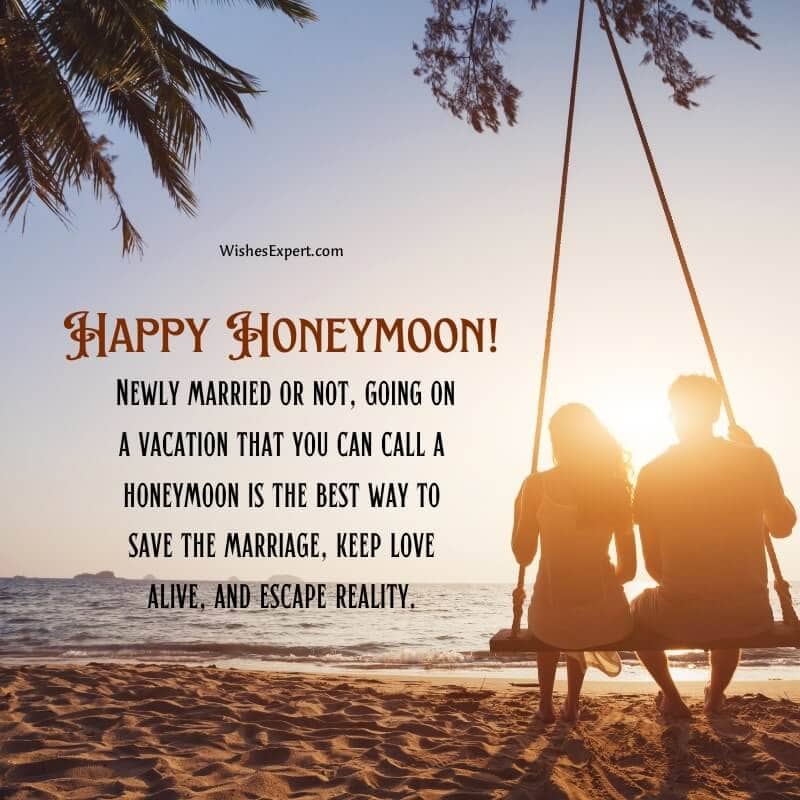 Read: Funny Wedding Wishes And Messages
Happy Honeymoon Messages
#1. Have a honeymoon that leaves you with the imprints of the love that both of you hold for each other forever. Have a safe ride and tons of tides of romance.
#2. I wish that you two get so lucky that all your fake candids look real. I wish you two buckets of romance and tons of delicious food to have the best honeymoon.
#3. With all the love in my heart, I wish that you both get to have such a splendid vacation that helps you re-calibrate yourselves and recharge.
#4. Do all the quirky things with each other, loosen up a bit, and no matter what happens, try to have the best time possible because not every vacation is as precious as a honeymoon.
#5. May you two feel so much more aligned together on this honeymoon that your belief in your love gets strengthened. Have a love-blossoming honeymoon.
Read More: Wedding Greetings For Bride And Groom
Honeymoon Wishes For Newly Married Couple
#1. I hope this honeymoon turns out to be the best getaway for you two to get to have the best time together because that's what a newly married couple seeks and needs.
#2. This is a green card from the universe to have a few days without any worry. It's a wish that's been granted for you to have the best vacation of your life. Seize it.
#3. May the moments in which you two feel loved and appreciated last longer. Time flies away but hopefully, you two can slow down to seize your vacation time in the best way possible.
#4. For us, humidity will be in the air but for you guys, it will be romance. Keep your heart pumping because you'll be breathing in love only for a few days. Have a happy honeymoon.
#5. I wish you a honeymoon that passes smoothly. I hope you two get to enjoy the best weather of the town you're visiting and serenity of the nature. Have a happy honeymoon.
Short Honeymoon Wishes
#1. Have a safe trip. Don't forget to have a blast. And take tons of pictures. Happy honeymoon.
#2. Get cosy. Be like otters. Seize all the fun. Have a blissful honeymoon.
#3. I can't wait to scroll social media and find you two there, in my feed, honeymooning.
#4. Have a toast to love and togetherness every night, happy honeymoon.
#5. This is the first chapter of you two as a couple after your marriage, write it well.
Funny Honeymoon Wishes
#1. Well, I hope you two love birds get to have the best honeymoon but the worst pictures so you can't make us jealous.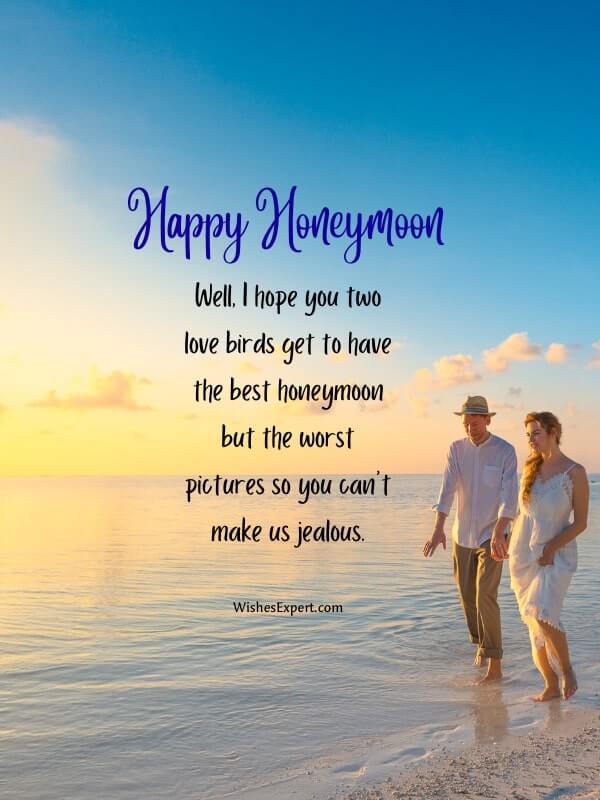 #2. I wish you a very happy honeymoon but more than that I wish you get to have the best food of all time for all the money you're paying.
#3. Maybe if you two can just not be yourself, you can have the best honeymoon as then you'll two not be arguing the whole time; I want you two to sink that in.
#4. Fun should be your priority but just remember that you've paid for the views and food. Just don't forget to take good pictures, and don't be afraid of getting bloated. Happy honeymoon.
#5. Considering how boring you two can get, I hope the weather there can bring the love into the air that you two can't. May God bless you because you two need those blessings.
#6. Keep the bars of craziness a bit low. Keep the glasses of wine a bit empty. We want you two to see alright next time we meet but have a happy honeymoon.
#7. We might call you frequently to check up on you guys as we don't want you two to get lost in love and passion so much that you forget existing and never come back.
Does our back hurt by carrying all this weight of your expectations? No! We, in fact, love to provide you with what you need. We hope you've saved all the honeymoon wishes and messages you felt drawn to or resonated with. You can mix a few of them and send a long paragraph or else add your personal touch to the preferred wishes and messages or else you can simply send them as they're. In any case, we and you only wish to make the couple giggle and hype them up. Hopefully, we both would succeed in doing so.