Long-distance relationships are challenging and seem terrifying, especially on special occasions. However, as you've come here to look for a perfect birthday wish for your boyfriend who lives miles away then you'll find one. Here is a few heart-warming long distance birthday wishes for boyfriend that you need to save.
Don't delay instances anymore to tell him how much he means to you. Especially, in a long-distance relationship, one needs reassurance of your love and affection often if not every day. And while any day is the best day to do so, a birthday is certainly one of the best ones. Go ahead and surprise your boyfriend with Shakespeare in you.
Long Distance Emotional Birthday Wishes For Boyfriend
#1. We're miles apart but the strings of our love will keep us close always. We might yearn for each other's affection but our souls won't; they know they're never truly apart. Happy birthday.
#2. I might miss you a little more today and you might wish that I was only inches closer to you than miles apart but we'll make sure you have the best day today! Happy birthday.
#3. As the flowers bloom with the first ray of light of dawn, I wish you blossom into your best version with the bundle of hope this year can bring; happy birthday. Love you.
#4. I'm far away but only one call away. I'm always wandering in your mind palace, you can catch me there for as long as you wish to. Happy birthday!
#5. With this sun rising and the day taking flight, my agony of not being with you today is coming to the shore but I wish God bless your day! Happy birthday.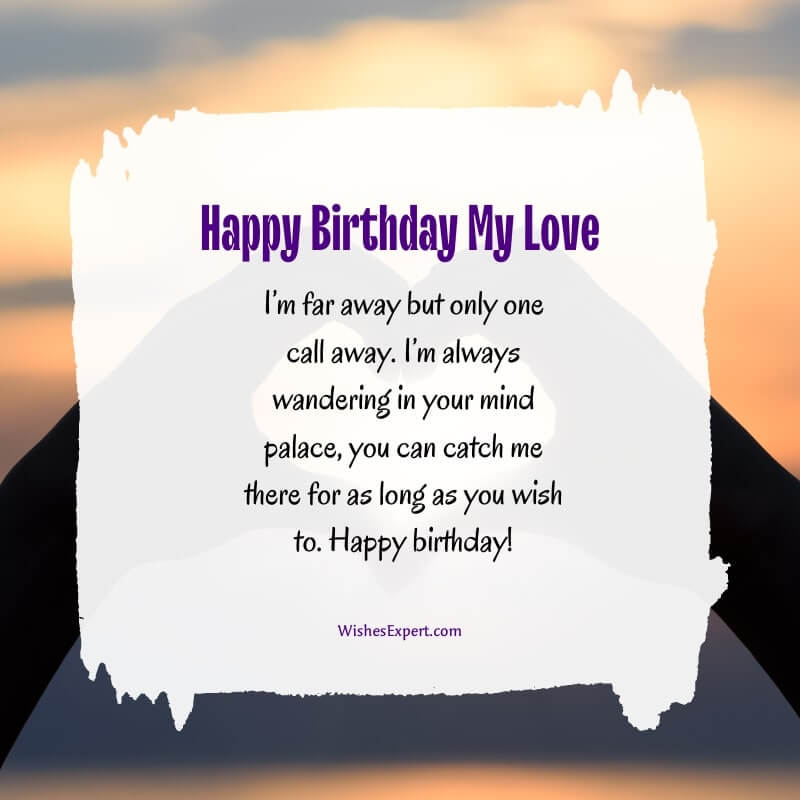 #6. Waves of my love are going wild today. My heart is beating out of my chest as I'd give the world to be there right now with you, but wishing you a very happy birthday.
#7. My heart is a stormy place. My mind is out of the hook! The only thing my soul is yearning for is you! I'm sorry I couldn't be there today but have the happiest birthday.
Related: Long Birthday Paragraph For Boyfriend
Long Distance Romantic Birthday Wishes For Boyfriend
#1. You would be in a bubble bath surrounded by candles right now if I was there. However, my absence shouldn't hold you back from pampering yourself and having fun. Happy birthday, love.
#2. Inches away I would be from you for the whole day if I was there but since I'm not, hold our memories tight and don't let the distance between us ruin your day. Happy birthday.
#3. The distance should've driven us crazy but look at us going as strong as any other power couple would! Happy birthday, love, have a day so good that you can't stop thinking about it tomorrow.
#4. Our togetherness is determined by the sheer love we share and not by what distance we're at! I hope this year brings bundles of joy and an abundance of love! Happy birthday, honey.
#5. I think of you and the next minute, I hear you breathing. You're not here but you're never truly absent; you can never be! Happiest birthday, an envelope flooded with kisses will find you soon.
Related: Birthday Message For Boyfriend
Heart-Touching Long-Distance Birthday Wishes For Boyfriend
#1. My life without you would've been plain and dull. For all the colours you've brought into my life, I promise, I'll never forget to nourish our relationship and pour all the love I've! Happy birthday.
#2. For our souls reunited in this lifetime, I'm so grateful to fate! It heard our yearning for each other and made us reconcile. Despite the physical distance, we're always close to each other. Happy birthday.
#3. Happiest birthday to the person with whom I've shared so many remarkable moments and many pitfalls too! For you've always held my hand tighter, the depths of my love for you, can't be measured.
#4. To my muse for a lifetime, I wish that God bless you with such huge blessings and good luck that you excel in every area of your life. Happy birthday, honey.
#5. I wish I was there to pump you up for the day and uplift you with tons of kisses, hugs, and cuddles. Sending a lot of love to make it up to you. Happy birthday!
Long Distance Short Birthday Wishes For Boyfriend
#1. Distance serves no harm when the roots of love are thicker and deeper. Happy birthday, honey, have the best one.
#2. The time is tough but our love is tougher. Stay strong honey and don't forget to dance your soul out. Happy birthday.
#3. Happy birthday to the ______-year-old who acts like a 9-year-old and looks like 18 years old.
#4. Happy birthday to the man I love the most after my dad. Paint the town red.
#5. Put on the jazz and swing to the beats to welcome your personal new year. Happy birthday.
Funny Long Distance Birthday Wishes For Boyfriend
#1. Happy birthday, honey! Only if you could stop being a drama queen it would be so much fun. Don't steal my role and act!
#2. I'll still love you honey even if you don't stop acting like a sad 7-year-old any sooner when your favourite football team loses the match. Happy birthday.
#3. Happy birthday to my hunk who can sometimes get scared by the tiniest, innocent puppy walking sideways. You truly are so brave.
#4. Next time when you lose while playing video games, please remember how old you're and that throwing things away isn't the solution. Happy birthday! May the seeds of maturity finally sprout this year.
#5. Kudos to me for all these years, I finally got to learn how to be a mother first-hand. Happy birthday, and may your growth get fastened by 5x!
Check: Cute Take Care Texts For Boyfriend
Long Birthday Messages For Long-distance Boyfriend
#1. Like every day, I'm thinking of you today but today a little more. Nothing breaks my heart more than not being with you on your special day! I'm missing you so much and I hope I'm being missed too! Happy birthday to the man who has the most gentle, caring, and loving heart, it's your heart that makes me fall for you each day a little more!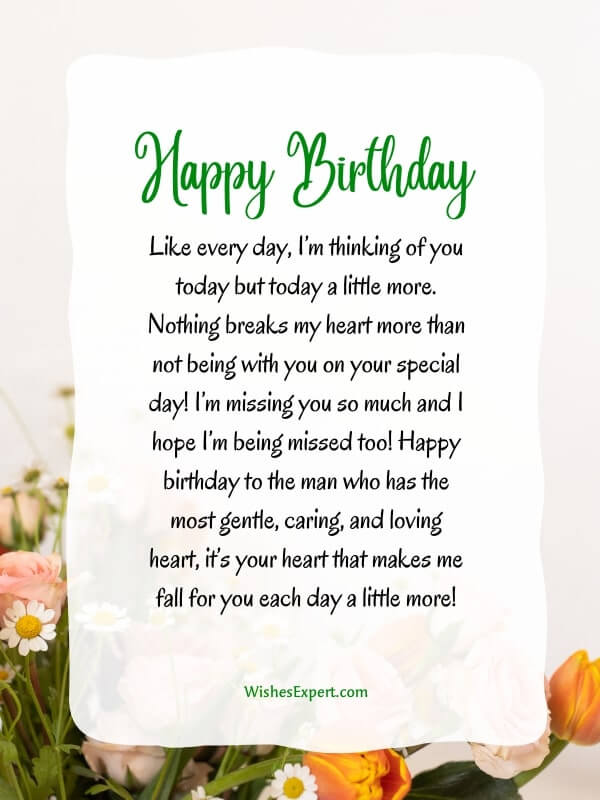 #2. May this year opens up new errands that help you expand new horizons of life and parts of you that you're unaware of. Happy birthday to the best boyfriend in the world, who somehow had the key to my heart, I let him in and locked him there forever.
#3. Stealing the wonder from the stars and galaxies, I think you came here! Otherwise, there is no other way to explain the charisma you carry, the charm you have on me! Keep gleaming and be my pretty boyfriend. Happy birthday, love!
#4. To my sweetest pie, happy birthday! Thank you for being the gentleman I always dreamt to be with. For you're truly a pure and soft-hearted man, I wish the divine's light protect you forever from the storms and troubles; your gentle heart deserves only love which I'm willing to give forever.
#5. Happy birthday to the most handsome man I know who has the kindest heart! Your gentleness and emotional intelligence make me adore you and fall for you all over again! I thought I had a very delusional idea of a man I can be in love with but you came in and made my delusional wonderland a reality. Thank you, and I love you tons!
We hope you found one or several favourites from the above-mentioned long-distance birthday wishes for boyfriend. Any extra mile that you can take to wish him would surely be very much appreciated by him. You can always personalise these wishes with your own flare as it always makes it more interesting and romantic. You already have the key to his heart, all you have to do is flood his heart with your unbound love. And we hope you do well on his birthday.