Sympathy Messages for the Loss of a Daughter: Losing your daughter or seeing someone close to you losing their daughter, is the toughest phase to go through. To heal yourself or them, use mentioned loss of a daughter quotes. These quotes will provide help in lifting that heavyweight of grief from the chest. Losing a human soul is a pain that you can never cope with easily, and when it comes to losing children, then that pain is surely amplified.
When the pain finds its way out, healing can take its course from inside. While shedding tears, let all the pain come out in its most gentle way, which is putting the feelings into words.
Let the healing process be a gentle one.
Loss of A Daughter Quotes:
1. Daughter, without you, my life has now shattered, and with all the tears, my heart has crumbled. For the innocent soul you were, I hope you rest in peace.
2. I and your father are left in misery from the moment you took your last breath. Daughter, we can't move ahead in life without holding your hand. Rest in heaven.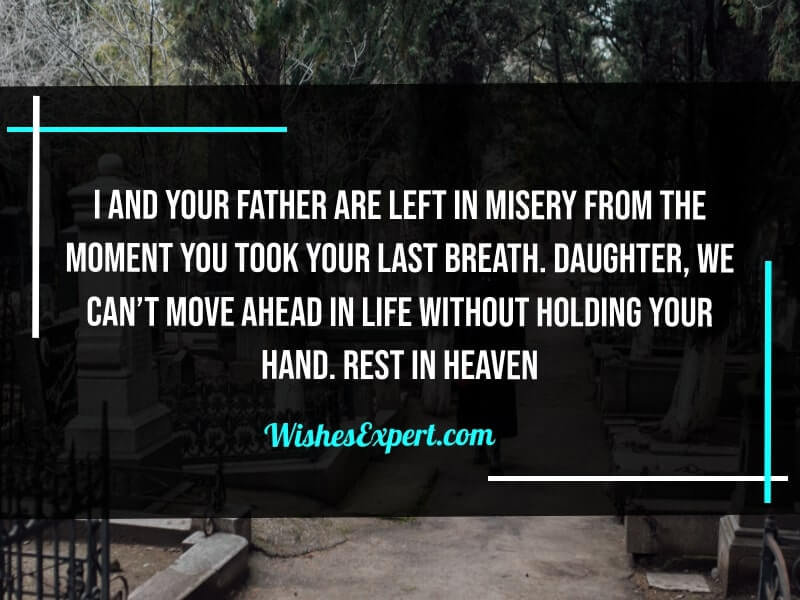 3. For all this time we have been your guardians. Now, with a heavy heart, we give this duty to the angels in heaven, because a pure soul like you must be protected and loved.
4. Fate has made us weak, your death has made us miserable. With the hope that you're safe in the wings of eternal love, we get our daily share of comfort.
5. We had an abundance of love to give you and a ton of gifts to surprise you. God didn't give us that pleasure but we hope he gives your soul rest and peace.
6. With deep hurt and sorrow, we miss you each day.
With a grieving heart, we miss you each day.
With a knowing that you're resting in God's palace, we sleep every night.
7. We have lost you but we've kept the moments spent with you close to heart.
We cannot call you back but we find our pleasure in recalling you in our heads.
8. We're buried in the pain by God's calling for you, but we're finding a way out 'cause
To make you see us in pain from heaven is what we deny to do.
9. All the strength I could gather, I did.
Yet your loss is unbearable.
All the optimism I could find, I did.
Yet your absence is heart-rending.
10. We need you to save us from sleepless nights, restless days, and grieving periods.
But, we know that now your new home is on the wings of eternity.
And we wish you rest there easily.
Check: Short Condolences Quotes
Sympathy Quotes For Loss of A Daughter:
1. May God bless your soul with his healing touch and your daughter with the rest in heaven's glory;
For the loss is greater for you to bear and the journey is tougher for her soul.
2. We hope the divine's light heal all the deep scars that your daughter's death has left you with. We pray that for the passage of time to come, your days and healing journey get easier.
3. For an innocent and pure soul your daughter was, may her soul rest easy in grace and love.
For she was your life, may God bless you with the healing that can fill the void.
4. We might not feel the same pain as you, but she was like a daughter to us too.
We are here to share our deepest condolence 'cause we all have lost a wonderful child too.
5. Only if we could turn events, we would never let your daughter go, but we can't.
Only if you allow us, We'd love to be companions in the healing journey, 'cause that's what we can!
Try: What to Say When Someone Says Sorry For Your Loss
Words of Sympathy For The Loss of Daughter:
1. We're sorry to hear that you lost a precious soul today. For she did hold the pureness and carry nothing but love; may her soul find the rest.
2. Because she was like a daughter to us too, we can not only sympathize with you but empathize. With a heart filled with empathy, we offer our sincere condolences.
3. You lost a wonderful daughter and we lost a wonderful child. For all of our sorrow is deep and true, may God shower all of us with his divine light and love.
4. With the hope that your daughter's soul will rest with angels and time will be proven to be healing, let us pray that God provides his assistance in grieving this pain.
5. We felt terrible to be receivers of the news of your daughter's death. Sharing our deepest condolence, we pray that your memories bring more comfort and warmth than sorrow.
Take A Look: Sympathy Messages For Loss of Husband
Sympathy Message For Loss of Daughter:
1. May you give yourself the allowance to feel the pain, to shed tears, and be vulnerable. May you heal with much ease and may your daughter's soul rest with the beings of eternal.
2. We're deeply heartbroken and sorry to hear the news of your daughter's death. Let the divine shower you with its healing light and love, as you're grieving the toughest pain of losing a heavenly soul.
3. Your daughter was the sunlike energy who knew how to lighten up every soul she used to meet. She was a wonder, to say the least. We're here to share the same loss and pain.
4. Rely on us to share your grief, rely on the divine to fill you with the strength to endure the pain, please don't let the pain drain you alone and make you suffer in silence.
5. May God makes the torment for all of us plain sailing. May we be on the side of each of us to lessen the sorrowing of grief-stricken because the loss is much harder to comprehend.
To cope with the loss of a daughter is the process of grieving that is never a smooth trail to walk on. In such instances, the words of sympathy can do much more than we realize. While words might seem to provide such small assistance, they do give the condolence that is needed. The mentioned loss of a daughter quotes are the words that can either make a soul outburst with tears or else quiet the tame down, In any scenario, they are doing something of significance. Let's condole family and pray for the soul of their daughter.