While waving goodbye, whether in person or by text, ending a conversation with a message to see them again can never hurt. Save this series of see you soon quotes if you don't like to leave any conversations without putting out an intention to meet them again.
When you set the intention of looking forward to meeting someone again, you're in a way reiterating the fact that you love hanging out with them, which is a magnificent way to tell someone that you value them and their time.
However, instead of only saying see you soon, use these below-mentioned quotes as they are well-constructed and would sound genuine and not something as superficial or something too formal that seems superficial.
See You Soon Messages
#1. It should be illegal to be this beautiful. But more than your pretty face, I miss the warmth of your heart. Hope to see you soon.
#2. It might be your charm or the spell that had worked so well that anywhere I go feels empty without you. It's high time for you to visit me now. See you soon.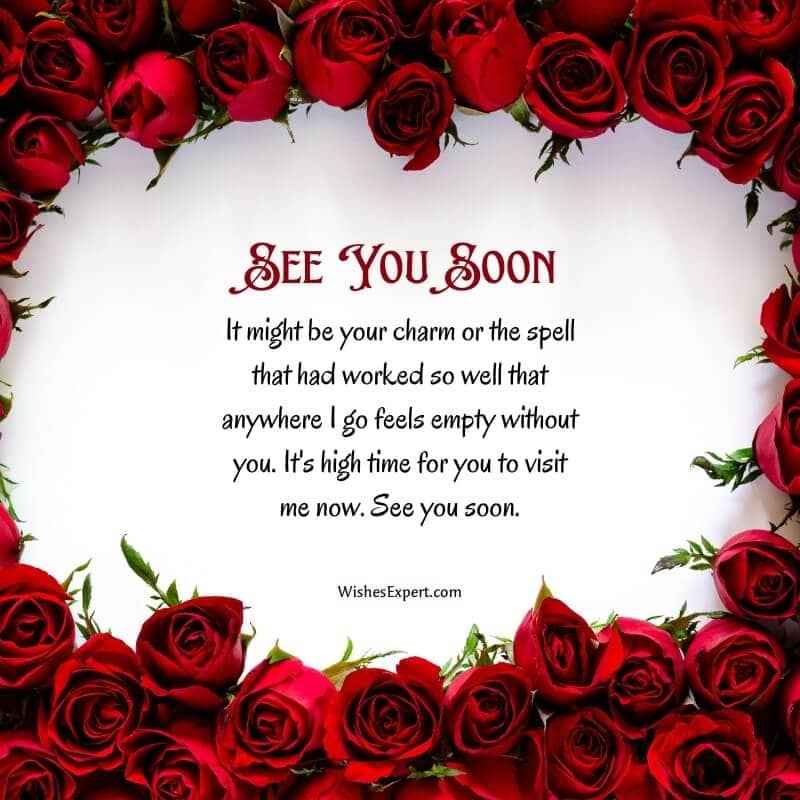 #3. The world was tolerable when you were around me. Nothing seemed to bother me when you were in my arms. I miss you. See you soon.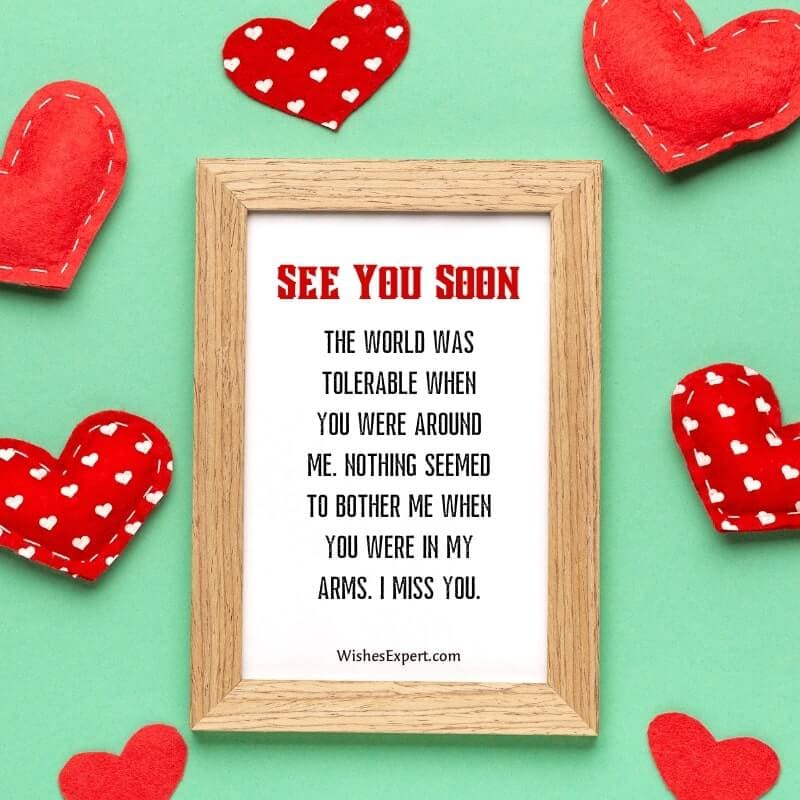 #4. It's not only when things get tough that I want you to be around me but on my best days too. Without you, my sunny days simply can't be the best ones. See you soon.
#5. Our lives get in our way but I wish to meet you almost every weekend. It's only a matter of time before we can. See you soon.
Read: Everything Happens For a Reason Quotes
Hope To See You Soon Text Messages
#1. It's been a long while since we met and had our long conversations on the most bizarre subjects. And I love that part, I love being stupid with you. Hope to see you soon.
#2. Can we catch up soon? You're a vibe for me and talking to you, and being around you makes me feel seen and heard. I can't wait to meet you. Hope to see you soon.
#3. Nothing can be alarming when I'm with you. You calm my nervous system and so I just want to be around you to get on your nerves. Hope to see you soon.
#4. There is so much that I want to share that now no amount of phone calls can be enough. I can't wait to spill all the tea. Hope to see you soon.
#5. Our old pictures from my gallery are screaming that it's now time for us to book a trip and get whimsical. I hope you're hearing me loud and clear; see you soon.
Read More: What Goes Around Comes Around Quotes
See You Soon Messages for Her
#1. I'm in the thick of many things but I want you to know that I do miss you. I'm not able to show you right now how much but it's tons. See you soon.
#2. No matter the distance, you're mine and will be forever. Through rain and sunshine, I'll always be looking for you. This is a reminder for you to not overthink anything. See you soon.
#3. You can stop wandering in my head and come home to me. Your thoughts and dreams are making it a lot tougher for me. I'm dying to meet you. I wish to see you soon.
#4. The distance between us has started weighing heavy on me. I might not be the best to be vulnerable but if you were here at this moment, I'd let my guard down. See you soon.
#5. The Apple of your cheek is what I want to have for breakfast. Those rose-tinted lips would serve me the best lunch. And cuddle with you then put me to sleep. See you soon.
See You Soon Quotes For Family
#1. It's the family that makes everything better. It's their purest love that makes you feel better about yourself. I miss you all so much that I can't wait to see you soon.
#2. Without my family, life seems to get to me. I miss the time when time with you all flew by and life was not this hard on me. Meet me fast, see you soon.
#3. No matter where we're headed, our family is the core that keeps us rooted. We'd be in different corners of the world but we know where we all need to come back! To the family.
#4. This is not a goodbye for the good. Soon, I'll come running back to you guys as the home is where you all are. See you soon.
#5. I'd cry gallons as the time apart from the family is the time in which I'd be stepping into the cold world all alone. I'll miss the warmth of a family but see you soon.
Check: Happy New Week Wishes and Messages
See You Soon Quotes For Best Friend
#1. Time with you is certainly needed. The time to not only recharge but relive our memories and create new ones has come. I can't wait to see you soon.
#2. Without you, I couldn't have survived my college days. It still feels as though if you were around, life would've been a bit easier. I hope to see you soon.
#3. The cheer and joy you used to bring into my life are so much missing nowadays. I can't wait to meet you, lighten up my load and feel alive. Hope to see you soon.
#4. It's been such a long time since we've had any cosy housewarming parties or crazy club nights. Before we become more boring, let's hang out soon!
#5. Best friends grow with each other regardless of circumstances. They could be miles apart but they never fall out of love. However, I hope to see my best friend soon to warm up the love.
Check More: Miss You Boyfriend Quotes
See You Soon Messages For Boyfriend
#1. I need you to be around me. I've been craving your comfort and love. I've started losing my patience and before I lose my mind, promise to meet me soon.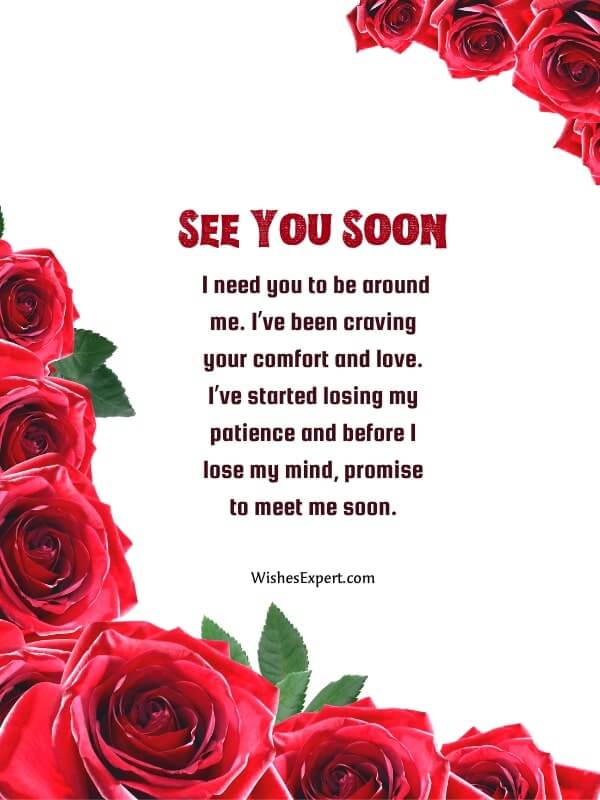 #2. The weather seems cold even if the sun is shining bright in a clear sky as you're not around. Before I get sick, send me hugs and you come right after that. See you soon.
#3. Lanterns and candles help me feel cosy but your presence will be more soothing. Before I fall asleep, come to me so I never bother you to come in my dreams. See you soon.
#4. I can't make up more fake scenarios in my head and dream about you every night especially when you're miles away. Make me stop doing all of it by meeting me soon.
#5. I'm waiting for you to come around me. Meet me and make me forget all that's bothersome. Give me a ride to a galaxy of love and make me forget the existence of this world.
These were all the see you soon quotes we thought you needed. We hope you found something useful.
Whether it's the message you wish to give to your friend while moving to another country or leaving a family gathering or else simply ending a conversation, we're positive that these see you soon quotes would be helpful. Lastly, if you wish to have more quotes and wishes saved on your phone, then kindly don't forget to check out our main page; you'll find hundreds of wishes and quotes on various subjects.