A wedding day is one of the special moments in a person's life which they celebrate with their loved ones. Express your love and care with these wedding wishes for the groom that will warm their heart.
On the wedding day, two people come together to share their love and commitment, surrounded by family and friends. As a friend and family of the groom, it is time to cheer for them wholeheartedly.
Whether you send hearty wedding wishes for the groom or a simple congratulations note, it will make them feel closer to you. You may add your sense of humor or emotions while supporting the new groom and their spouse through the wedding wishes.
Here are some beautiful and humorous wedding wishes for the groom which you can send to express your joy at the wedding of your friend or family member.
Heartfelt Wedding Wishes For The Groom
#1. People are lucky enough to find the person who loves them the most, but you have just got a chance to seal your love with wedding vows. Congratulations on your journey ahead starting now.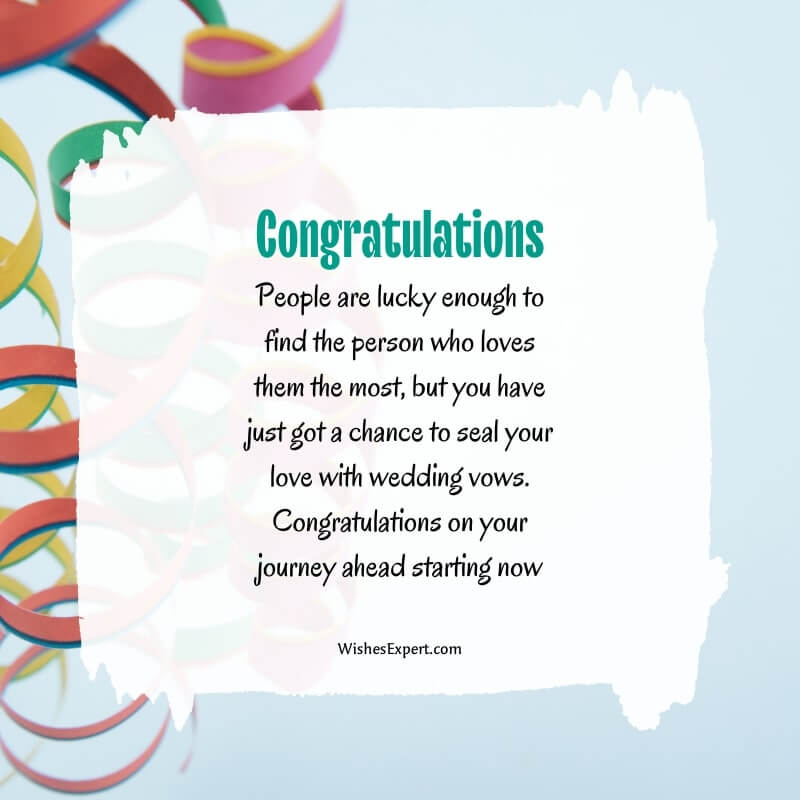 #2. Congratulations to the groom for making the sensation! I am thankful to welcome a fine gentleman like you to our family with a standing ovation.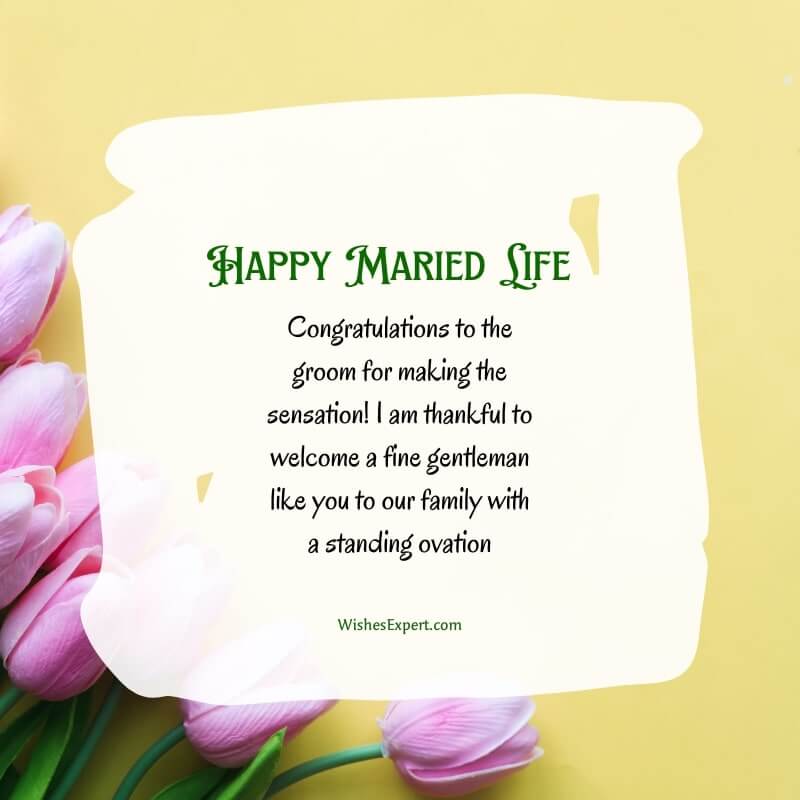 #3. A wedding allows you to show your love for your wife every day. Let's not talk about arguments that strengthen your bonds in every way. Hearty congratulations on your wedding day!
#4. Dear friend, this is to remind you that marriage is commitment, contribution, and an equal dose of insanity. Trust, patience, and respect make a marriage survive every tragedy. Congratulations on your wedding, buddy.
#5. Oh no! Our bachelor squad just lost one of its finest members! But we will still be at your wedding to congratulate you and sing your favorite verse.
#6. Every husband-wife relationship is very different, and there is no formula to crack it. Always use your heart, not your brain, for the answer that's apt and fit. Congratulations on your wedding and my love for you is your gift!
#7. Weddings are those milestone events that bring enough chances in life. For example, no more cooking for yourself because it's time to share that moment with your wife. Congratulations, bro, because now you finally get a chance to grow.
#8. Marriage is a commitment that will bring out the best version of you. I wish happiness and peace to fill your life as you welcome the new. Congratulations on your wedding, and best of luck to your future, sweet cousin.
#9. A relationship with the right person only brings a sweetness that never pales. I pray your wedding gives you several chances to experience the love that exists in fairy tales. Congratulations on your marriage, young man, and do celebrate it with the best wedding cocktail!
#10. I have waited for your wedding from morning till noon. I do not know what a perfect couple looks like, but the new groom will teach me soon. I can predict for us a rocking honeymoon.
Related: Wedding Wishes for the Bride
Wedding Quotes For Grooms
#11. A wedding celebrates your love and seals your wedding vows with a kiss. May your married life get filled with love, health, happiness, and bliss. I shower my hearty congratulations on your wedding day, and this is a message from your sis.
#12. Congratulations, young man, and now it's the time to hold your bride's hands and take steps toward a beautiful tomorrow. Your love and respect for her will bind you together through happiness or sorrow.
#13. Congratulations on your wedding day, and remember, a wedding is not just a day. It's a promise for you to keep, whatever may others say. May the love you hold for each other continues to grow every day.
#14. I am happy to witness your journey from a little child to a responsible grown-up man. It is a proud moment to see you as a groom as your new journey in the future has begun. Congratulations on your wedding, my darling fan.
#15. Congratulations, brother, on finding your true love to share your joy in life. May your path get studded with success, opportunities, and happiness as you tightly hold your wife.
Related: Wedding Prayers and Blessings
Wedding Card Messages For Groom
#16. I wish you well at your wedding because you always support me in distress. I am telling you beforehand that I will do the unimaginable dance for you, so do not take any stress.
#17. My wedding wishes go out to you and your lovely partner, who possesses only good traits. For your kindness and staunchness, you shall have a beautiful married life with an always smiling face.
#18. Congratulations, dear groom, you finally step in a beautiful direction as she makes you a better man with her love. I hope your marriage will be as peaceful as a dove.
#19. Thanks to you for making me a significant part of your big day. Seeing you as a groom has made me very happy, and I know you will just slay. Have a blessed marriage day.
#20. People say that the good ones are always taken. But you are a husband any woman would be proud of, and in this regard, I am not mistaken. Congrats, dear, and I know your bond will never be broken.
#21. I am so glad that we all had a night to rehearse getting drunk for your wedding reception. If you believe all gifts you receive are only for you and not for me, then you have a massive misconception.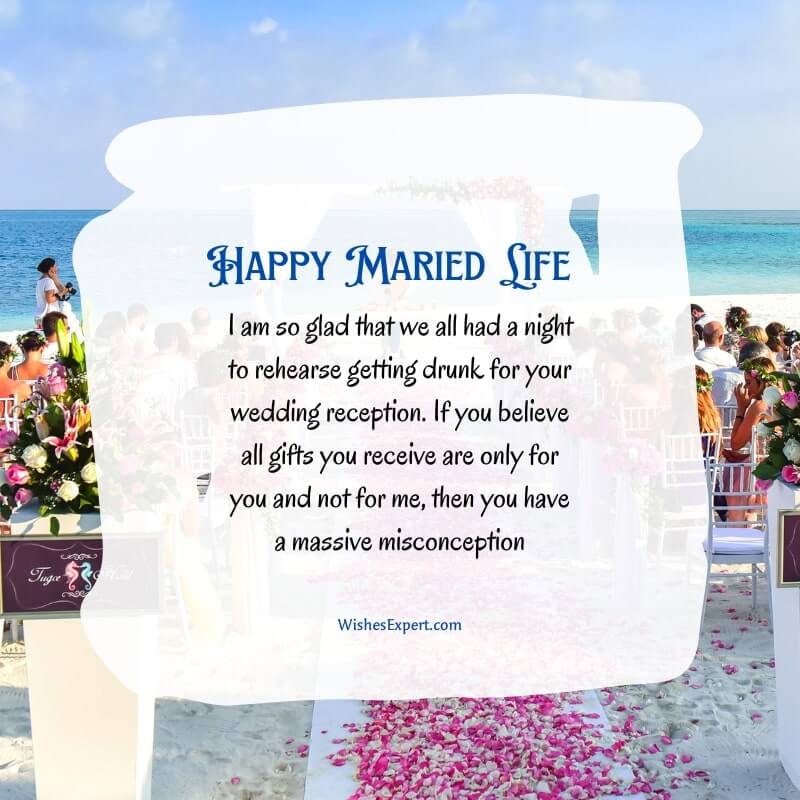 #22. Marriage requires a person to know about four types of rings. They are – the engagement ring, wedding ring, suffering, and enduring. Best wishes, darling.
#23. Early in your marriage, you will not get the last word in any discussion. Eventually, you will learn how to end every with a 'yes, dear,' without creating any repercussions.
#24. Never go to bed angry without making things clear. It can only happen if you remember the three magical words – 'You're right, dear.'
#25. Do you know there are only two secrets to a long-lasting happy conjugality? They are the groom's good sense of humor and a short memory.
Read More: Wedding Wishes For Friend
Wedding Congratulations For Groom
#26. You are lucky because you found your naughty other in her. Your wedding day will come and go, but your love will always grow further. Congratulations, my dear.
#27. Dear groom, you are now a team of two. Your union will be unbeatable all through. Congrats, and I wish much happiness to you two.
#28. You both make a perfect pair. As a groom, you inspire all, which is truly fair. Have a blissful conjugal life full of love and care.
#29. I send my warm congratulations to you because you are the groom. I pray you both always find in each other the joy, love, and contentment that partners for life share to bloom.
#30. Thank you for your gracious invitation to your wedding ceremony. I wish to witness several cherished moments in this matrimony. Live your new life peacefully without agony.
Wedding Wishes For Groom From Parent
#31. Marriage is a great responsibility. Son, you would achieve a successful married life filled with prosperity. I pray God blesses you both with happiness and joy. I hope you enjoy a happy married life, my boy!
#32. Boy! Sorry, now you should not be called by such a name, and I say this with immense joy. You are a man now and must take responsibility for your lady. As your parent, I trust you would make a great husband, my buddy!
#33. Son, marriage is about understanding and adjustment. But it also involves love and commitment. You must understand your wife at every step of your life. I wish you a magical wedding day with your wife.
#34. Life is full of ups and downs. Son, now you have a partner to share every moment of your life and even your frowns. In the same way, you must listen to your wife's problems or issues. So that, if there is any gap, it will reduce.
#35. You are getting married today, and I wish you a happy married life, junior. Be a great husband, and do shower immense love on your partner.
Wedding Congratulations For Groom from Friend
#36. Happy married life to the groom of the day. I wish you a peaceful married life with your soulmate every day. Congratulations, buddy, and I pray you to become the best hubby.
#37. May the Lord shower your life with love and adoration for your partner. May you both share a great understanding and tenderness, my dear. Congratulations, my friend, and now the coming days will be filled with adventures with no end.
#38. Love is a precious gift. I know you would be a great husband, loving your wife every bit. You would fill up your special one's life with love and gay. Please give a round of applause to my pal on his wedding day.
#39. The wedding bell has knocked you down. You might feel a little tense with your lovely frown. Trust me, buddy, when I say you will be a fascinating husband, attending to all your wife's errands!
#40. Marriage is another term for love, responsibility, trust, bonding, understanding, and sacrifice. You will succeed in all these if you are nice and wise. Congrats to my bosom buddy. I still cannot believe you will soon become someone's hubby.
On the special occasion of the wedding day, sending wedding wishes for the groom to the groom is essential to show your love and support to the newly-wed couple. No matter how you put your words to congratulate them, it will have a lasting impact on their minds. Your wish will not only bring smiles to their faces. But also reflect how you are related to them and their nature.
Whether you are a friend, family member, or well-wisher of the groom, send your heartfelt wedding wishes to the groom on their wedding day. Your wish will make their special day even more memorable and create a lasting memory they will cherish for years.