In the era of unbelievable evolution, living to be 100 is still a far-fetched dream for most of us. So, if someone dear to you turned 100, then these 100th birthday wishes are the ones you should greet them with to make them feel special and loved.
This is huge for the person who's turning 100 and honestly for you to have witnessed this person's journey is also a fortunate event. To celebrate it, you shall send the best message with genuine thought put behind it. You can use these wishes as a stepping stone and then can build your own personalized message for them. Go with the wishes that are the most fitting for the dear one.
Happy 100th Birthday
#1. Nothing screams savage more than having finished 100 years. To the coolest and oldest human being I know, happiest birthday; do share your secrets this year.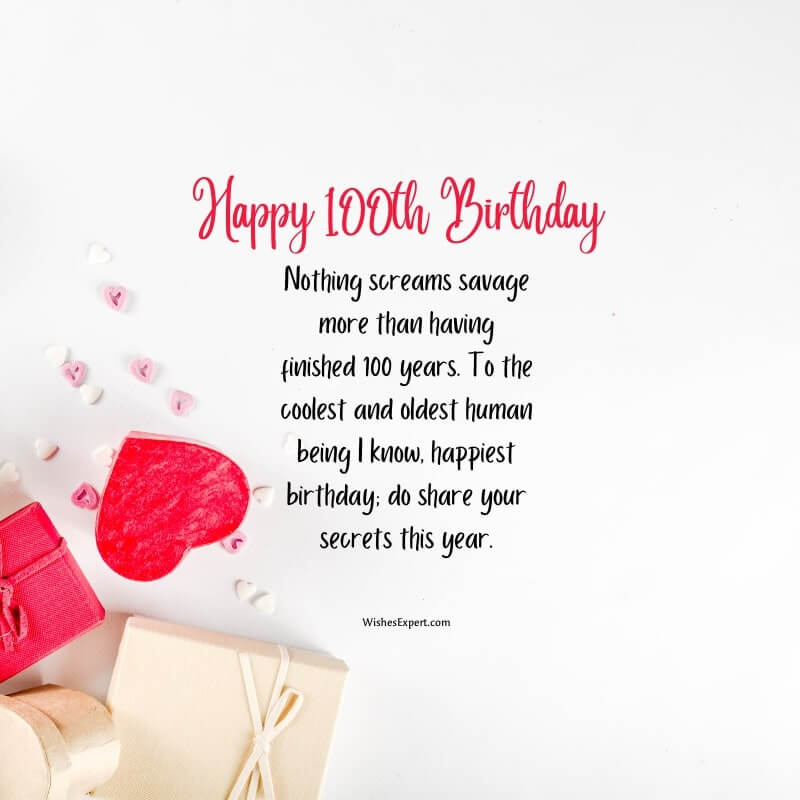 #2. Happy 100th birthday! This is so huge that it will be the town's tea soon and you might get famous. We're more than happy to have you with us celebrating your 100 years.
#3. Maybe you read Ikigai very carefully and adapt the methods rigorously or maybe you've your own secret recipe to complete 100 years regardless we can't wait to hear from you, happy 100th birthday.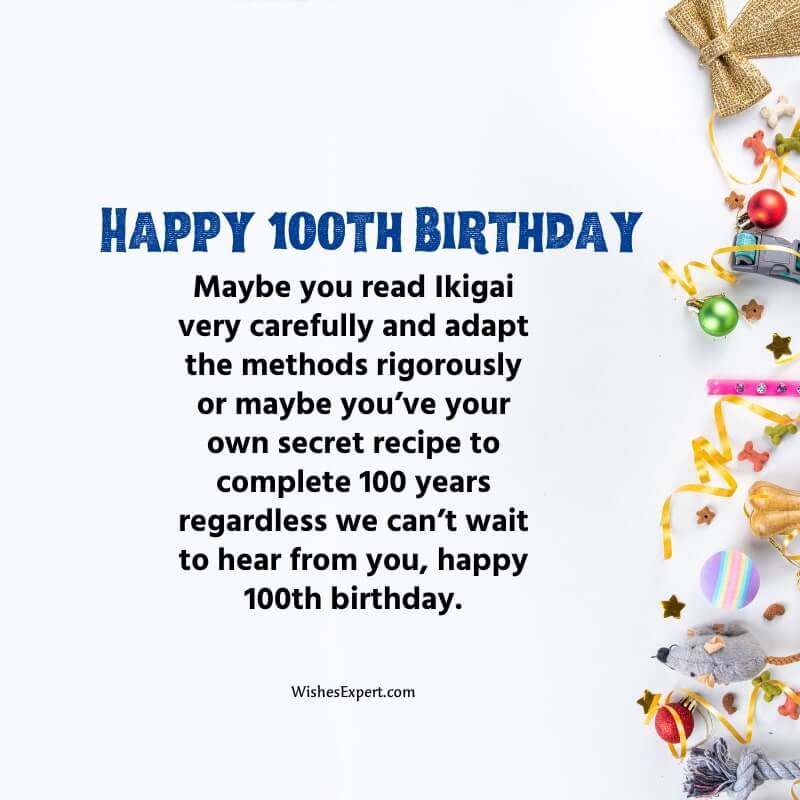 #4. Whether it is your cool, calm, collected spirit or the secret superpower that helped you come so far; it's unbelievably remarkable. Congratulations and happy 100th birthday.
#5. Congratulations on having hit the milestone that only 30% of the population succeed to do; you should be proud of yourself. Happy 100th birthday; have the day of your life.
Read: 55th Birthday Wishes And Quotes
100th Birthday Quotes
#1. In the end, a life lived long is the godsend gift that you've earned as a reward for your patience and strength. You certainly deserve all the praise. Happy 100th birthday.
#2. It's not about how long you've lived but how much meaningful life you've lived and you certainly have lived both. So, congratulations and happy 100th birthday.
#3. Age number is just a number but a number worth a lot of praise and respect when it's 100. Happy 100th birthday.
#4. Age indicates certainly nothing unless it's 100 because then that's an individual whose stories are worth every penny. Happy 100th birthday.
#5. To live 100 years is to live to exceed one's own expectations and birthing a new age. Happy 100th birthday.
Read More: Thanking God Messages For Another Birthday
100th Birthday Greetings
#1. A century's worth of wisdom is what humanity needs to live a fulfilling life and you've just contributed your huge share! Happy 100th birthday.
#2. It's not every day that one turns 100. It's your special day indeed but the sense of extraordinariness is 100x so celebrate it as you've never in this span of 100 years. Happy 100th birthday.
#3. Give yourself a pat on the back because you've done something that most of us only can dream of; it's still a phantom thought for us so congratulations. Happy 100th birthday.
#4. Achievement unlocked. 100 years on the planet earth and still counting! Happy 100th birthday to the individual who has experienced life more than any of us in the family.
#5. Here's to the achiever who has crossed the most desired life expectancy of humankind; cheers to life and superhumans like you. Happy 100th birthday.
Also Read: Birthday Wishes for Respected Person
100th Birthday Messages
#1. Grandpa, you're not only young at heart but your mind and body altogether are keeping up with the changes so cohesively that you're a role model for me now. Happy 100th birthday.
#2. You're the coolest grandmother. For me, you are a definition of the savage; there's nothing cooler I've experienced than seeing your grandmother turn 100 without any serious health issues. Happy 100th birthday.
#3. Congratulations mother, you've seen millennials, gen Z, generation alpha and probably and hopefully will encounter generation beta too! You certainly had the most fun decade any human could have lived. Happy 100th birthday.
#4. Your good karma has surely made you earn extra points and blessings from others added the bonus and here, it's a huge total of 100. Happy 100th birthday; you deserve a big applause.
#5. With a fit body, a healthy mind, and a cheerful spirit you're entering into the club of 100-year-old; you might be the best member of the club. Happy 100th birthday.
Also Read: Birthday Prayers And Blessings For Dad
Happy 100th Birthday Sayings
#1. If I ever host a retro-theme party, which now I'll surely do, then you as a guest for it would be perfect for the theme; and you'd need not dress like it. Happy 100th birthday.
#2. How does it feel to be this young in the body of a 100-year-old man? I'm taking notes, but the pleasure is certainly yours. Happy 100th birthday.
#3. Did you plan to live this long? If not, then you're god's favorite and I'm jealous, but happy 100th birthday.
#4. You're transitioning from one decade to another, and most of us do not make it to the finish line; be proud of yourself and have the blast. Happy 100th birthday.
#5. Till yesterday you were a normal being but not any longer; you've achieved the batch for yourself that makes you a superhuman being. Congratulations and happy 100th birthday.
Turning 100 is a celebratory event that is worth the attention and praise. And we hope you found something that could equal your excitement. You can also save multiple happy 100th birthday wishes from the above-mentioned ones and combine those to send a long birthday paragraph. You can always put your own swing to these wishes and customize them to make them sound fitting for your dear one. In the end, we only hope for you to make the one who's turning 100 realize how unique and loved they're because they so deserve it.