As you've come to this page, we assume someone dear to you is turning 55. The below-mentioned 55th birthday wishes are perfect to greet the dear one with, as they're supposed to steer the blissful emotions and make the joyous occasion more eventful.
Ageing is not always fun. Especially after 50 as the biochemistry of the body is not very supportive. To boost the morale of the dear one, these wishes are the best. Whether you wish to pump them up with compliments or fill them up with optimism, you'll find the birthday wishes you can send to a 55-year-old to make them feel good about themselves and hopeful about life.
Happy 55th Birthday Wishes
#1. The best is yet to come regardless of what society tells you. Always remember that it doesn't entitle you to retire from having fun and living life; happy 55th birthday.
#2. It's the time of the year when you should take a break and realise how far you've come. Appreciate and give yourself more credit than you usually would. Happy 55th birthday.
#3. Stay mindful. Stay active. Stay optimistic about your life, you're getting old but that doesn't take away the right to have hope for the future from you. Happy 55th birthday.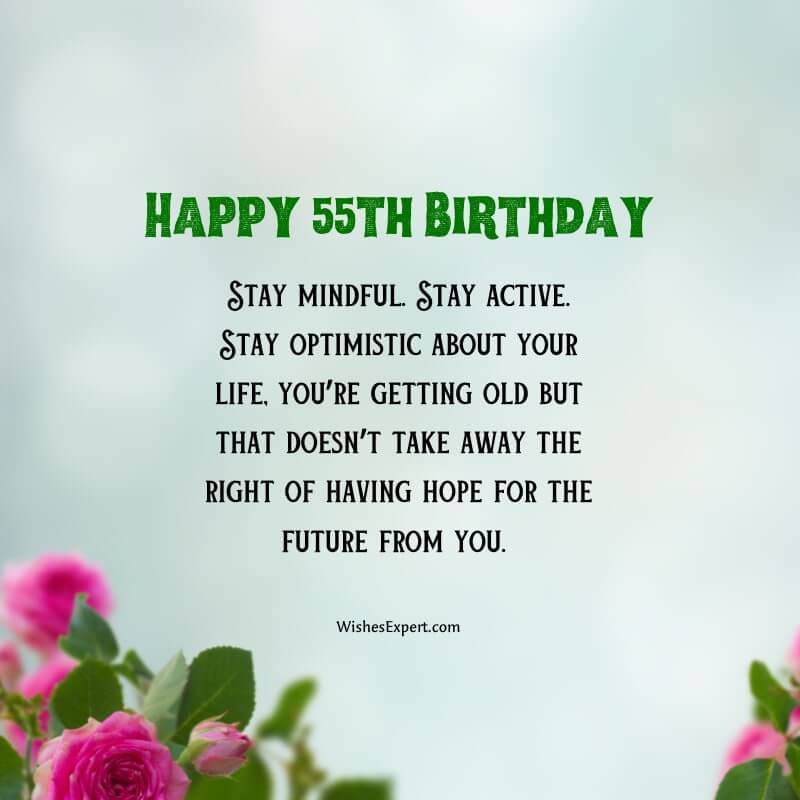 #4. Life never gets easy but the years of experience make it for you because at least you gain a good sense of stability within yourself to deal with it. Happy 55th birthday.
#5. If you'd have a magic wand, what would you ask for? Start taking little steps toward getting it because regardless of what they say, you still have a lot of time. Happy 55th birthday.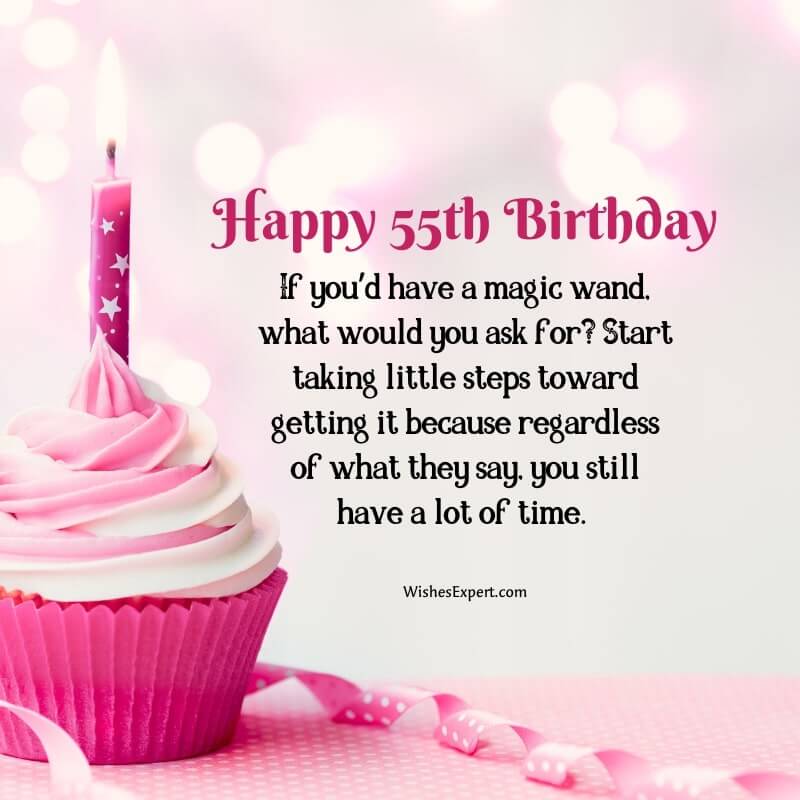 Read: Best 75th birthday Wishes And Messages
55th Birthday Sayings
#1. To my coolest 55-year-old uncle, without you, any family gatherings would feel as dry and dull as Monday mornings. Thank you for being the life of the party and family, happy 55th birthday.
#2. Hey charming hunk, happy 55th birthday. One day you have to tell us all how you do it all! We'll take the notes because we're in desperate need of them.
#3. You're going strong even at the age of 55; Lord made you differently. Keep on being a kind, caring, loving, and beautiful woman because you're setting the tone of 55 perfectly. Happy 55th birthday.
#4. May the following years bring you a lot more contentment and make you feel the richness of life simply because you're awesome and you deserve all the good things. Happy 55th birthday.
#5. To the most gorgeous woman who just reached this triumphal milestone and the fact that she is my mother makes my heart dance in the rain. Happy 55th birthday, mother.
Take A Look: Happy 31st Birthday Wishes
55th Birthday Quotes
#1. We all age and there is nothing to fear about. Ageing is a sign of doing well because God is encouraging you by breathing life into you. Happy 55th birthday.
#2. Getting old isn't as bad as society makes it look like; in fact, 69 is the age according to studies when humans feel the happiest so the best is yet to come. Happy 55th birthday.
#3. Age doesn't matter but sometimes it speaks a volume. For example, 55 is 20 years of adulthood and 35 years of making one's life; you definitely have something of value to offer. Happy 55th birthday.
#4. Regardless of age, we all are the same creatures with the same mind, the ones who are individuals are the ones who are seeing the world differently like you. Happy 55th birthday.
go
#5. As long as you're listening to your heart and gut feeling, life as well and I hope yours goes fantastical. Happy 55th birthday.
Read More: 40+ Birthday Wishes for Uncle to Wish Lovable Uncles
Funny 55th Birthday Wishes
#1. Holy moly, you turned 55 today I thought with all that knee pain and back aches; you might be at least 60! But never mind; happy 55th birthday.
#2. Now I can't make fun of you because till now I knew anything I said was sarcasm and not truth but now it'll be otherwise so I'll stay quiet. Happy 55th birthday.
#3. It's okay that your bank account isn't loaded and that you have terrible humor, people will respect you now a little anyway because you're getting old; make peace with it. Happy 55th birthday.
#4. It might be a little embarrassing to see a Gen-Z doing better than you but it's time to make peace with it and also your 80-year-old body. Happy 55th birthday.
#5. Brother, you're getting old and you shouldn't feel bad about it because you weren't moving mountains in your 30s anyways so you should be okay with doing nothing in your 50s too. Happy 55th birthday.
To sum up, we can say that you can always customize your wish by adding up your thoughts and personal notes to these wishes. You can also combine a few of these 55th birthday wishes and send a long birthday paragraph along with your additional notes. There are multiple ways to customize your wishes, but we did the groundwork for you so now you can build up your message from here or can simply keep it minimal and send the birthday wishes we've come up with.