God has blessed you with another year to celebrate life so before you start celebrating your birthday, use these thanking God for another birthday prayer to show your gratitude for God's kindness and love. While God blesses us with each new dawn and we should be grateful for each day, birthdays provide special opportunities to showcase your gratitude.
As you're starting your birthday with a grateful heart, you can only expect an abundance of joy and love in your life. As you open the gates to enter the new land with nothing but gratefulness, the blessings will head your way. Let these prayers levitate your soul and put you in grateful energy.
Thank You God For Another Year of Life:
#1. I've been adding things to my cart and you're adding one year after another to my life. And I can be only thankful. Thank you, God, for another year of life.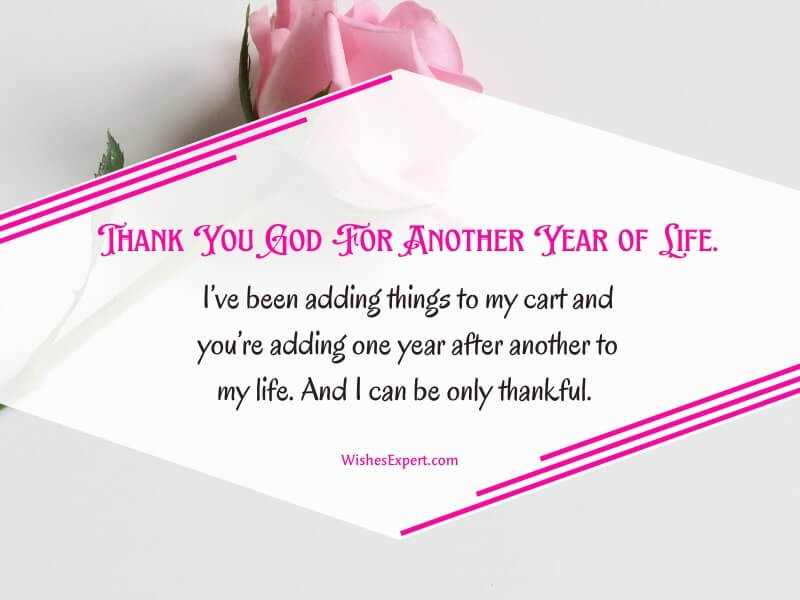 #2. As you expand my life span each year, my bucket list goes longer. And I can only be grateful to God for giving me another year to travel the world.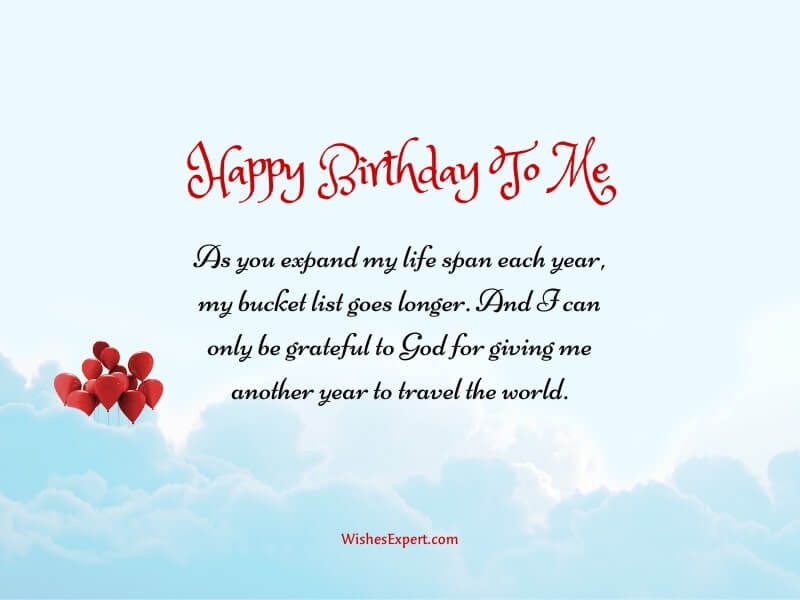 #3. I woke up with a grateful heart that's been overwhelming since then with the tears of joy as God blessed me to have today. I thank you, God, for another year of life.
#4. Like the notes of music, I'm walking down this route in sync with the rhythm of life as God
keeps blessing me with another day, another year.
#5. I've had stormy nights but I've woken up to sunny days every time. I've failed but I've been blessed every day to wake up with new hope. I thank God for another year of life.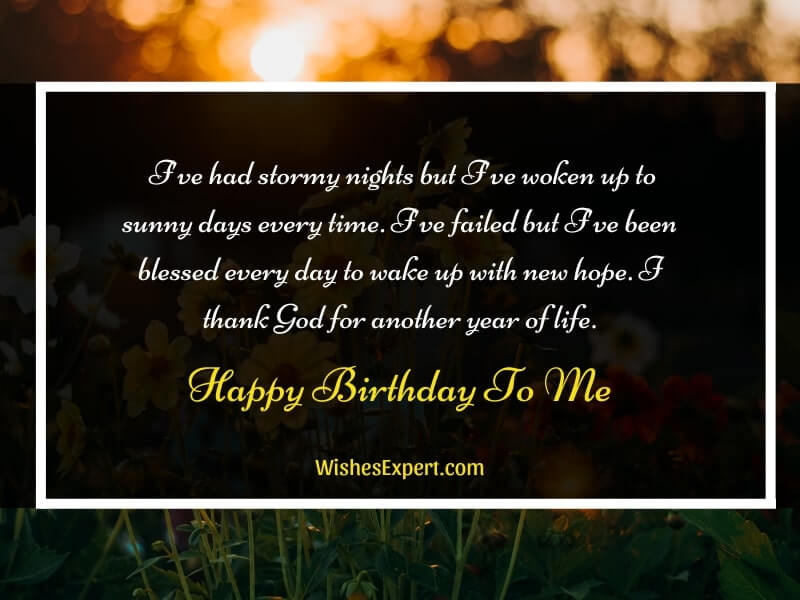 Read More: Birthday Wishes For Myself
Birthday Prayer For Myself:
#1. Dear Lord, let this embarkment of the new chapter be guided by your light. Guide me in the haze, be my beacon of hope.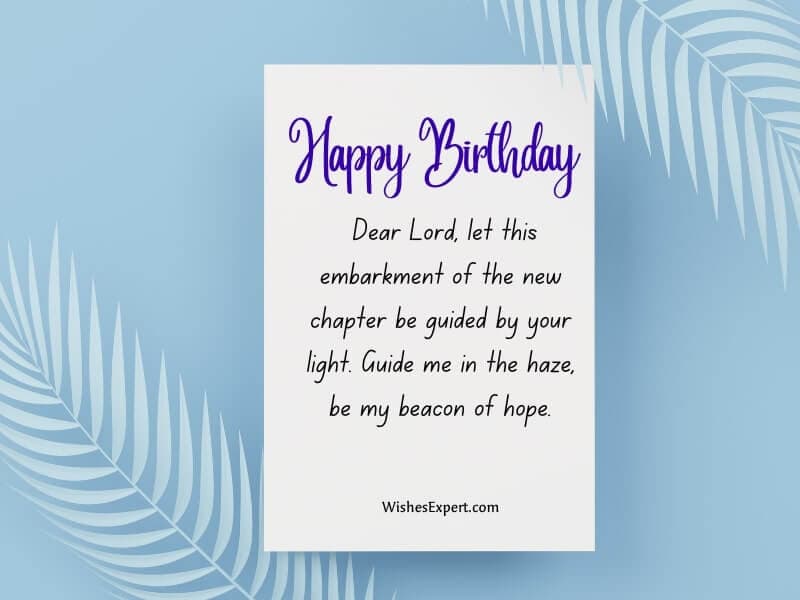 #2. Dear God, I thank you dearly and truly to give me another year to live in the awe of nature and to forge for the betterment.
#3. Almighty, as I begin to write this chapter, keep me in the cloak of your love. If I get stuck, please be by my side to help me choose the path for my highest good.
#4. Dear Lord, let me walk under your light and meet everyone under the shades of your love. Protect me, guide me, Lord, keep me within your holy region regardless of where I walk.
#5. Dear Lord, this year teach me the language of love and kindness. Help me to be the source of love and light. Let your divine nature flow through me this year.
Read More: Thank You Messages For An Unexpected Gift
Another Year,Thank You God For My Birthday Today:
#1. Each morning I count my blessings, but today I counted them twice. Every day I wake up with a grateful heart but with thankfulness, to a greater degree, today I thank Lord for another year.
#2. For I've gotten pushes and mercies from the Lord that brought me here today, I thank him. For it's his kindness and love that has given me another year to love, I'm grateful.
#3. For God filled my last year with an abundance of joy and countless blessings, I thank him. With a grateful heart, I ask him to shower me with his love as I begin this year.
#4. Like a river, I wish to flow this year and let fate take its course. Losing my grips, I hand my fate to the Lord to let him have the gears to make me drive.
#5. The roadmap need not be laid when you let your intuition be in your driver's seat always. I start this new year, I thank Lord for bringing me in touch with intuition.
Read More: Religious Birthday Wishes And Greetings
Thank God For Another Birthday:
#1. I thank god for another birthday. Thank you for your mercy that has made me go through misery. Grace me with kindness and your love to bless me this year.
#2. Lord, I thank you for another present. As you have never fallen out of grace; teach me the art of living. As you've blessed me with another year, bless me with your guiding light too.
#3. Thank you, Lord, for blessing me with everything that has only made my life easier. Thank you for another birthday as it gives me another year to celebrate your blessings.
#4. For filling my life with the colors of joy and sprinkling it with the glitter of love, thank you. I thank Lord for another year, another birthday, another chance to live.
#5. I pour my heart with all the gratefulness I could gather, and I've come up with a heart that's overwhelming with joy to thank God for another birthday, another instance to celebrate life.
Also Read: It's My Birthday Month Wishes
Birthday Prayer For Thanking God:
#1. For the breakthrough of light in the stormy days,
For the beacon of hope in times of gloominess,
I thank you, Lord, with a grateful heart,
I appreciate you and another instance to live life.
#2. For almighty's love, my thankfulness
can't be enough.
For all the smaller to larger blessings,
I can't be grateful enough.
But let these insignificant words of gratefulness reach to you
And show my love enough.
#3. In the blink of an eye, this year has passed.
Your love has blessed
all ups and downs,
all turmoils and moments of stillness.
Let this year as well be blessed with your light.
#4. May I get aligned with my soul as I approach this year!
May I get enlightened to see beyond what lies ahead!
But before that, I thank you for another year.
#5. More I see the world through the lens of love
More I witness your infinite love in little creations of yours.
As you bless another day,
The more I feel your love and mercy.
As we express our gratitude, it brings a fresh perspective to our lives. Sometimes, it almost feels like we come back to life again as we start to count down our blessings. And then regardless of our worldly possessions, simply living another day feels like a privilege, which actually is. These thank God for another year prayers will make you feel blessed for all that you have.