The pain of loss never goes away, especially when someone is closer to your heart. These are some heartfelt "First Death Anniversary" quotes to comfort you. When someone close to you departs, the grief torments your heart.
Writing Death-anniversary quotes on cards or sharing the 1-year death-anniversary quotes can be very comforting. It can heal the wounds of your heart.
You will feel closer to the person through your words. It may give solace to your aching heart.
Let your loved ones know how much you love them, miss them, and what it feels like living without them. Here is a list of one-year death anniversary quotes that you can use or make your quotes modeled on them.
1st Year Death Anniversary Quotes
#1. Last year, on this day, you went away. Coping with your absence is tough. Now I have realized that you never left us because you live within our hearts, my love.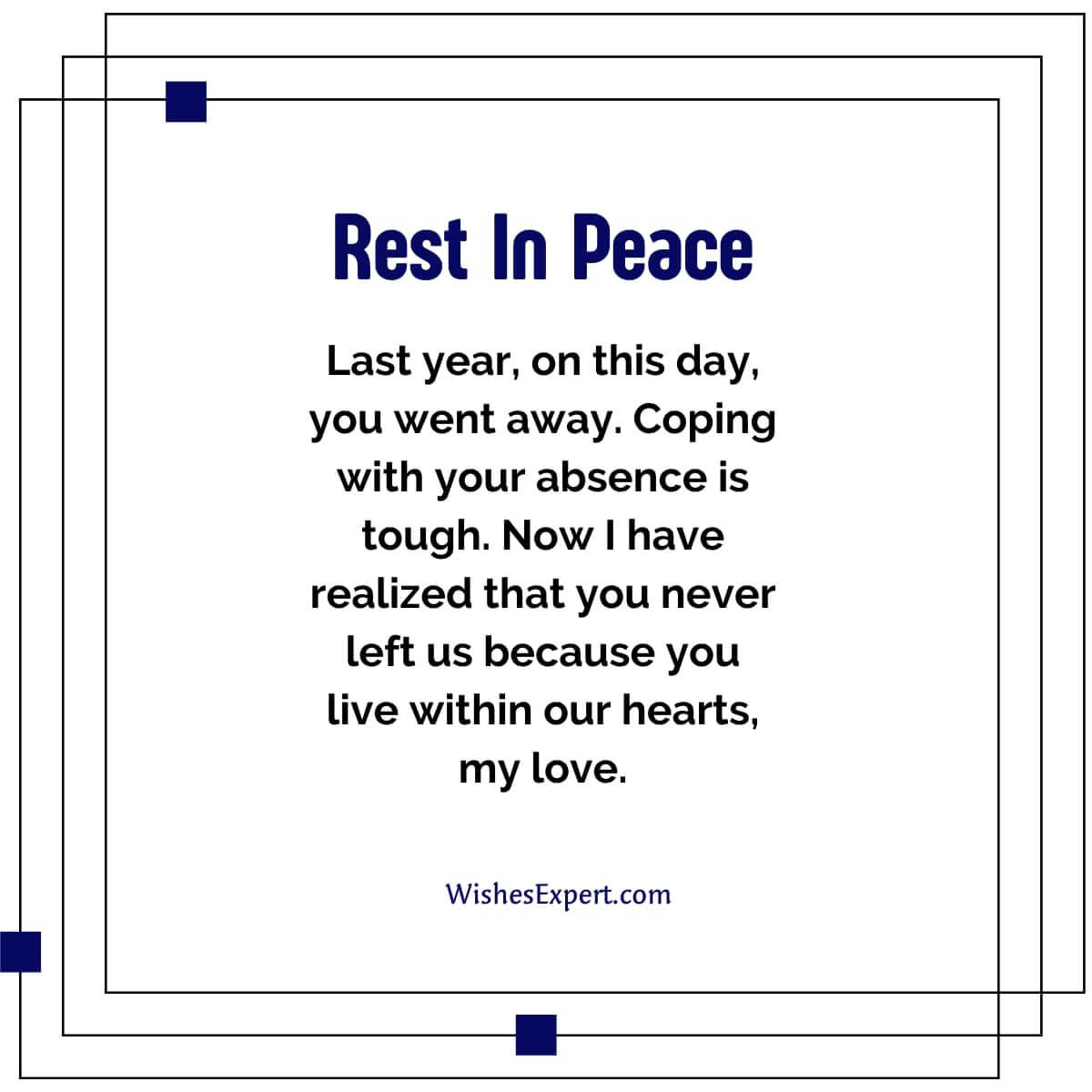 #2. It has been one year today since you left me to be in a better place. Thank you for making me believe in friendship and being there for me always. I miss you, Pal. I hope you miss me too, my girl.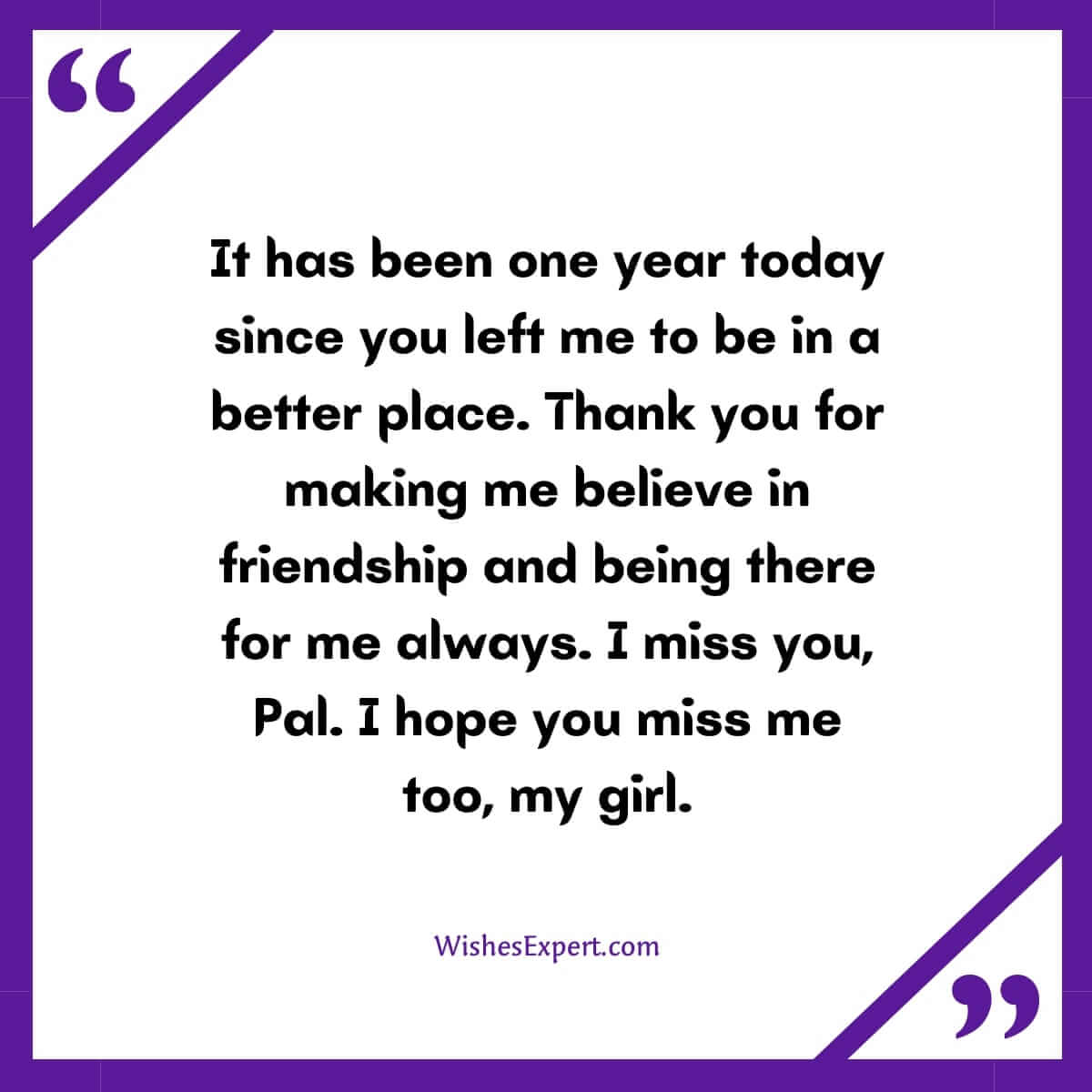 #3. You left us with your memories, and even after one year, nothing makes sense. There isn't a moment when I can stop thinking about your lovely smile and charming presence.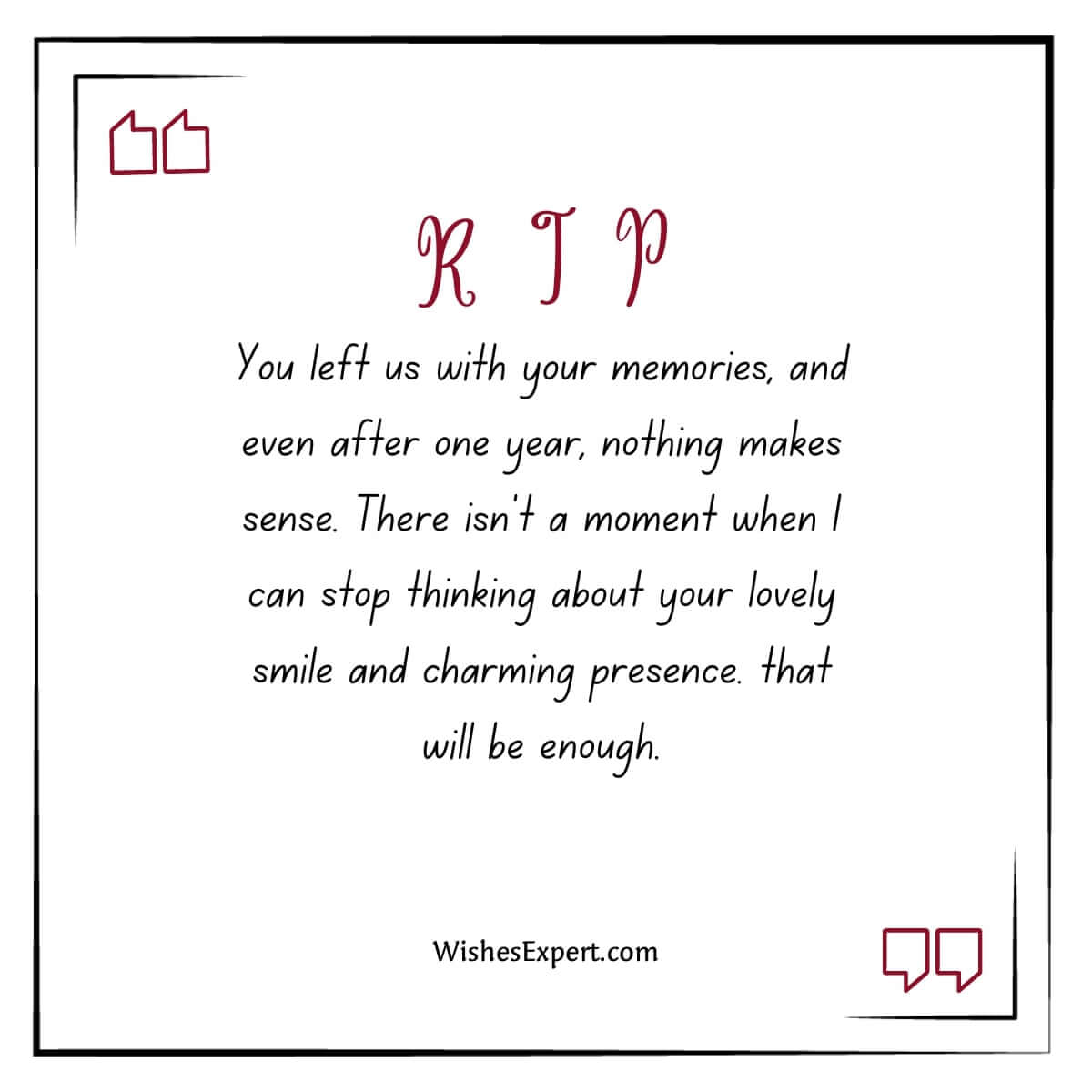 #4. As my best friend, you have always been my biggest supporter. This one year was full of tears, and life is tough knowing you have gone far. Stay well in Heaven. Bestie, why did you leave me with so much pain?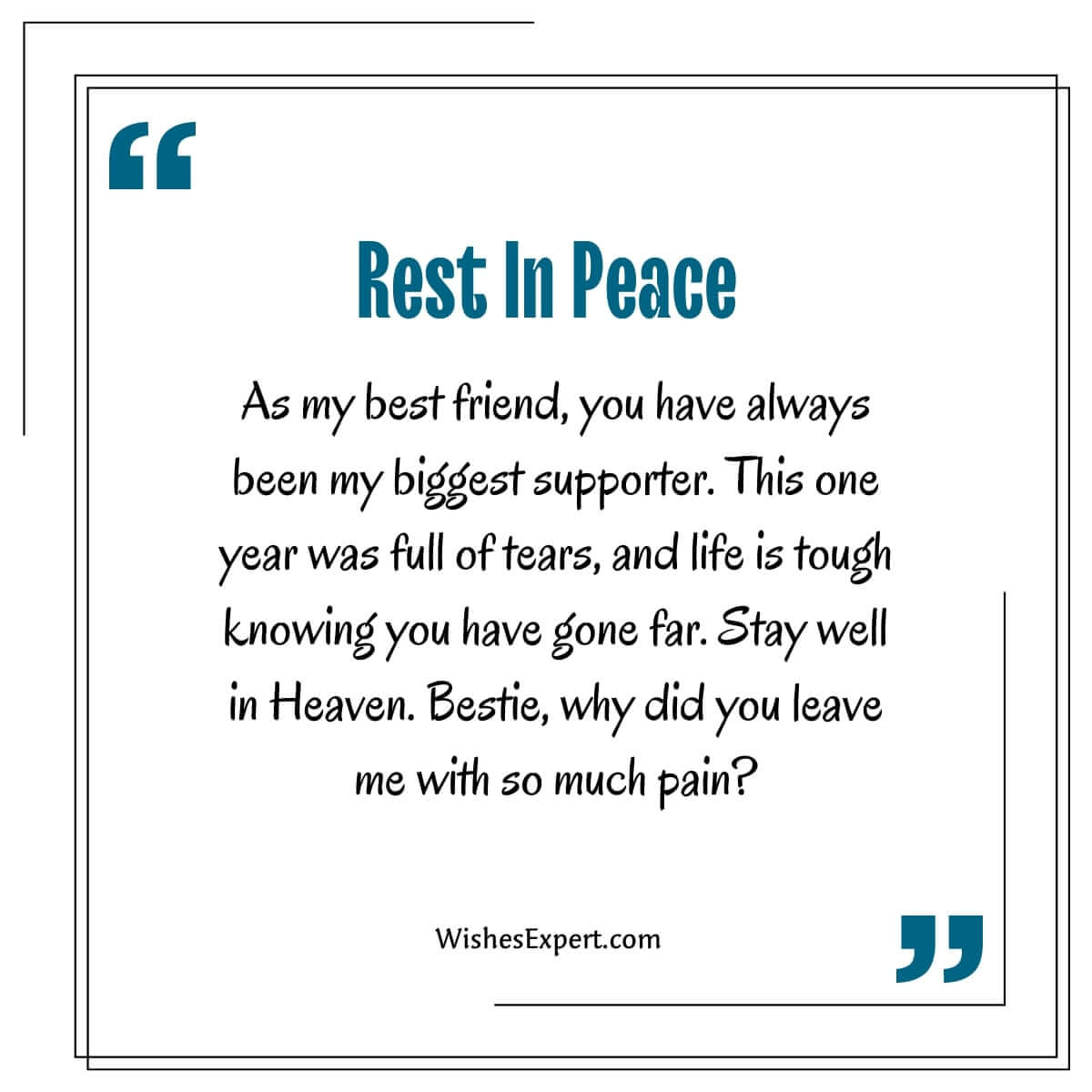 #5. It's been a year, and you went beyond our reach, looking upon us from afar. After you left us, I realized death cannot take away everything because love stays forever.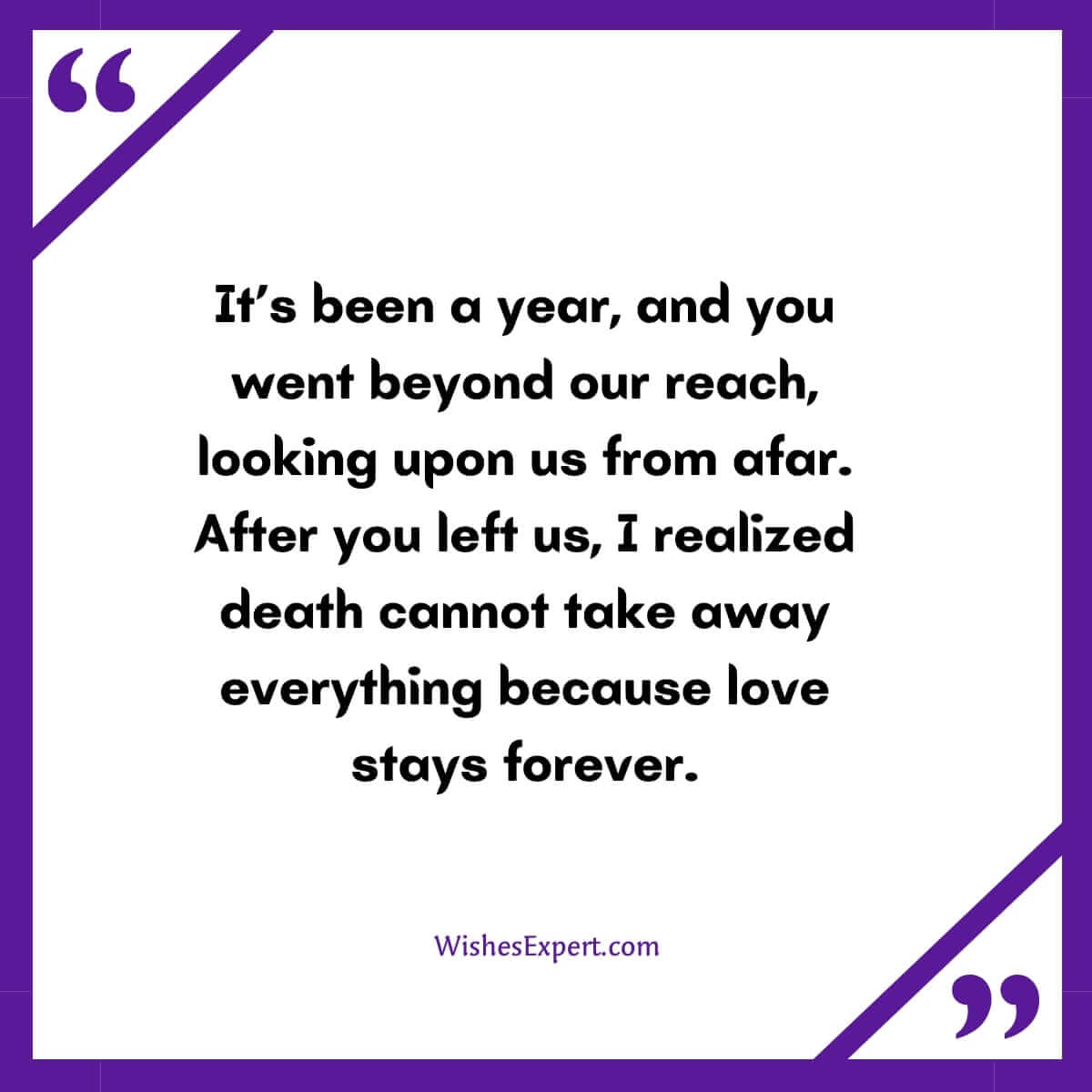 #6. Last year, you left us, and every day seems painful without you beside me. But whenever I close my eyes and think of you, I see your face smiling brightly. Do take rest in heaven peacefully.
#7. Even after a year passed, the pain and void are still the same. I miss you and tear streams down my eyes every time I take your name.
#8. Your positive impact on the lives around you was so much that even death could not pale your vibrant presence. Heaven has taken back their angel, leaving us in penance.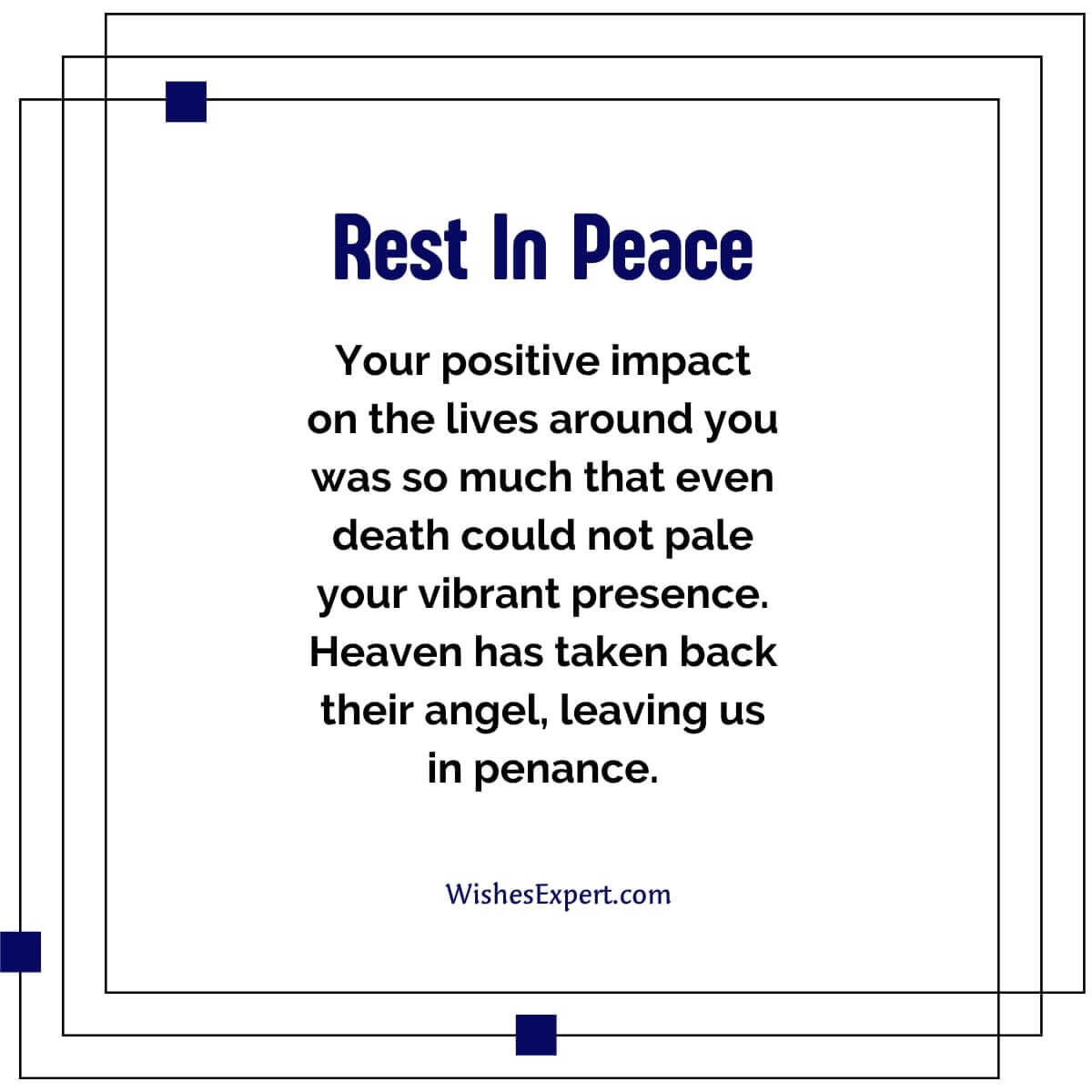 #9. Even after one year, the pain of losing you stabs my heart. With each passing day, I miss you more and more, and it hurts. I hope you are doing well in Heaven, my sweetheart.
#10. Heaven probably has gotten a new angel, but they have taken away my lovely wife. Our home has lost warmth, and so has my life. I miss you a lot, love. But I hope you are resting in peace up above.
Read: Death Anniversary Message for Father
Words of Comfort on 1st Year Anniversary of Death
#1. It's tough when a loved one leaves, but they stay with us forever. Your love for them never lets them go far. Though it's been a year, we still miss her.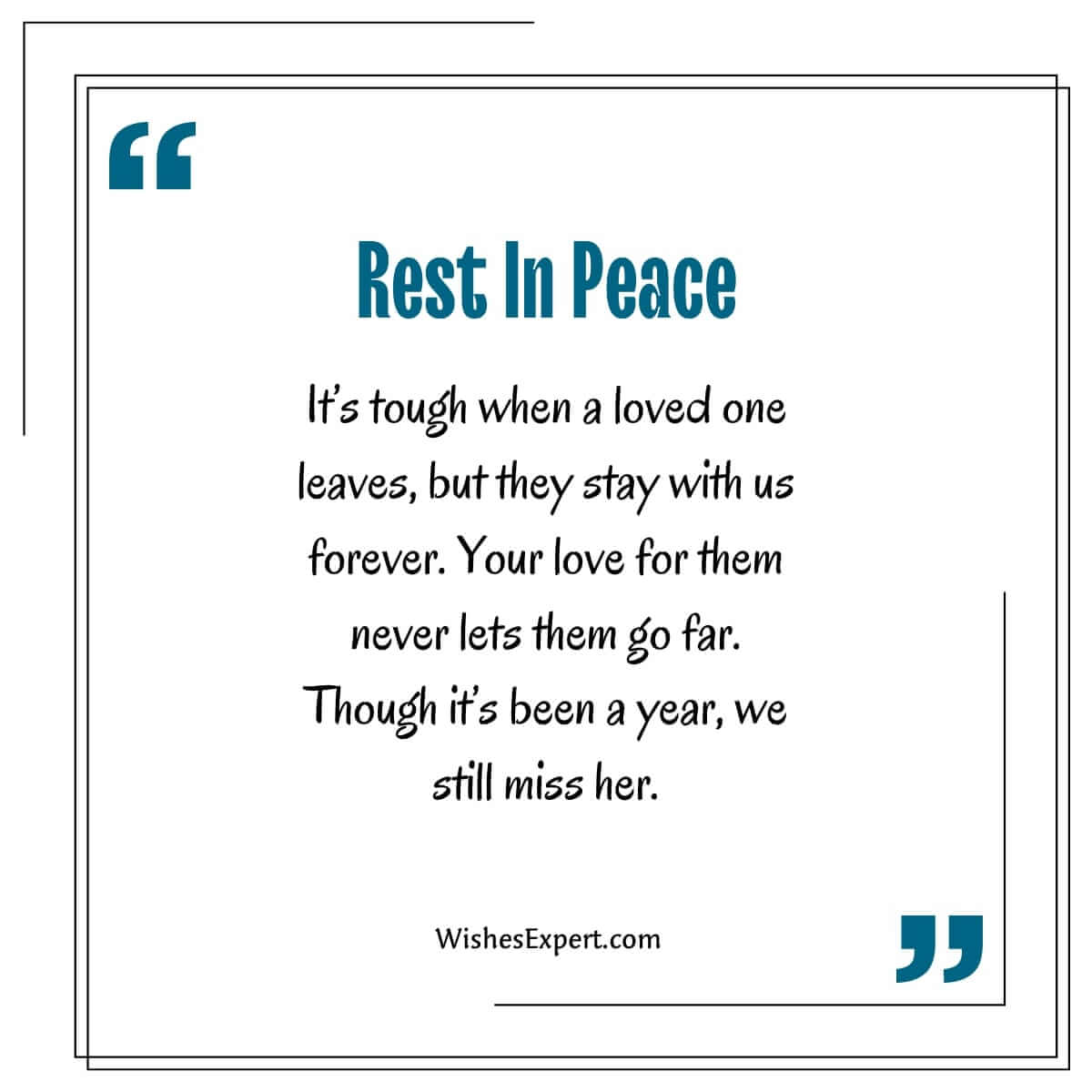 #2. Today marks one year of your father leaving us with his precious memories. He would have been proud to see you flourish as a strong person, sweetie.
#3. It's been a year since you suffered this loss, but remember, your wife's love is still blooming in your heart. She now lives in you, and nothing can keep you two apart.
#4. Your brother has always been close to our family and us. His presence was very precious. We aren't just grieving his loss but treasuring the memories he left with us.
#5. One year felt long without your elder sister by our side, guiding us through thick and thin like a great teacher. Her life lessons keep her close to us, even when she is far.
Check: Gone Too Soon Quotes For Someone's Sudden Death
1-Year Death Anniversary Quotes for Dad
#1. It's been a year since you left us, but we still feel your presence in our hearts. No words can express what it means to remain apart. Dad, enjoy your stay in paradise while we struggle to make a new start.
#2. Dad, I have always considered myself lucky to have you as my parent. It's been a year, and you aren't with me anymore, but I remember your teachings each moment.
#3. One year is not much, but it feels like an eternity without you, Dad. Your absence feels like a void in my life, making me sad.
#4. Dear Dad, it's been a year, I haven't heard my name in your voice. Your memories and smiles give me hope and keep me poised. Stay well in heaven.
#5. Dad, for the last one year, you have become a part of my memories that I hold dearly. There are no Goodbyes for us, and you will be with me.
1-year Death Anniversary Quotes For Mom
#1. Mom, this one year without you has shown me that time can pass quickly and slowly all at once. Daily I look forward to seeing you in my dreams without missing a chance.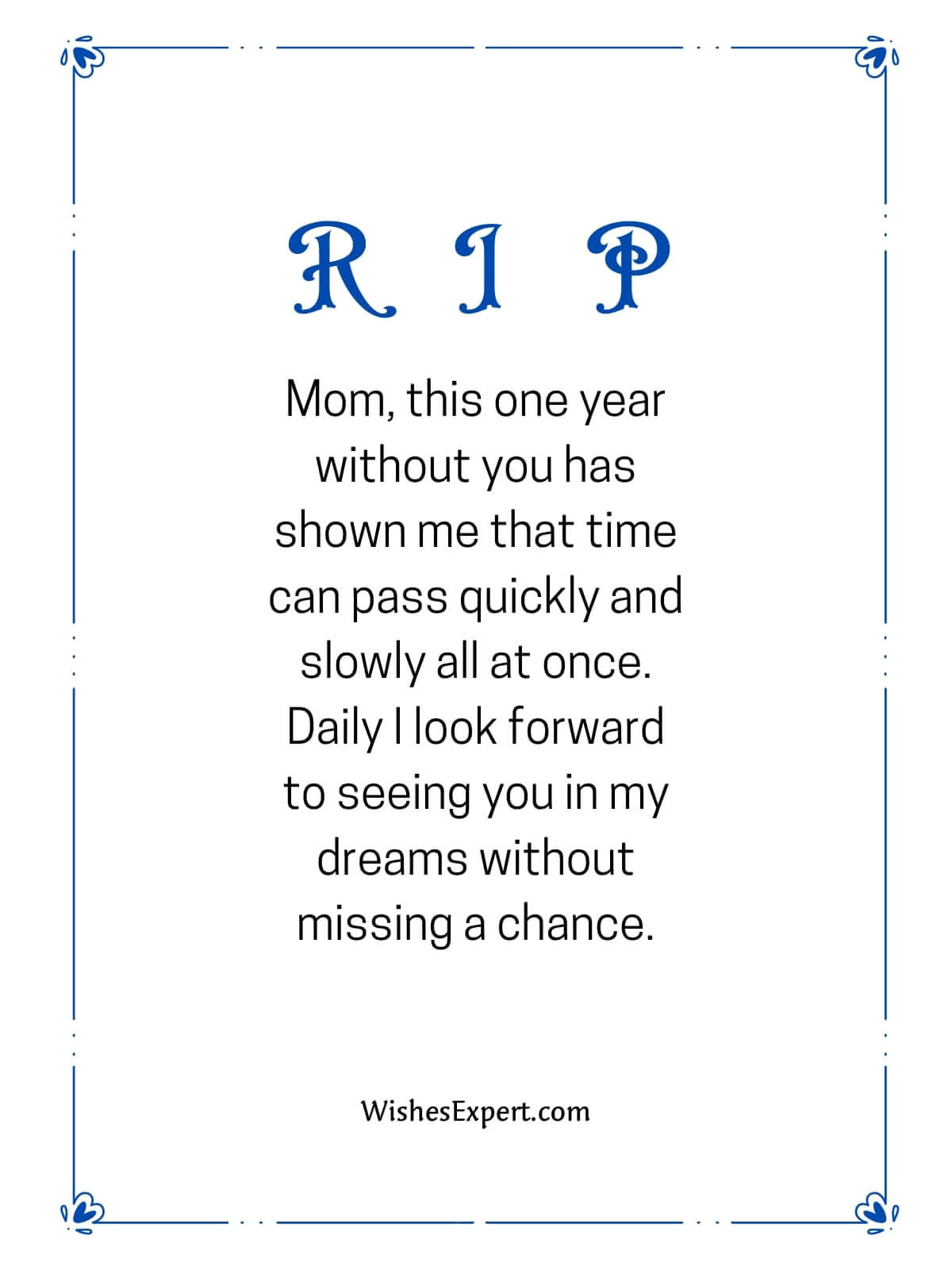 #2. I cannot imagine, without you, I have survived a year. I am thankful for the time we spent together. Mom, saying hello to you was easy, but saying goodbye takes forever.
#3. Mom, I can't measure the time, which passed since you have gone. I never want to quantify my love for you because that would be wrong.
#4. Losing you was difficult, dear Mom. There have been many moments this year when I looked up at the stars and whispered, 'I know that bright star is you, Mom.'
#5. After death, we cannot touch our loved ones, but they can still touch and feel us. Grief is how we experience that touch without creating much fuss.
1st Death Anniversary Quotes For A Friend
#1. Life has completely changed after your death, my friend. I am learning to live without you for a year, and I must say it is hard to comprehend.
#2. You know, friend, it is as if all the light went out of the world one year ago. Your memory is the nightlight that helps me to go with the flow.
#3. It has been a year since I have held your hand in mine. But your heart lives within my body every day without paying a fine. My dear buddy, why you left us in a hurry?
#4. Grief is not weakness; it is the love you want to share with someone who is gone. Your memory has walked beside me for a year, and I am thankful for the company, my dear companion.
#5. Life does not last forever, but our friendship is everlasting. The first day without you felt like a year, and this year feels like a century, never-ending.
If you are feeling grief or overwhelming emotions after the passing of your loved ones, then the 1-year death anniversary quotes are for you. Sharing these quotes on social media or writing them can be a way to come to terms with their departure.
These comforting words can warm your aching heart and heal your wounds. If you know someone mourning the death of someone close to them, you can also send them these lines as remembrance quotes. The quotes will hold your emotions and will reach your thoughts to your loved ones. Share these 1-year death anniversary quotes and comfort yourself on the death anniversary of someone you love.