Are you currently in a relationship with a man who treats you in the best way possible? If you are having a one month or a one-year anniversary around the corner here are some anniversary quotes for your Boyfriend. Love is a feeling that cannot be seen but you can feel it easily. Being in love with a man needs you to tell him again and again how much important he is for you. You don't need to buy expensive gifts or plan long trips to let them know that you love them a beautiful card with enchanting words would do the trick.
Anniversary Quotes for Boyfriend
Happy Anniversary to the man who always makes my heart race, my face blush and makes me smile every time he is around.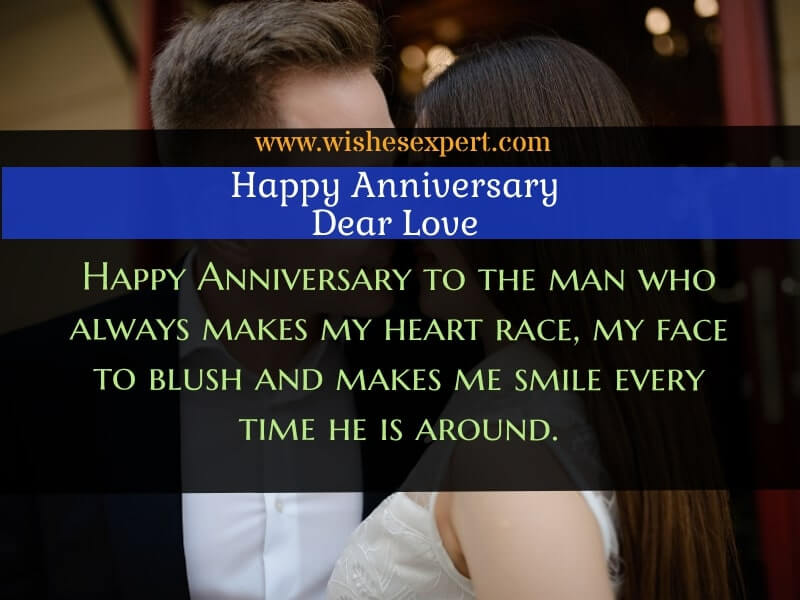 The way you look at me with love is the most sublime feeling ever. You are the reason for my happiness. Happy Anniversary.
Since the day I first set eyes on you I knew I could never outlove you. You are the most humble and loving person I Know.
I know I am the craziest and weirdest person you know. Thanks for never letting go of me. Happy Anniversary Darling!
I was reluctant to fall in love with its ups and downs. I am overjoyed to have reached this milestone with you. I hope for a lifetime of togetherness.
Happy anniversary to the man who owns my heart. My whole world revolves around you. I hope we have many more anniversaries in the future.
Happy anniversary to the only person I wish to spend the rest of my life with. I'm excited to see what the future has for us. I love you.
Like every girl, I also fantasized about an ideal man. You my love are way better than what I could possibly imagine. I can never like any other man after being with you.
We had our share of ups and downs but never felt like quitting. I would have a few little quarrels with you then lose you forever. Happy Anniversary.
I never expected to meet someone like you. You're my dream come true, and you're much better than I could have dreamed. Happy Anniversary, love!
Check: Happy One Month Anniversary Wishes
One Year Anniversary Quotes for Boyfriend
365 days of your love, care, devotion and faithfulness has made me fall madly in love with you.
It's hard to imagine that so many days have passed. With you time losses its significance. Happy one year anniversary my sweetheart.
Roses are Red, Violets are Blue I can't imagine a world without you. Wishing you a Happy 1-year Anniversary. May all the coming years make you feel how important you are to me.
To the man who made me realize my worth. Who saw the beauty of my heart and emotions! I really love you handsome. Wishing you a happy 365 days of love.
With this one year gone I am so used to you that it's hard to remember what life was before meeting you.
In all the women in the world, I am lucky enough to meet you. You have made every second of this last year memorable.
If love is mutual, the bond becomes stronger as days pass by. Happy Anniversary to You.
I hope to see your smiling face by my side all day. Thank You for treating me like a queen.
Meeting you was my good luck. I am so grateful to you for dealing with me in better and in worse.
Isn't it strange how fast the year went by? It has been 365 days since you proposed me and I said yes! Love you bae.
Also Read: Happy 2 Month Anniversary Wishes
2 years have passed since you first asked me out. I could never imagine that we would grow this close. Happy 2 years Anniversary my Prince Charming.
Chocolate has always been my most favorite. Now I even share that with you. Love you Boy.
Love was something I never believed in. Your humbleness and care showed me how wonderful life can be. Let's celebrate our 2-year Anniversary.
From making coffee for me to cuddling with me you have made every moment memorable.
2 years ago, I was not sure that relationship was something I could handle. Thank you for dealing with my stupidness.
I am immensely grateful for all you have given to me and all the moments you have been there to support me. You are my support system. Happy Anniversary, lifeline.
Let's remember the life we've built together and the teachings love has taught us. I hope that we will be stronger and wiser in every aspect by the next anniversary.
I am fortunate to have you. Without you, I would not have come this far. You are wonderful the way you are, and you matter to me. Happy Anniversary.
You've shown me a kind of love I've never known before. I don't think I'll be able to find it anywhere, and I need it only from you. Happy Anniversary.
Thank you for continuously shining a light on my path when the world around me seems dark. I wish to make you the happiest man on the planet. Happy Anniversary.
Check: Happy 6 Year Anniversary Quotes
Anniversary Captions for Boyfriend 
Eternity is a long time but I don't mind spending it with you.
You surprised me with your love confession now you do it every day.
Waking up by your side and seeing you smile in sleep drives me crazy. Happy Anniversary.
Another year of being with you yet I can't leave your side.
You made me live a fantasy love story. Happy anniversary my sweetheart.
You are the pinnacle of greatness and the genuine expression of pure love. I would never leave your side and shower you with all the happiness you deserve. Happy anniversary.
On a day like today, I said yes to the world's most adorable and intellectual man. It's still the wisest decision I've ever made. Happy Anniversary, my love.
I'll be by your side till the end for everything you've done for me. On this anniversary, I swear to be with you always and support you.
I hope we help each other be better versions of ourselves and make a beneficial effect on each other's lives. Here's to many more years of togetherness. Happy Anniversary.
May you deserve all the happiness and achieve great success in your life. I'm looking forward to our future because I believe we're meant for greatness. Happy Anniversary my man.