No one can truly recover a mother's loss. Grieving is a forever journey and death anniversaries bring in that reminder. These death anniversary quotes for Mother will keep you sane on a roller coaster ride of emotions when on one hand you want to remember your mother and pay your respect with joy but on the other hand, can't bear the resurfacing grieving pain.
In times like these, it's essential to do what feels right to you. You should celebrate your mother's death anniversary in the way that suits you best. It could be by expressing your grief openly or maybe by cooking her favorite meal in remembrance.
You might also choose to say a heartfelt prayer near her resting place. Whatever the method, the aim is to honor her memory while keeping the pain of loss manageable.
Death Anniversary Quotes For Mother
#1. Today, on my mother's death anniversary, I take a moment to remember her as the most incredible being she was and the abundant love she infused me with.
#2. For all the efforts, time and love you put into becoming who I'm today, it's only a fair tribute to you if I make something of my life and that is what I'm doing, Mother.
#3. On your death anniversary, Mother, I feel a tornado of emotions in my heart, a turmoil of thoughts in my head and I always end up having tears in my eyes with a smile.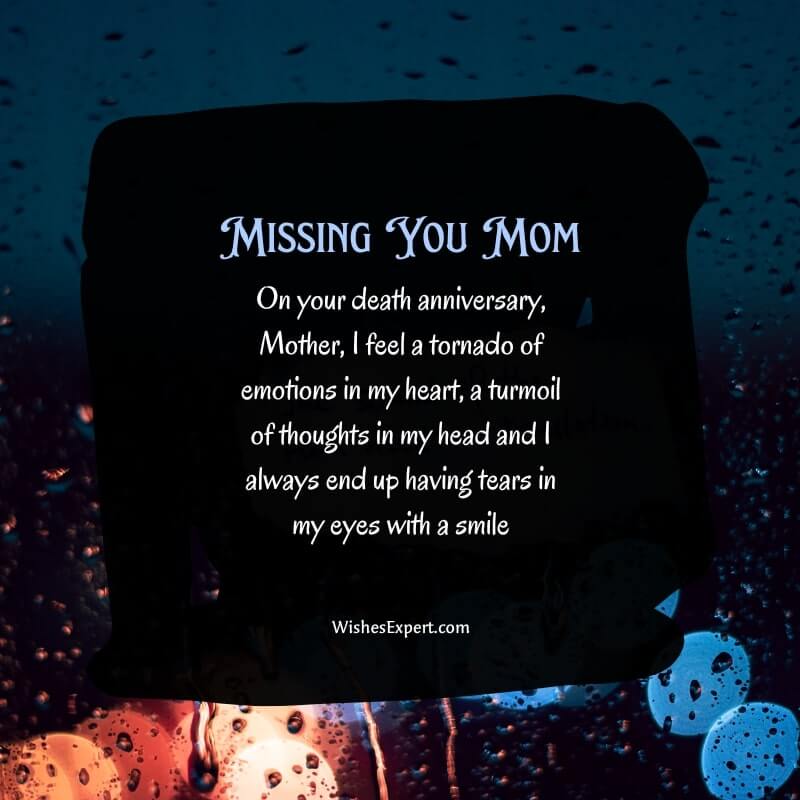 #4. Best memories with your favourite person never fade and as you were my everything, mother, you'll live forever in my heart, I'll keep you closest there.
#5. Today is your ___ death anniversary, mother, and while I'm not healed nor okay with your loss, I try to make peace with it so you can rest in peace.
Read: 1st Year Death Anniversary Quotes
Death Anniversary Prayer For Mother
#1. Mother, today I pray to God that I may become the person you always wanted me to be, and that you may smile with pride when you look at me from above.
#2. May your soul forever rest in the peace and love of eternity and may I become able to impart the wisdom you gave me to my children.
#3. Mother, I pray that I may never fail to become a mother like you, that when you look at me from the above, all you can feel is pride in me.
#4. Mother, you lived a long and content life. Today is your _____th death anniversary, and I pray to God that he lets you enjoy your fruits of karma by giving you the ultimate peace.
#5. Mother, your death anniversary always makes me want to pray to the Lord that may he make me able to carry forward a little bit of your legacy and fill in your shoes.
See: Condolence Messages For Loss Of Mother
Death Anniversary Quotes For Mother From Daughter
#1. May you get to see today, mother, that your daughter has taken the roles you always wanted her to and that all she wants is for you to be happy and at peace.
#2. Today, on your death anniversary, Mother, I can only say thank you for making me a better person and showing me a perfect role model of how a mother is supposed to be.
#3. Dear mother, it's been years since I've been mourning your loss and all I ask myself is how can I become for myself what you were for me!
#4. Every year, your death anniversary brings in bitterness and sweetness that I can barely fathom but always ends with ease knowing you're resting in peace.
#5. Mother, you raised me so well with so much love and compassion that I can never say enough thank you. I'm sending all my love and appreciation to the gates of heaven.
Try: Miss You Mom Quotes And Messages
Death Anniversary Quotes For Mother From Son
#1. Mom, I feel your presence wherever I go. I've never truly felt that you're not here for me. Your memories and the lessons you taught me still help me survive to date.
#2. Without you, neither would I've built something of meaning nor I would've become someone of some significance, thank you! I miss you, mother.
#3. Today, Mom, I recall all the sunny days I got to spend with you. When you were around, it was easy to run to catch rainbows but without you, all the colors are lost.
#4. I wish you were still alive, Mom, to celebrate all my successes and be a part of my joyous occasions, if you were, you'd be so happy.
#5. Mother, in moments of despair or blissful joy, I still look for you, seek your words of wisdom or blessings. But I know, you, even from the above, bestow your light and love on me.
Today, you might pause for a moment. Reflect on all these years you've endured. You once thought it was impossible to do this without your mother. Now, look at yourself! Your mother would be filled with pride seeing you today.When you honor her, express your true feelings. Use these death anniversary quotes for your mother. She would be even more proud of you.Hope she is resting in peace. You too should make peace with your past. Find comfort and ease.