Happy 14th Anniversary Wishes: Marriage vows are made by two people who promise each other their forever, so spending 14 years together is no joke. Thus, we can make our loved ones happy by wishing them a happy 14th anniversary.
Spending each year with your spouse makes you learn many new things about each other. Since you get time to know your partner, you understand them deeply. Therefore, celebrating each year of a successful marriage is a big deal because the married couple understands that the day these two swore to live their lives together is memorable for them and their loved ones. They need to realize that their loved ones are equally happy about their union as they are.
Happy 14th Anniversary:
1. I hope you get to spend your whole life together and realize that you both with each other is always better. I wish you a happy 14 years of marriage. My favorite couple, I hope you never age.
2. Living with another person for a long time is not easy, but you two make it seem like married life is all stress-free and breezy. Happy 14th anniversary.
3. Always stand by each other through thick or thin, and you will see life will become an easy thing to win. I hope you have a happy 14th anniversary and celebrate it with a grin.
4. May your bond grow stronger with time, and may you be each other's lifeline. Many, many happy returns of the day. Enjoy your 14th anniversary with a lot of laughter today.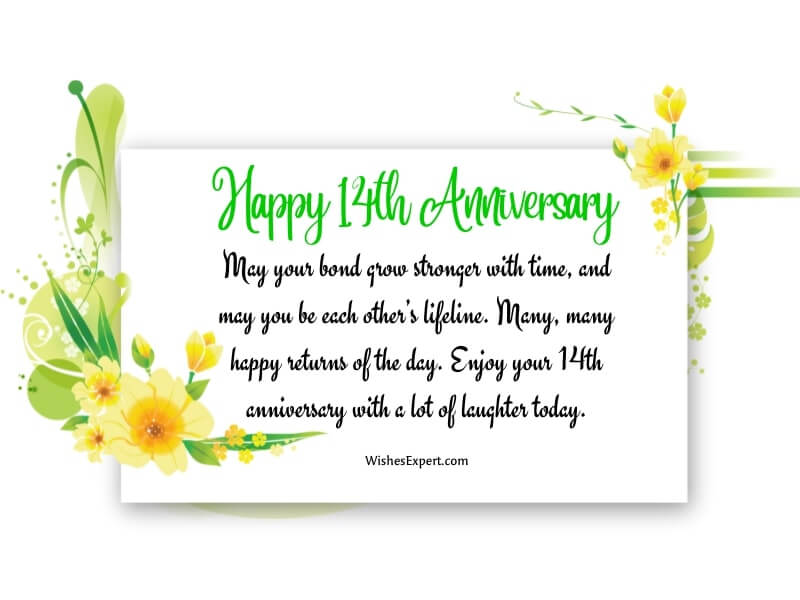 5. Marital bliss is something you are a great example of, also the epitome of being in love. May the Almighty bless you with an eternity of happiness. Happy 14th anniversary, enjoy it with sweetness.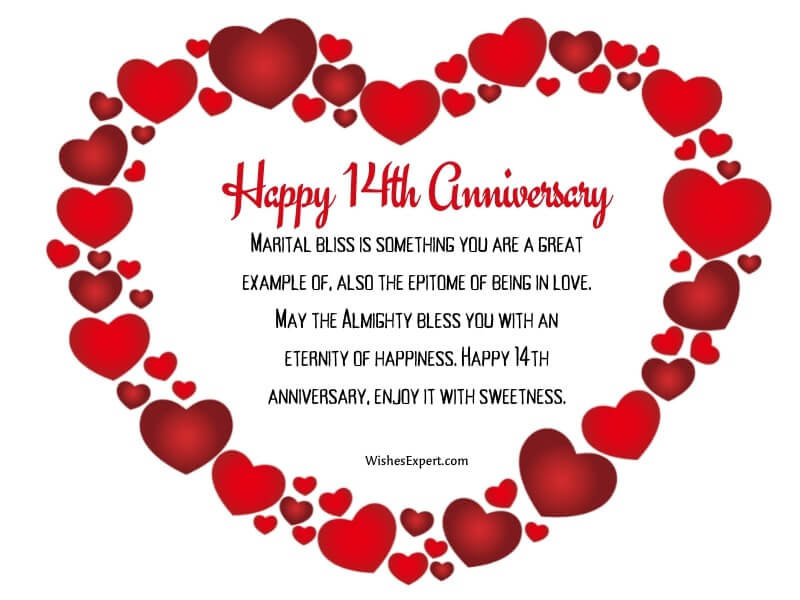 Read: Happy 16th Anniversary Wishes
14th Anniversary Wishes:
6. Stay like this forever. Happy and together. Nothing suits you both more than each other. I wish you a happy 14th anniversary with loads of kisses. May you get life's every happiness.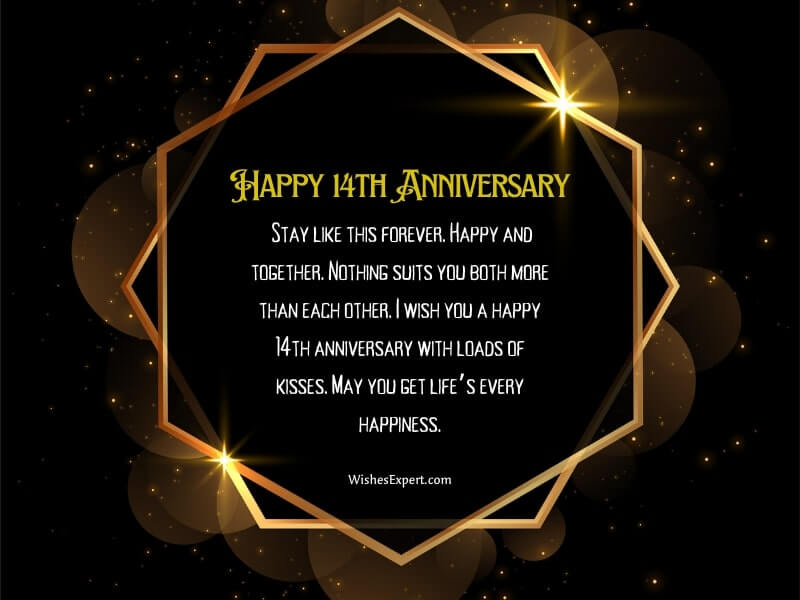 7. Show each other love and patience as these two are a marriage's main essence. Going strong for 14 years. I wish you many more happy years to come, dear. Happy anniversary to you, baby.
8. You have made a home with each other, so manage that home forever, together. Always be each other's biggest supporters. A happy 14th anniversary to the loveliest couple, dear.
9. Marriage is all about understanding, and neither of the parties should be demanding. May you spend a lifetime of harmonious marriage. I wish happy 14th wedding anniversary to you with my message.
10. You bring out the best in each other and never let words from people get you bothered. Congratulations on completing peaceful 14 years. Happy anniversary, dear!
Check: Friendship Anniversary Wishes And Messages
14th wedding anniversary
11. Remember the days you used to spend with your wife before you finally tied the knot. Remember the way we fought? I wish my busy hubby a happy 14th wedding anniversary!
12. You chose one other 14 years ago for a lifelong partnership. May you put in your best effort in this relationship! I hope you spread love, buddy. Greetings on your wedding anniversary!
13. Let me send you love and positive thoughts, sweetie. I wish you a happy 14th wedding anniversary. After all, a 14th wedding anniversary is memorable, so enjoy it, girl.
14. I wish you both a long and happy life together. Pursue your dreams, no matter how difficult they may appear. I know you are busy but try to spend more time on your 14th wedding anniversary!
15. Happy 14th wedding anniversary to us! I hope we have a lifetime of happiness and pure love ahead with a life full of fuss.
Try: 10 Year Anniversary Quotes
14-year anniversary
16. It's simple to fall in love, but it's far more challenging to stay in love with the only person for as long as 14 years. May God grant you the courage to remain devoted to one another. Happy 14th anniversary to the loveliest couple ever.
17. My hubby and I are celebrating our 14th wedding anniversary today. I recall our first meeting 14 years ago when he became my bae. I couldn't wait to get to know you because you were the loveliest guy at the party. Happy 14th anniversary.
18. May the sun always guide us on the path we share. The moon shines brightly within our hearts that care for the other. Happy 14th anniversary, my dear.
19. For practically half of my life, I've loved you! My love and desire grew with each anniversary candle we blew. Happy 14th anniversary to you.
20. You are the most spectacular husband whose love knows no end. Every day, you inspire me to strive to be better. Happy 14th anniversary, don't neglect your health, and please take care.
Anniversaries like birthdays should be celebrated with lots of enjoyment because marriage can be considered the starting of a new life. So, we should start the day by sending them beautiful anniversary wishes. We make our loved ones' 14th anniversary memorable by making them realize that it is a heart-warming occasion we want to be a part of, and that too very dearly. Let's make people's 14th anniversary as memorable as we can with beautiful happy 14th-anniversary wishes because it won't come again, and every year has its unique importance in the lives of a married couple.