If you want to say "happy 18th birthday, son" and make it one of the most memorable birthdays that your son ever had, then it is not expensive gifts that will help you succeed in your mission but some words that came from the depth of your heart.
Let him know how much you appreciate that he came into your life and that you will always support him in everything he does as long as it is not completely illegal.
Your words of love and acceptance are the best gifts you can ever give him, and he will appreciate them for the rest of his life. The birthday wish should be short, sweet, and heartfelt, with a hint of fun and pride.
18th Birthday Wishes For Son
#1. I have babied you a lot, but now you are an adult. I hope you will try to care for yourself and rectify your faults. I wish you a happy 18th birthday, son, and keep shining, my sun.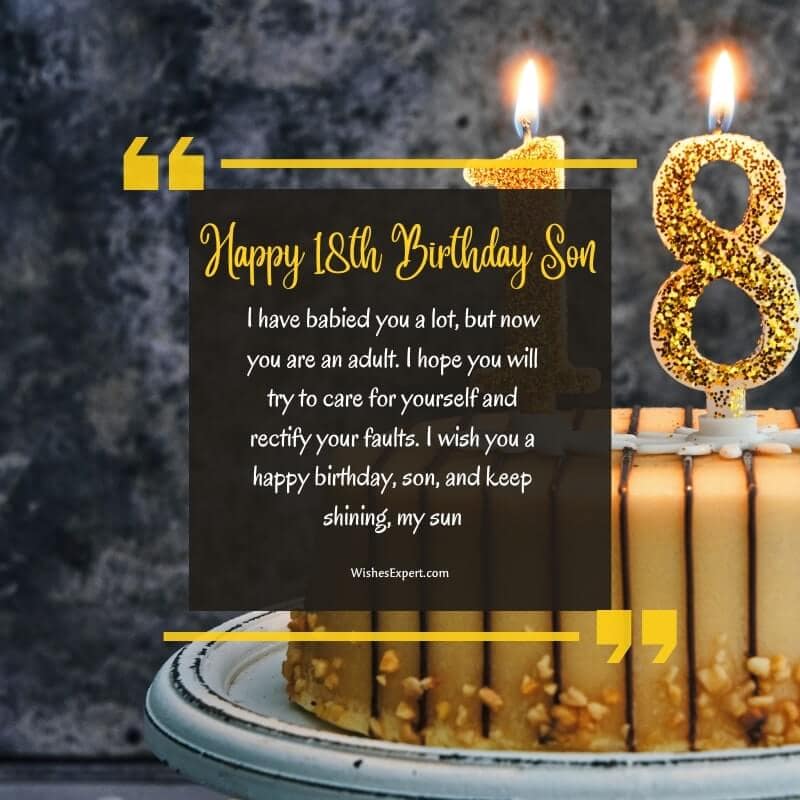 #2. I hope that all your wishes will come true in your life, this is just the beginning nothing more than just the tip of a knife. Happy 18th birthday dear child.
#3. May God bless you with good health, happy memories, and prosperous life ahead, and never let your zest for living a good life fade. Don't think eighteen is all about speed, have a great birthday, kid.
#4. Believe in yourself and never let any problem make you distressed. We are always there to cheer for you, so keep your head raised. Now you are an adult with a legal stamp. I hope you enjoy a best happy birthday, champ.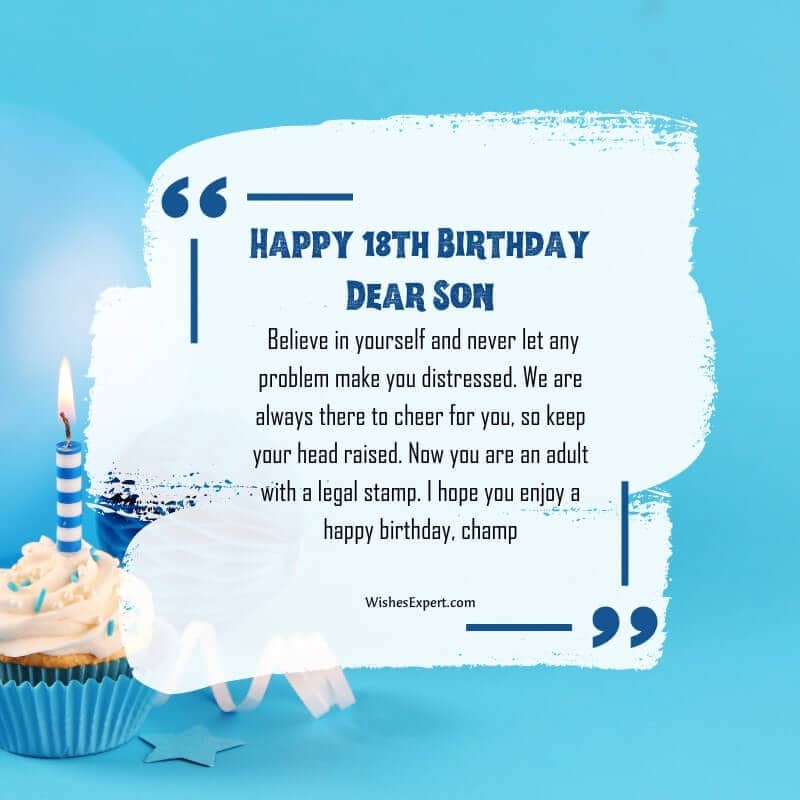 #5. It seems yesterday that you came into our lives and made them better. Happy 18th birthday, my baby bear. I never knew that my lazy baby would become such a go-getter.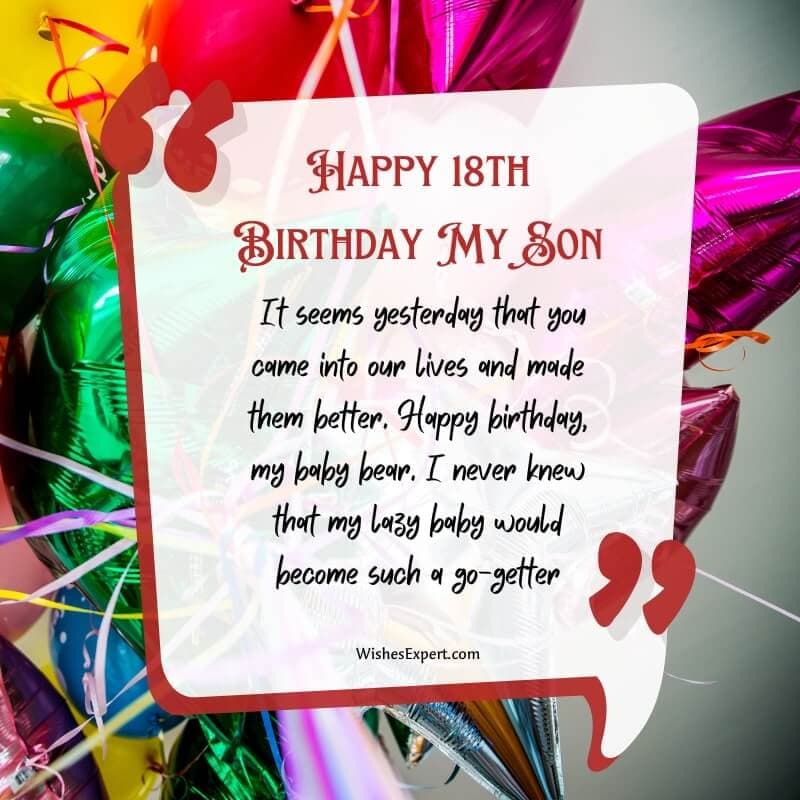 #6. I hope you know how precious you are to us, my child. On your birthday, I wish you successfully achieve all the milestones in your life, whatever is on your mind.
#7. We will always love, guide and support you in all your ventures in life, especially when it's time to choose your wife. Many 18th happy returns of the day, and please do enjoy the vibe.
#8. We know life can sometimes be unpredictable and heartbreaking, but real fighters never give up and never stop winning. Happy 18th birthday, my fighter. Remember, we are always here.
#9. We have raised you with principles and morals and hope you will never forget them. Never compromise with morality and let down your parents' name. I wish a happy 18th birthday to my gem.
#10. I hope you've heard the proverb if life gives you lemons, make lemonade with it. Positivity and hard work are essential to make that lemonade lit. Happiest birthday, baby, and always stay fit.
Read: 18th Birthday Captions For Instagram And Facebook
#1. My blessings and congratulations on becoming an adult, dear. It's time to take up new responsibilities on your shoulders. Prove to the world that you can. I hope you have a grand celebration on your 18th birthday, young man.
#2. To my handsome young man, I wish you the happiest 18th birthday with lovely memories and so much laughter. Your mom wishes many happy returns of the day, dear.
#3. A responsible child like you is indeed God's grace and blessing. I wish you many happy returns of the day on your 18th birthday, my prince charming.
#4. I remember, just eighteen years ago, a cute baby boy was born. I pray to God to make you a lovely human. On this auspicious day, I wish you a happy birthday, sending blessings on your way.
#5. Here is a heartfelt 18th birthday wish to this gentleman of mine. Like the brightest star in the sky, you must shine. I wish you happiness, laughter, joy, and everything. Your mom blesses you for all the positive things!
Check: Happy 21st Birthday Son
18th Birthday Wishes For Son From Dad
#1. To the sweetest and most lovely prince, I wish you a happy 18th birthday. You know this is the best day in May. I hope you get happiness in a row. I know you will continue to grow.
#2. May all your dreams come true. I shower all my love and happiness on you. Life is a challenge, and you realize it as you turn eighteen. May God shower you with blessings.
#3. I am lucky to have you and have nothing more to say. I will help you grow better every single day. Here is a book by your favorite author and a pen. Enjoy a fabulous 18th birthday, and remember, I'll be there for you in the sun and rain.
#4. To the favorite person in my life, I hope all your dreams come true. Here is a graceful 18th birthday wish from your papa to you.
#5. You are such a young, bright prince like autumn's dew. I wish happy 18th birthday, and all love to you. Enjoy your life with all hues.
Read More: Funny Birthday Wishes For Son From Mom & Dad
18th Birthday Quotes For Son
#1. Happy 18th birthday, my dear! You will soon become an adult, from a teenager. May God bless you on this day and shower joy on your way!
#2. Heartiest congratulations on turning eighteen! May your future be as bright as your smile, happy birthday to the humblest human being.
#3. I know you will enjoy this special day of your life to the fullest. I wish you a bright future, and let the 18th be the happiest.
#4. Glad to see how wonderful you have been. I am so happy for you as you have turned eighteen. But I pray you never be old and always remain evergreen.
#5. I wish the most delightful of days to you, dear. Happy birthday on your 18th, my intellectual spectator. I hope you have a bright future!
Check: Birthday Wishes For Godson
Funny Happy 18th Birthday Wishes For Son
#1. Son, with a blink of our eyes, you became the owner of the manhood crown. Although a man without a beard is a boy, please don't frown. But on your 18th birthday, you will be the heartthrob of this town.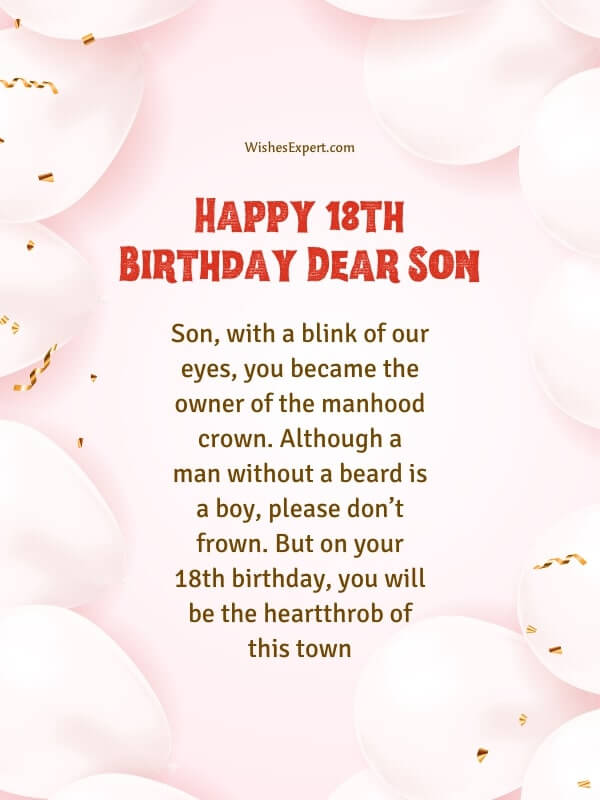 #2. Time flies like a fly. You are a grown man who must know how to tie his tie. Son, I wish you a happy 18th birthday. May all your dreams come true on this day.
#3. Surprisingly, you have reached the age of eighteen. Lord will bless you with enough intellect to deal with every trivial situation, but you should never act mean.
#4. Son, enjoy a happy 18th birthday! We cannot believe that you are a man with responsibility on his way. But do stress about that later today. Now chill and enjoy the day.
#5. I wish a happy 18th birthday to the kid who turned into a man today. Kiddo, now you have to take responsibility for yourself, and many things will come your way.
Inspirational 18th Birthday Quotes For Son
#1. Happy 18th birthday, son. I know my words are not enough fun. But I hope you can soon explore the world and be mesmerized by the beauty while enjoying your day happily.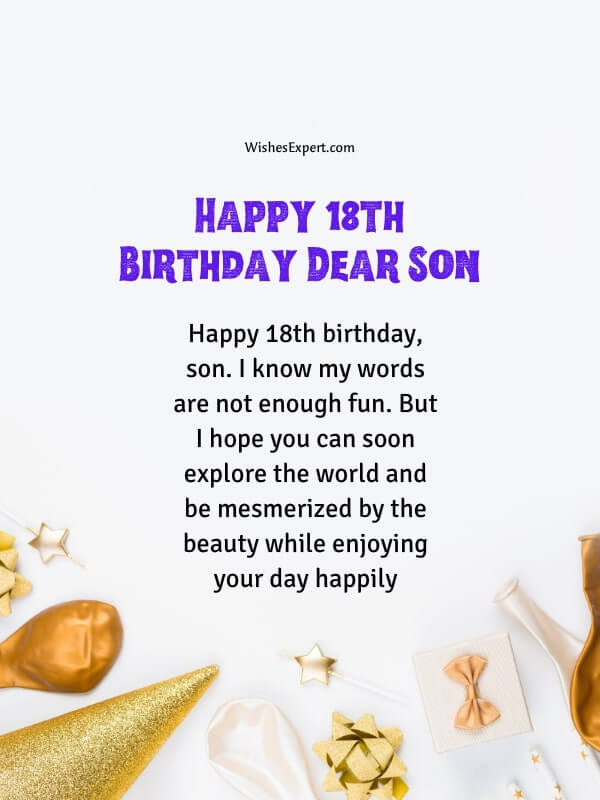 #2. Today, you will become a man, and your charm will shower you with a crazy fan. I am sure you would turn out to be an excellent person. Happy 18th birthday, my son.
#3. It's your 18th birthday, and many new and exciting things are waiting for you in your way. Life is full of joy and fun, so enjoy it to the fullest, son.
#4. You must know to excel, no matter what happens, remember you are our precious jewel. Know where to start and where to stop. Happy 18th birthday, son, be satisfied because you don't have to be at the top.
#5. Today is the day you have stepped into adulthood. Being your parents, we are already proud enough of your boyhood. Keep going, son, and happy 18th birthday, and enjoy and have fun.
So, now you have the top happy 18th birthday son wishes. This article has all the best kinds of birthday wishes that you can use for your son's 18 birthday, which is supposed to be a memorable year.
Hence, your son will be legally eligible to decide about his life after this year. So he can make mistakes. But assure him that, as his parents, you will be by his side. Thus, he should do nothing but enjoy his 18th birthday.