In Memory Of Grandma Quotes: Losing your grandmother is truly a heartbreaking event; you feel as if a guardian has been taken from you. It's hard to express your grief in a moment like that, which is why we've compiled a list of "in memory of grandma" quotes for you to help you articulate your love for your grandmother.
Grandmothers hold a special place in our hearts, which is why when they leave us, it feels like our world and our comfort has been taken from us. Expressing your thoughts and feelings in those moments helps us understand out grief better. Each year that the anniversary of her passing comes, you can use any of these 25 quotes to tell the world and your grandmother how much you miss her and that you'll always remember her.
In Memory Of Grandma Quotes:
1. In memory of my grandma: Here's a little tribute, true and tender, just to say that we remember. Time may pass and you may not be here but my memories of you will always stay.
2. Grandma, I say a little prayer each day especially for you that Heaven will treat you as well as you deserve and somehow let you know that I miss you every day.
3. My grandmother always found a way to cheer someone up and she cared selflessly for other her whole life through, which is why she's still thought of in such a special way.
4. On this day, I only wanted to let you know that you're always safe in my heart and I think about you every step of life's way. I miss you, grandma.
5. I will never forget the things my grandmother taught me and how loved she made me feel. I hope she knows I miss her every single day.
6. It was devastating to have my grandmother taken away from me, but I feel some comfort knowing that she's still watching over me from heaven.
7. My grandmother always held my heart from the very start and her arms were open wide as they are the safest place to hide. I miss you, grandma.
8. Whenever I hugged my grandmother and her love appeared, all my troubles instantly disappeared. I miss that comfort and her wonderful self every single day.
9. Whenever I visited my grandmother, she made me feel special as if she had been waiting to see me all day and now the day was complete.
10. If roses are growing in heaven, I will ask for God to pick a bunch of them for me and send them to my grandmother.
Read: Rest In Peace Quotes
In Loving Memory Of Grandma Quotes:
1. I pray every day for the angels in heaven to tell my grandmother how much I love and miss her every day, and that her memories are the only thing that makes me smile.
2. My grandmother was full of warm hugs and sweet memories; she remembered all my accomplishments and forgot all my mistakes. I miss her every day.
3. I was raised by queens, which I like to call Mom and Grandma. I'll miss the comfort, intelligence, and love of my grandmother every day.
4. I miss you, grandma. It's always sad but comforting to remember your lovely smile and that dear familiar face that was loved by anyone and everyone.
5. You may be gone, but my memories of your love and comfort will never fade away. I miss you the most, but I can count on these memories to make me smile.
Also Read: Sympathy Messages For Loss Of Grandfather
Remembering My Grandmother Quotes:
1. In loving memory of my grandma: here's to hoping this message carries all my love and finds its way up into heaven to tell you I miss you the most.
2. Side by side or far apart, my grandmother is always close in my heart and I will never be able to forget how loved she made me feel. I miss you, grandma.
3. It took me a long time to get over the grief of losing my grandmother; I would see her face so vividly whenever I visited my childhood home and opened her recipe book.
4. A garden of love in a grandmother's heart and I was the lucky recipient of that wonderful love. I hope you know I'll miss you forever, grandma.
5. My grandmother created memories with me that'll stay in my heart forever. Now that she's no longer here, her memories find a way to warm my heart and make me smile.
Missing My Grandma Quotes:
1. I believe that the ones who love us never leave us. They watch over us every day unseen but still loved; thank you for looking after me, grandma.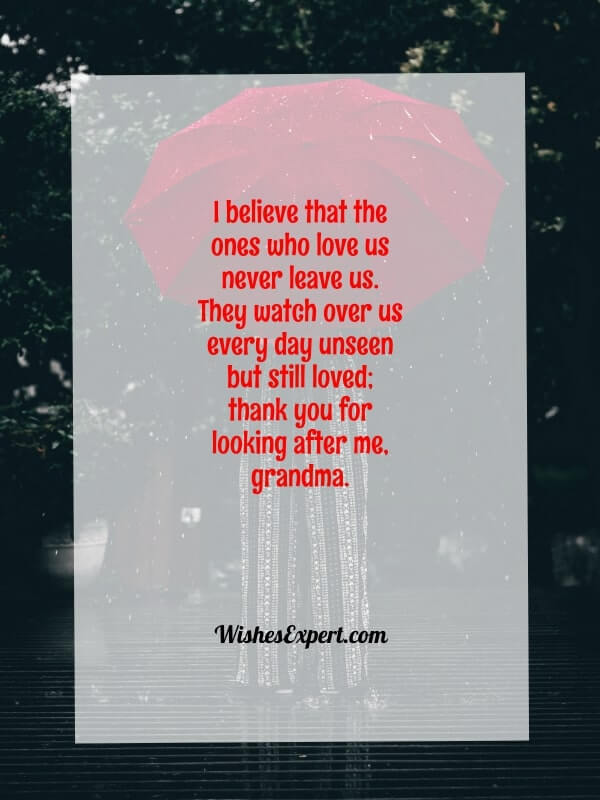 2. I miss you, grandma. If there could be tears that would create a stairway and recollections, I'd go to heaven and bring you back.
3. I miss you the most every day, grandma. There will never be a day when I don't think about you and wish that you were still here with me.
4. Grandmothers hold our tiny hands for a little while only, but our hearts forever. My warm memories with you make me smile every day, grandma.
5. My grandmother taught me everything, except for how to live without her. I hope she knows I miss her every step along the way.
Read More: Gone But Not Forgotten Quotes
Grandmothers look after us and love us unconditionally, which is why it's only fair we remember them with the same love after their passing. For everything they did for us, it's important to honor them by telling your loved ones your memories of them. Put your love and remembrance in words with any of these 25 "remembering my grandmother" quotes that we've put together for you.