Birthdays are always a special moment for an individual. Whether it is your fifth-month happy birthday or the happy 50th birthday, it is significant to feel out-of-the-world on this day without fail.
Moreover, a 50th birthday is invariably special since the person has completed half a century of their life. Don't you feel fascinated to make someone feel special who has just taken one step from the 40s to the 50s? It is like you are approaching retirement and old age.
Never mind that because old is gold, and your one beautiful wish may change the person's mind of negativity.
Thus, celebrating with some incredible happy 50th birthday wishes can make someone feel worthy. Often, people start believing that their importance in life is fading. Here your marvelous birthday wishes can do wonders. Keeping that in mind, we have curated these heart-warming quotes for your loved ones.
Happy 50th Birthday Wishes and Messages
1. 50 is just a number. You are still my young private counselor. No matter what problem you fetch, I hope you do not have to strife. Enjoy your 50th birthday while learning how to go live!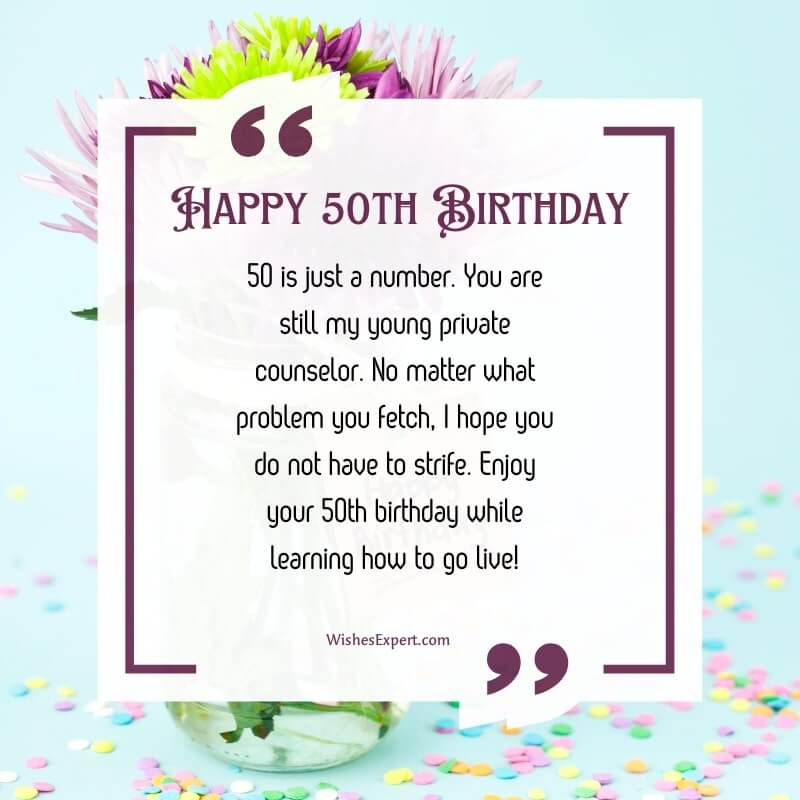 2. Happy 50th birthday, dear. Today, there is something unique floating in the air. I wish you a heartwarming birthday. I love you a lot, I must say.
3. You look forever young and have always been the master at singing for us the best song. I pray today, on your 50th birthday, nothing goes wrong.
4. May God give you good health. May your future shine bright with great wealth. I wish you the happiest 50th birthday. Always be confident and stand confidently no matter what comes your way.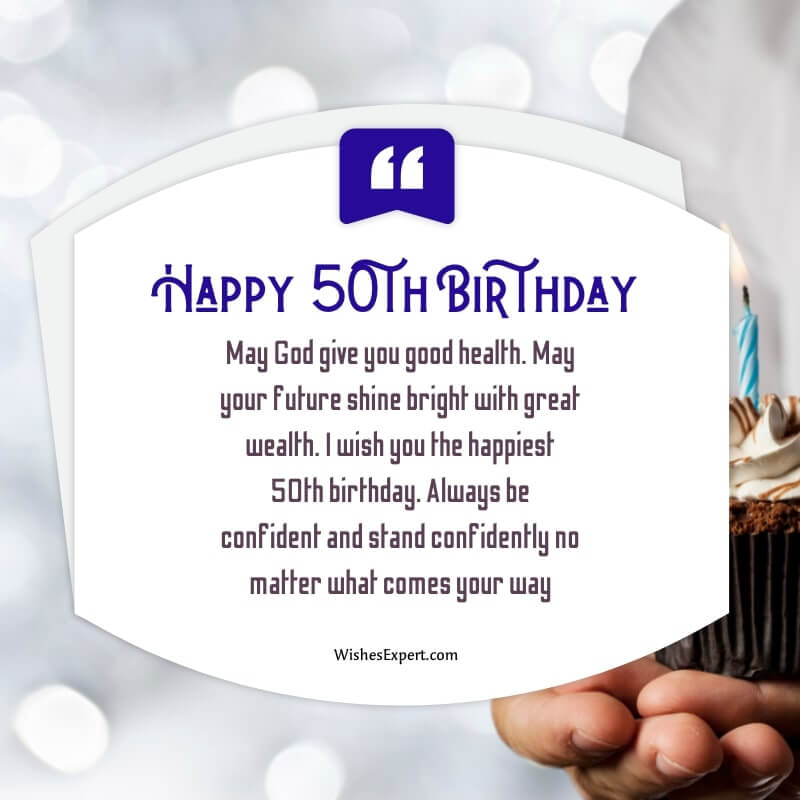 5. It is fascinating to spend such a long time with such a beautiful person like you. Since my birth, I have always adored you. Happy 50th birthday to my life! A load of love to you until I die.
6. Happy 50th birthday! You have come a long way and achieved so much in your life. May your 50s be even more fulfilling and joyful than your previous years.
7. No matter how old you become, you are inclined towards being more beautiful every year when your birthday comes. You are such a beautiful flower. I wish you a pleasant 50th birthday and hope your life gets filled with great power.
8. Congratulations on reaching this amazing 50th milestone! You are an inspiration to me and many others. May your celebrations be filled with love, laughter, and happiness.
9. I am getting a bouquet of your favorite flowers and a delicious cake on my way. It will help me to wish you an energetic birthday without delay. I hope it will make you feel good on this rosy day.
10. Cheers to 50 years of life! I hope this birthday brings you everything you've been wishing for and more. May you continue to always find joy and contentment in the simple things.
11. I wish a happy 50th birthday to the Lord's laudable creation. May the Lord bless you with happiness, prosperity, and a pleasing sensation.
12. Happy golden jubilee! You deserve all the happiness in the world for being an incredible person. May your 50th birthday bring you good health, peace, and prosperity.
13. I wish a happy 50th birthday to a person with a beautiful heart. "Age is just a number," we assert. Happiness may shower on you. Peace may fill up your life too.
14. Life is full of excitement. You have already covered the first half of your life with proper amusement. Happy 50th birthday to the most fascinating person I have ever met. You taught me you should not hold on to regret.
15. It's your 50th birthday and you still look as stunning as ever! May your inner beauty continue to shine and inspire those around you. Enjoy your special day to the fullest!
Read: Happy 75th Birthday wishes
50th Birthday Wishes
16. Congratulations on turning 50! I wish you good health, and may you live your days to the fullest like you always have.
17. On your special 50th birthday, I wish you all the good things in your coming years. Enjoy it and cherish all your achievements.
18. Your 50 years on this planet has taught people around you how to truly live their life to the fullest. Brace yourself for the next 50. Happy birthday.
19. I always knew this day could come in our life. Today is your 50th birthday, and I wished to be there with you on this special day. I finally made it to this day. Happy birthday dear friend.
20. Dear friend, you stroke half a century today. I am so delighted to be a part of your special day. I wish you all the good in the world. Happy birthday.
21. I have seen you mellowing like a well-aged bottle of whiskey. On your 50th birthday, I wish you that you keep blooming. Happy 50th birthday, Uncle.
22. On your 50th birthday, I wish that you slow downed and cherish your lovely moments in life. The journey was worth it, and I wish beautiful journey ahead. Happy birthday.
23. As you turn 50, remember that age is just a number. You are still young at heart and full of life. May your heart continue to sing with happiness and contentment.
24. You make turning 50 looks so cool and classy. I have never seen anyone rock their 50s as you do. Happy 50th birthday.
25. You stroke half a century today, and it's worth a celebration. Age is just the number of years you lived on earth and cheers to that. Happy birthday.
26. Let's celebrate your memorable day with wine and desserts. You turned 50, and your journey was such an inspiration to all. Happy birthday.
Read: Simple Birthday Wishes
Happy 50th Birthday Wishes
27. Congratulations on making your half-century brighter. You always brightened our days, and I hope today to be your best day. Happy birthday.
28. Happy birthday! I am so happy that I was able to be a part of your 50th birthday. It is such an honor to be a part of your memorable day.
29. On your 50th birthday, I want to say that you were such a motivation to all of us. You made us a better person, and you are very special to us. Happy birthday.
30. Happy half a century, my dear friend! You never cease to amaze me with your kindness, generosity, and wisdom. May your 50th birthday be just as amazing as you are.
31. On your 50th birthday, I wish that the next 50 years be as beautiful as the first 50 years. You deserve the best that the world has to offer. Happy birthday.
32. To be honest, you are not the oldest person I know. You are the youngest person who turned the oldest. Happy 50th birthday.
Check: Wishes For Grandfather
Happy 50th Birthday
With all of the struggles and unknowns in life, however, every year that passes is a victory and celebration. For your loved one who is turning 50, this birthday is one of the biggest and most exciting milestones! As with all big things, the right celebration such as Happy 50th Birthday Messages can go a long way toward making this event even more amazing.
33. I can see that you have slowed down a bit, but that does not stop you from having the party of your life. Have a great one. Happy 50th birthday.
34. Turning 50 is like turning 18 years with 32 years of experience! Make the most out of today. Happy 50th birthday.
35. Happy birthday, old guy! Your dry sense of humor and has never changed and remains the same despite your age. Once again happy 50th.
36. You aged just like the wine. You got more exquisite with age. On your 50th birthday, I wish you good health and a wonderful life ahead.
37. I guess now it's too late to deny the bus seat when one offers. Your stubbornness is of no use anymore. Happy 50th birthday.
38. Speed is something that fades away with time, and I hope you make it in time for your celebration. Just kidding! Happy 50th birthday, old man!
39. Happy 50th birthday to the best boss ever! You lead by example and inspire us to be better every day. May your birthday be full of appreciation and recognition of all the amazing things you do.
40. Another candle has been added to your cake. As the number of candles keeps adding, the cake keeps shrinking. Happy 50th birthday.
41. You now have a handle on life, and life has a handle on your waist. How does it feel to turn 50, my guy! Again, happy birthday.
42. I still remember how excited you were when you turned 10! Now you should be five times happier as you finally turned 50. Happy birthday.
43. Time sure flies when you are getting old. I can not believe that you are turning 50 already. Anyways, I hope you have a wonderful birthday.
Also Read: birthday wishes for your mother in law
50th Birthday Quotes
44. May you be exempt from the mid-life crisis and live your life to the fullest like you always have. Happy 50th birthday.
45. Days like this make me so happy that I am still young and you are aging into your 50s. Happy birthday, old man!
46. I realized that you are so old now that you certainly have everything you ever wanted. That led me into a dilemma of what to gift you. Looks like no present on your 50th birthday.
47. Wishing you a joyous 50th birthday! You are a wonderful person with a heart of gold. May your special day be filled with love, laughter, and memorable moments.
48. If you are feeling old, I want you to remember that 50 is the new 30, so there is a long way till you get old. Happy 50th birthday!
49. Happy 16th annual 35th birthday! You are turning 35 again, and I hope we have a great celebration about it. Happy birthday.
50. It's a privilege to know someone as wonderful as you. Happy 50th birthday to an amazing person who deserves nothing but the best. May this birthday mark the beginning of a new phase of happiness and success in your life.
Read: Exclusive 60th Birthday Wishes
Final Sayings
By sending Happy 50th Birthday Messages, you can make sure your loved one has a special day that is filled with happiness and the best memories. You know that no one in the world is more kind and loving or more deserving of a great birthday, so use the perfect Happy 50th Birthday Messages to make sure this day is everything they could want! Show your love for your favorite people with the best birthday wishes you can find!